Weekends are usually a time for leisurely breakfasts. We like to have coffee, read the paper, and fuel up for busy farm days. We connect at the table after busy weekdays and enjoy each other. One of our favorite breakfasts are these 10 Grain Sausage Cheddar Biscuits. They're full of whole grains and protein to fill us up and sustain us through active mornings.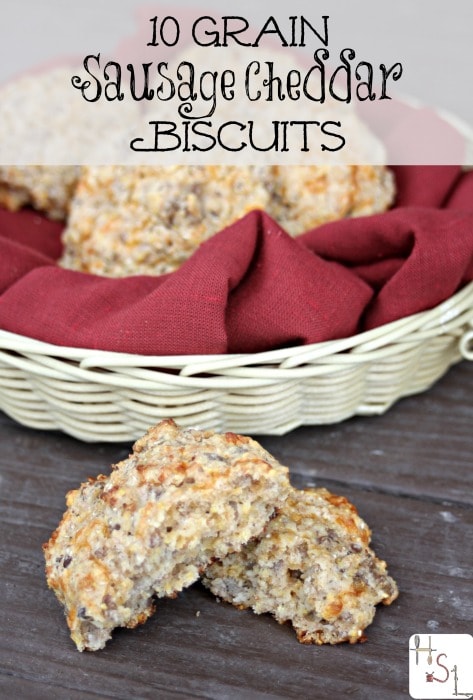 These are a drop biscuit because frankly, I don't have a biscuit hand and tend to overwork the dough when I have to roll it out and cut which makes them tough. These drop biscuits stay tender because there is no danger of overworking and all the milk keeps them moist.
Bob's Red Mill, one our breakfast month sponsors, make a great 10 grain hot cereal to make whipping these up quick and easy. It's delicious as a hot cereal but it's also amazing in many baked goods like these biscuits.
I used Hazelnut milk in these biscuits from our sponsor, Pacific Foods. I choose a nut milk because I like the hint of nuttiness here, it also seems to keep the biscuits a bit lighter than cream.
I generally use a local breakfast sausage but Italian sausage would be great too. In the summer months, I generally toss in a handful of fresh, chopped chives from the garden. Sharp cheddar is particularly nice but use whatever cheese is a favorite in your house.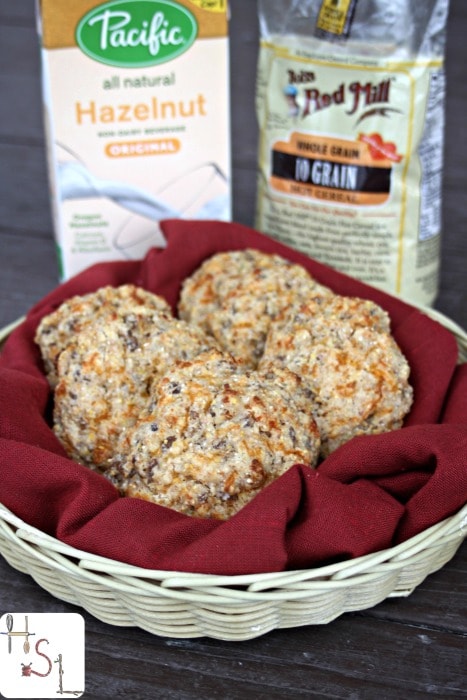 Yield: 12 Biscuits
10 Grain Sausage Cheddar Biscuits
Fuel up for busy days with a breakfast full of whole grains and protein in these 10 Grain Sausage Cheddar Biscuits.
Ingredients
1 Cup 10 Grain Cereal
1 Cup Unbleached All-Purpose Flour
1 Tablespoon Baking Powder
Pinch of Salt
½ teaspoon Black Pepper
⅓ Cup Cold Butter
¾ Cup Shredded Cheddar Cheese
8 ounces Bulk Sausage, cooked & drained
1 Cup Hazelnut Milk, or other milk
Instructions
Preheat oven to 450 degrees. Line a baking sheet with a silicone baking sheet or parchment paper.
In a large bowl, combine the flour, cereal, salt, pepper, and baking powder.
Cut in the cold butter, with knives, fingers, or astray cutter until it resembles small pebbles. Stir in the milk, add the sausage, and cheese mixing well.
Drop mounds of dough onto baking sheet about 2 inches apart.
Bake in preheated oven for 10 - 12 minutes, or until golden brown. Cool for a few minutes on the baking sheet before devouring.