As a person who is dedicated to doing as much as possible with my hands, I'm an avid crafter and tinkerer. I'm also aggressively frugal. Over the years I've learned how to keep all my D.I.Y. projects in line with my frugal and simple living philosophies. If you're trying how to keep crafting while also saving money, here are 6 frugal crafting tips to help: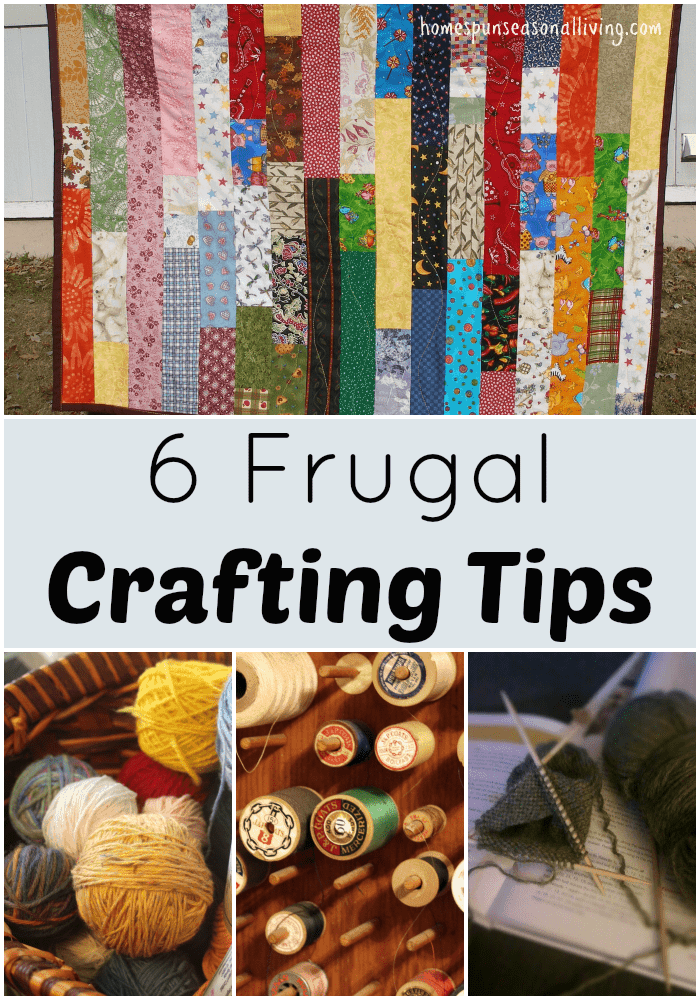 1. Ask for Gift Cards
I love to sew and good fabric is expensive and cheap fabric isn't always good. When folks ask me what I want for my birthday or Christmas I ask for gift cards to fabric and/or book stores most often. I don't need or want much else. If I have something specific that I need, slippers for example, I ask for that but most of the time I tell people that a. I don't want anything but b. if they feel the need to get me something a gift card is perfect. I do get these gift cards and I love using those to buy things at the fabric/craft stores. Using the gift card allows me to cut out all those negotiations of whether or not its something I need, could the money be better spent (or saved) otherwise, etc. So that's my first suggestion – ask for gift cards if you're presented with the opportunity to do so. Lay down hints to family members too. Tell your spouse that's what you'd like and if anyone asks him what you want to tell them a gift card to the quilt shop is perfect.
2. Hit Thrift Stores, Yard Sales, Craigslist, etc.
I'm blessed to live in an area where every small town has a quilt guild and quite a few crafters as well. This means yard sales and thrift stores often carry fabric and various other crafting supplies at bargain prices. I rarely miss a yard sale that advertises "years of craft supply accumulation" or "fabric, books, and craft supplies" and I always hit the fabric/craft sections of the thrift stores. I've found plenty of vintage fabric goodies and large lots of good fabric both ways on the cheap side of life. I highly recommend using the thrift stores for your crafting supplies just as you would for your clothing and other needs. I also use e-bay, craigslist, and freecycle for sewing supplies. Over the years, I've found several great deals on lots of thread through e-bay.
3. Re-Purpose
I re-purpose a lot too. For sewing this might be a bit easier than for other crafting types. I can use sheets, cut apart old skirts, etc. for fabric and various patchwork projects. You might not be able to do that as easily if you're hobby happens to be ceramics. I do, however, suggest looking for ways to fit re-purposing and reusing into your craft projects if at all possible.
4. Waste Not, Want Not
Like anything else in the world of frugality: Waste Not, Want Not. That applies to crafting supplies just as importantly as it does to food when you're living within a budget. I use up every scrap of fabric and every bit of yarn even if it's just to tie up tomatoes. I save scraps in color coordinated bags or bins and then use those to make quilts, tablecloths, place mats and more. I make sure I put the cap on my bottles of glue, wash my paint brushes, and properly care for all my supplies and equipment so that they don't need replacement or repair often. I make sure my sewing machine is properly cleaned, oiled, and maintained, and when I say I, I mean Jeff does the oil and maintenance. We bought a maintenance manual for my machine and since Jeff is very handy with this kind of thing, he's able to do it without taking it into a shop. However, if you aren't handy do get your machine and/or other crafty equipment serviced properly by a professional.
5. Live Within Limits
I limit my supply. I don't keep a ton of extra around. Any crafter, of course, needs to have supplies on hand, but I keep my supply limited to a certain number of bins. If my bins are full, I don't buy anymore until I have room. This helps me 1. keep a handle on clutter, 2. keeps me from overspending and overindulging, and 3. keeps me motivated to actually complete projects.
6. Serve a Purpose
I make my crafting work for its upkeep. I make sure that my crafting serves a purpose beyond just creativity. Creativity has its own purpose of course, but I don't allow that to be a reason for clutter in my home. I hate clutter and so make sure that my craft projects serve a purpose that allows for their existence. Basically, that means the craft will serve some sort of purpose in our home (curtains, quilts, clothing, etc.), will be gifted (most often my crafts are used this way), or sold (either on etsy or in local craft shows).
Do you have any frugal crafting tips to share?
[sc:Useadsenselarge ]