Between gardening and food preservation, herbal and craft projects, and long-distance running my feet take quite a beating. They get sore and calloused. The skin is often rough and the muscles and joints, tender. Like everything, I try to take care of my feet as naturally and homemade as possible. That's where this DIY foot scrub becomes part of my routine.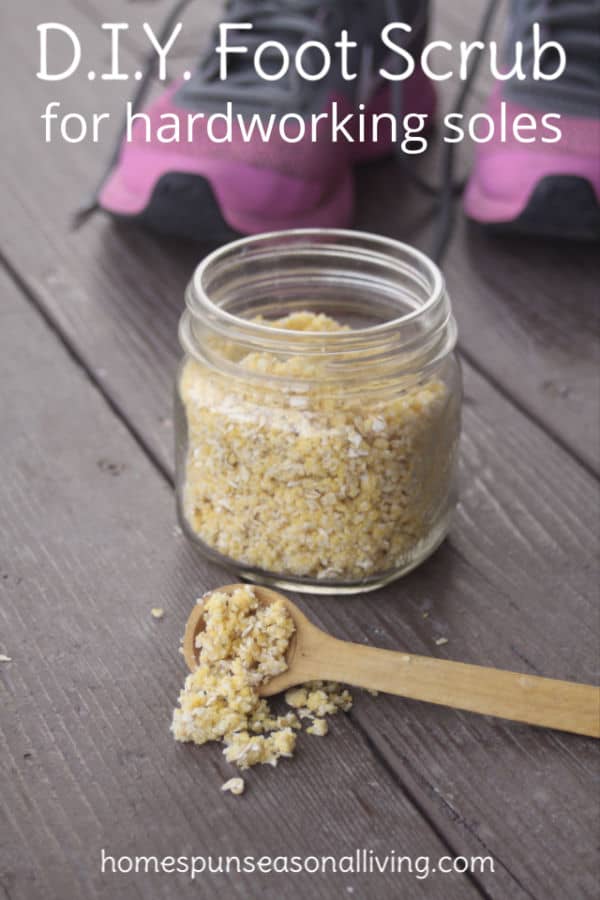 I have tried this recipe with coconut oil in the past. It worked well but I knew it could be better. When the folks from Better Shea Butter offered to send me some of their unrefined Shea Butter to experiment with, I knew this foot scrub was one of the first places I wanted to try it. And the shea butter does indeed make this a much better scrub.
Shea Butter
This moisturizing nut butter is full fatty acids that soften and protect the skin. It also has some anti-inflammatory properties making it an ideal solution for skin that might be swollen and dry from hard work. Shea butter is also easy to work with and quite literally whip up. It can be melted but doesn't always need to be and it's soft state makes it a delight for homemade body product making.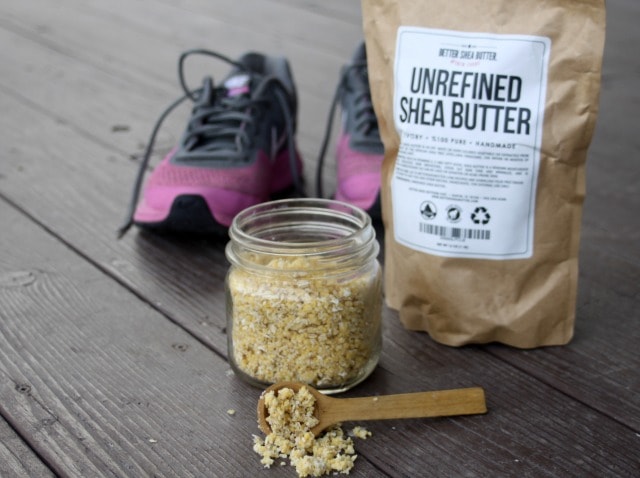 I've purchased shea butter from my local health food store in the past. It came in a jar and was relatively hard and difficult at best to get out of the jar. The Shea Butter from Better Shea Butter comes in a block, sealed in a bag. The block is malleable and it's so much easier to just slice off the bits at a time for making your body products. It's a much more convenient way to go about it and of course, it's of amazing quality.
Cornmeal
The scratchy texture of cornmeal helps slough off dead skin without causing damage. It's not so harsh as to cause small cuts or otherwise damage the skin. It's also natural and easy to find. Heck, it's probably already in your pantry.
Rolled Oats
Oatmeal has long been used as a skin softening agent. It too has anti-inflammatory properties as well as saponins to help cleanse the skin. And, again it's probably already in the pantry.
Epsom Salts
Salt is often used in scrubs of all kinds as a way of gently sloughing off dead skin. Rather than using sea or kosher salt use Epsom salts in this scrub for their ability to help soothe tired muscles and draw impurities from the skin.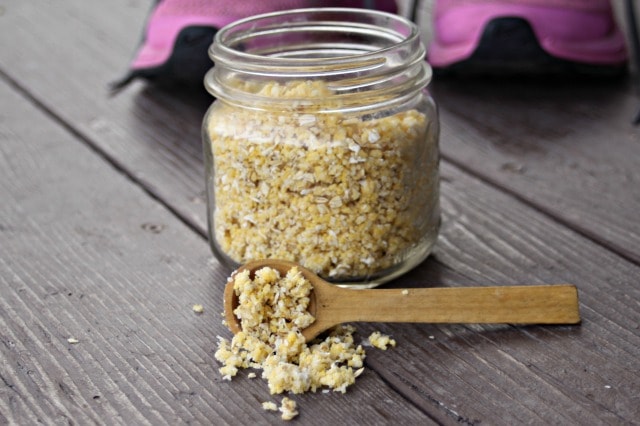 Essential Oil
Any essential oil could be used in this scrub. Something minty or citrusy will help rejuvenate a tired body and spirit. Something like camphor or eucalyptus could also be used for the same reasons. Use lavender if relaxation is the name of the post foot scrub game.
Yield: 2 Cups
A DIY Foot Scrub for Hardworking Soles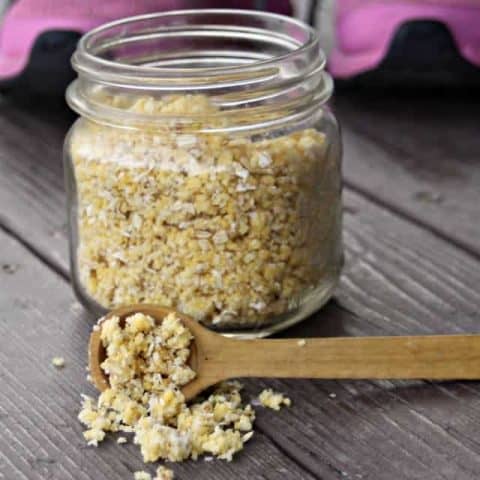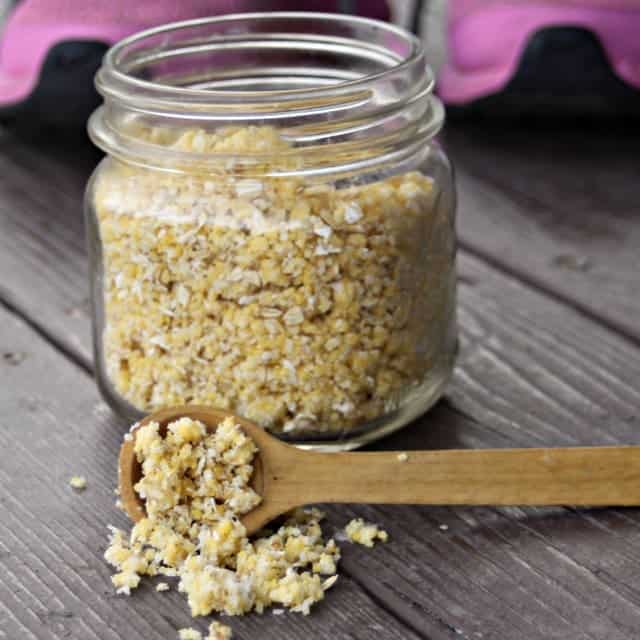 Materials
1/4 Cup Fine Cornmeal
1/4 Cup Rolled Oats
Instructions
Using a mixer whip the shea butter for a few minutes. Think of creaming butter. Add the remaining ingredients and mix at a high speed. The ingredients will come together to form pea-size clumps.
Store the foot scrub in an airtight jar in a cool, dark place. Use up within 6 weeks.
Notes
Use a drain trap or wash feet in a basin, draining the water through a fine mesh screen to keep the oats and cornmeal from clogging drains.