Anise hyssop whoopie pies are impressive in flavor and presentation. They also make a delightful way to share the herb garden with friends and family.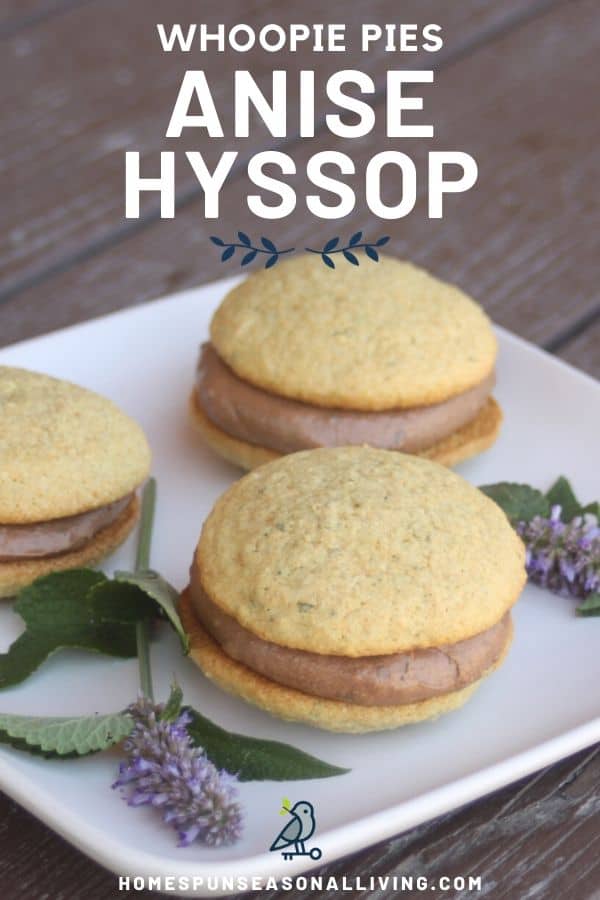 Soft and cake like with a chocolate filling, anise hyssop cookies are a perfect substitute for cupcakes or even full-size cakes at large gatherings for easy sharing.
Light Black Licorice Flavor
Anise hyssop has a delicate black licorice flavor. It's there but not so overwhelming as to turn off black licorice haters and yet still please the lovers.
Jeff loves black licorice anything. Me not so much. Both of us love this dessert.
Anise Hyssop Leaves & Blossoms
Use the leaves, blossoms, or some combination of both in the cookies and the filling. The leaves have plenty of flavor on their own. The blossoms, too, have plenty of flavorful oils so use whatever is available.
Finely chop both the leaves and the flower blossoms for these cookies. No one wants a giant herb leaf in their dessert. This isn't a salad, after all.
The leaves and the purple blossoms will leave some delightful color in the light cookie.
What is a Whoopie Pie?
Growing up in Pennsylvania, the Amish sold traditional whoopie pies. Those traditional whoopie pies are chocolate cookies with vanilla frosting as the filling.
These anise hyssop whoopie pies follow that tradition with soft cookies and creamy filling. These are not as sweet as traditional whoopie pies but no less delightful.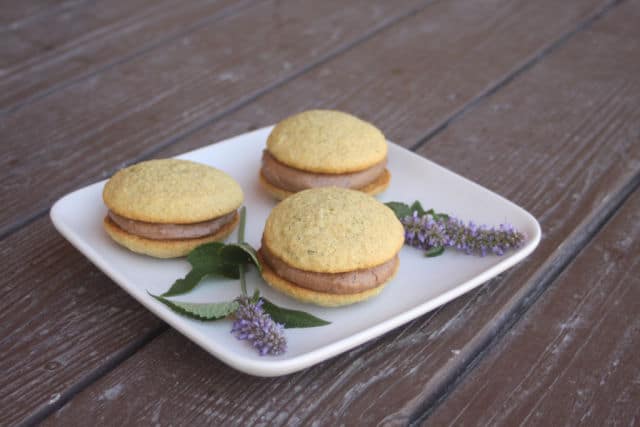 Fill or Frost
Spreading the filling between two cookies would be the most traditional. However, it is not the only option for this dessert.
Don't want to make whoopie pies? The anise hyssop cookies are soft and delicious on their own. Simply bake and serve.
Alternatively, bake the cookie and just spread a little bit of the filling on the top of each cookie. This will give much of the flavor and provide extra cookies for large gatherings or potlucks.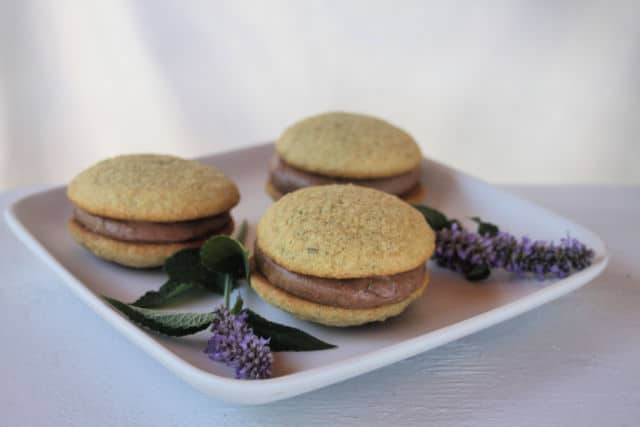 Size of the Whoopie Pie
Traditionally, whoopie pies are fairly large. Which are great for super decadent personal desserts. However, make these 2-bite size for large platters or buffets for a change and spread the love.
Make Ahead
If time is crunched, make the cookies one day. Make the filling and assemble the whoopie pies the next day. The cookies will keep quite well in an airtight container for several days.
Use Instead of Cupcakes
These are soft cake-like cookies which makes them an ideal substitute for cupcakes. Consider serving these at an adult birthday party instead of cupcakes or slicing into a large cake.
Yield: 9 Large Pies
Anise Hyssop Whoopie Pies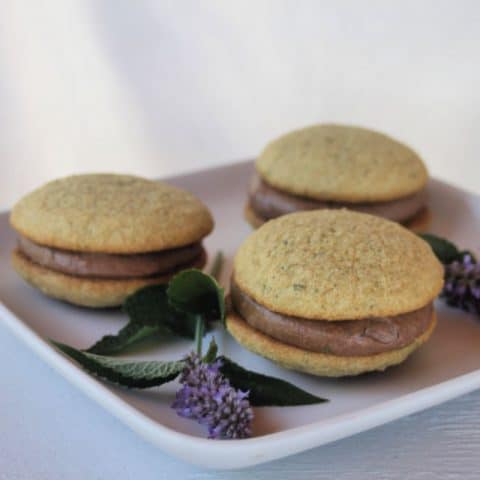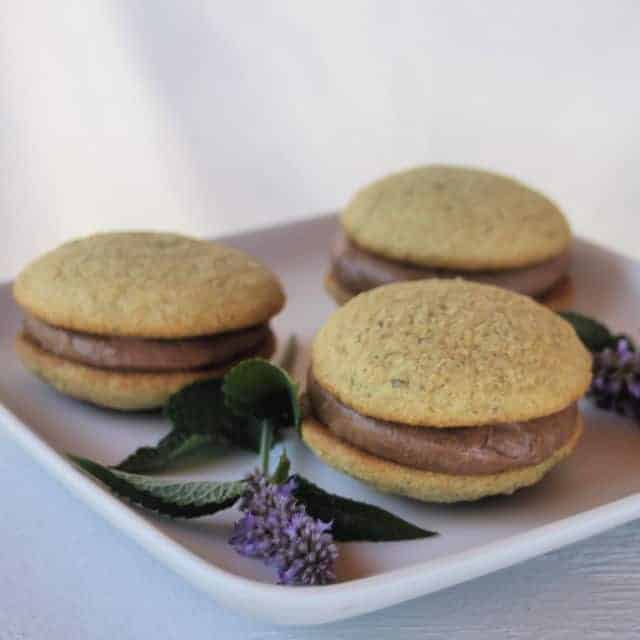 Anise hyssop whoopie pies are soft, lightly flavored black licorice cookies sandwiched around a chocolate anise hyssop frosting.
Ingredients
Anise Hyssop Cookies
¼ Cup Milk
2 Tablespoons Finely Chopped Fresh Anise Hyssop
½ Cup Butter, softened
½ Cup Sugar
1 Egg
1 teaspoon Vanilla Extract
1 ½ Cup Sprouted Pastry Flour or All-Purpose Flour
½ teaspoon Baking Soda
Anise Hyssop Cocoa Frosting
1 Tablespoon Finely Chopped FeshAnise Hyssop
¼ Cup Butter, softened
2 Tablespoons Cocoa Powder
1 ⅔ Cups Powdered Sugar
2 Tablespoons Milk
Instructions
Cookies
In a small saucepan, warm the milk. Don't boil or even simmer, just warm it. Remove from heat, stir in the chopped anise hyssop and cover. Let cool to room temperature.
Preheat oven to 375 degrees. Line a baking sheet with parchment paper or silicone baking sheet.
Cream together the butter and sugar until light and fluffy. Add the egg and vanilla extract beating well. Add he flour and baking soda and mix slightly. Pour in the anise hyssop milk mixture and mix until thoroughly incorporated.
Drop the dough by Tablespoons onto prepared baking sheets about 2 inches apart. Bake in preheated oven for 10 to 12 minutes, until edges are golden.
Cool completely on wire racks.
Filling
Cream together the butter and anise hyssop until soft and fluffy. Add the cocoa powder, powdered sugar, and milk. Beat slowly until everything is smooth and creamy.
Assemble the Whoopie Pies
Onto the flat bottom of a cookie, place a generous Tablespoon of filling. Top with another cookies and press so that the filling fills to the edge of the cookies.
Recommended Products
As an Amazon Associate and member of other affiliate programs, I earn from qualifying purchases.
Nutrition Information:
Yield:
9
Serving Size:
1 Whoopie Pie
Amount Per Serving:
Calories:

541
Total Fat:

25g
Saturated Fat:

15g
Trans Fat:

1g
Unsaturated Fat:

8g
Cholesterol:

85mg
Sodium:

362mg
Carbohydrates:

72g
Fiber:

2g
Sugar:

38g
Protein:

8g
We try our best but cannot guarantee that nutrition information is 100% accurate.