We have bunches of apples from our tree and we recently purchased a box of Italian Prune Plums from a local person. It's a lot of fruit to eat fresh and while we are preserving some, it seemed like as good as any excuse to bake. I wanted to combine the two fruits and decided to try using my Jam Tart crust as a base for some Apple Plum Crumble Bars.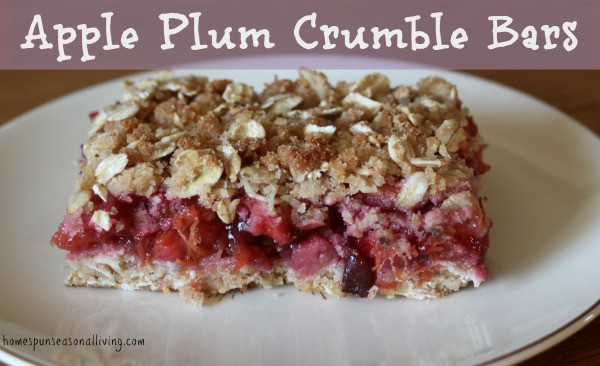 These are quite tasty and could easily host more or stronger spices than the cinnamon – ginger would be excellent. If you use gluten-free oats, this is a perfect gluten-free, dairy-free, and egg-free dessert for all your sensitive friends and family.
Apple Plum Crumble Bars
2013-10-20 16:46:52
For the crumble crust
1 Cup Almond Meal
1 1/3 Cups Oats
1 Cup Rice Flour
1/2 Cup Sugar
1 teaspoon Salt
1 teaspoon Ground Cinnamon
1/2 Cup Applesauce
For the Filling
3 Cups Plums, pitted & chopped
3 Cups Apples, peeled, cored, & chopped
1 Tablespoon Lemon Juice
1/4 Cup Honey
2 Tablespoons Cornstarch
Instructions
Make the filling first. Combine the plums, apples, lemon juice, and honey in a sauce pan. Mash slightly with a spoon or potato masher and cook until fruit is soft. Remove from heat stir in cornstarch and set aside.
Preheat oven to 375.
Make the crust by mixing everything together until thoroughly moistened. Spread about 2/3 of the crust mixture into the bottom of a 9" square cake pan. Press the crumbs into an even crust in the pan.
Pour the filling over the crust and spread evenly.
Sprinkle the remaining 1/3 crumbles over the fruit filling.
Bake in the preheated oven 30 minutes or until browned. Cool completely on a wire rack before cutting into bars to serve.
Homespun Seasonal Living https://homespunseasonalliving.com/

Disclaimer: I may receive compensation for products mentioned in this post. All opinions expressed are my own. I am not a doctor, always seek trained medical advice. No statements should be considered approved by the FDA or as a diagnosis or treatment for any illness. See my Full Disclaimer Here.