Two very amazing books crossed my path in August. Two books that have earned spots a newly, thrifted but oh-so-awesome bookcase in our main room. Both of these books provide incredible reference material, while being beautifully presented – form and function are lovely things in all things including books. Both would also make lovely gifts for different audiences and are worth keeping in mind for that purpose as well.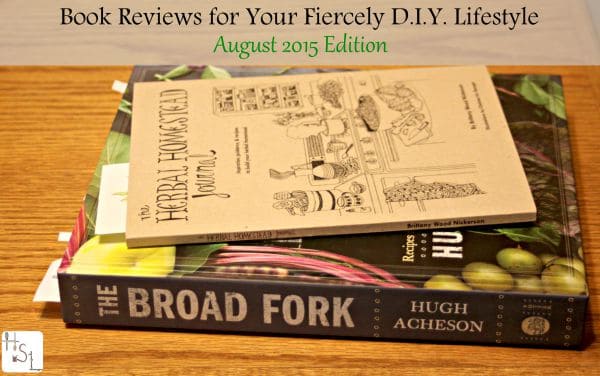 (This post contains affiliate links.)
The Broad Fork by Hugh Acheson – The book is touted as being a resource for just what to do with all those things found at farmer's markets and in CSA boxes. While it is definitely that with hundreds of recipes and beautiful photos, it is so so much more. The book is divided into seasons and then sections for each fruit, nut, or vegetable likely to be found in that season.
The recipes range from simple like apple and cabbage slaw, pecan granola with maple and oats, and raspberry cobbler with drop biscuit topping to the rather inspired that could easily be served at a formal dinner like: roasted chicken thighs over barley and brussels sprout risotto and poached shrimp over radishes with salsa verde. There are salads, soups, lots of recipes for pickles and ferments as well. The recipes are clearly written and most of the ingredients will be easy to find at farmer's markets and grocery stores everywhere. There may a few things that are difficult to find in smaller towns but overall – this is a book for every home gardener or farmer's market enthusiast to own. You'll be inspired and find plenty of new ways to serve things like turnips alongside figs and everything in between.
Beyond just inspiring new recipe ideas, the book covers a lot of basics, making it an ideal source for a new cook as well. The author takes time to discuss and clearly lay out plans for things like making chicken stock, how to cook the perfect poached egg, and so much more. It's because of these extra basic instructions that I believe this would be an excellent gift for a young person just starting out in their own kitchen or for the new foodie.
The book is written with lots of little anecdotes that make it a delight and whimsical read. It should be noted that the author is from the south so there are plenty of recipes that include grits and fresh produce that might not be found in farmer's markets in the north – though can probably be found in grocery stores easily enough.
If you're looking for fresh inspiration for all that amazing fresh produce, I can't recommend The Broad Fork highly enough.
The Herbal Homestead Journal by Brittany Wood Nickerson – I'm not exactly sure how I even came across the book. I think I clicked through a link on Instagram and found my way to the author's website. I was immediately smitten with the screenshots of the book and opted to buy the paperback rather than the kindle version. I am so very glad.
The book has twelve chapters, each representing a month of the year. Within each month the author takes times to discuss some bit of self-care or health – the importance of sleep, how to beat the summer heat, aiding digestion, and much more. With each month comes information different herbs and how to incorporate them into daily life. There are recipes for healing food, salves, lip balms, and more all combined with doable projects and clearly written instructions.
The tone of the writing is done with concise instructions while also very lovingly done. It doesn't preach at the reader but rather guides and teaches in a simple, easy way for anyone to do at home. It's a great book for the herbal beginner but has plenty to inspire more experienced folks as well. Again, this book would be a great gift for the person just starting out on their herbal journey or for the more experienced person looking for a little inspiration.
As we head towards fall and hopefully a more relaxed pace than this season of harvest and preservation work, I hope you'll consider grabbing these books up for some relaxing reading.
[sc:Useadsenselarge ]