February is National Hot Breakfast Month and I am so excited to bring you a month of recipes, ideas, products, and more. I've teamed up with 9 other amazing bloggers and some amazing brands to bring you a combined 10 hot breakfast recipes each and every week this month. This first week we're all focusing on family favorite recipes. We love baked grain cereals for breakfast, I do baked oatmeal all the time and we do a baked millet pudding often as well. This baked farina pudding is filling because of the whole grains and nut protein with just a hint of sweetness that goes great with a cup of coffee.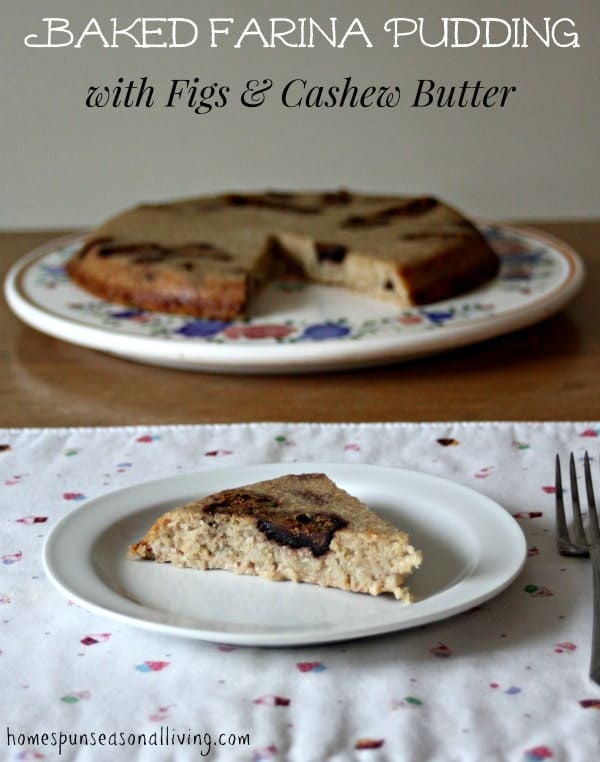 Bob's Red Mill makes a Brown Rice Farina, this is a gluten-free version of the wheat farina with which most of us are already familiar. You can feel good about cooking this up for your folks avoiding gluten. It's creamy with just a hint of crunch that makes this breakfast pudding all that more satisfying on a cold day.
Dried figs are chewy and sweet and all kinds of tasty which make it perfect for breakfast in my opinion. They're full of fiber and antioxidants and can act as a prebiotic in the gut. The organic black mission figs from Made in Nature are so good and rather addicting, we had to force ourselves not to eat them straight from the bag and save them for recipe testing.
There is something very special about the combination of cashews and figs. The cashew butter gives a hint of that soft cashew flavor and provides another hearty layer of creaminess this baked pudding. Plus cashews are full of B-vitamins to help fuel your day. Woodstock foods makes an all-natural cashew butter that's unsalted so you can be sure your breakfast pudding won't be too salty.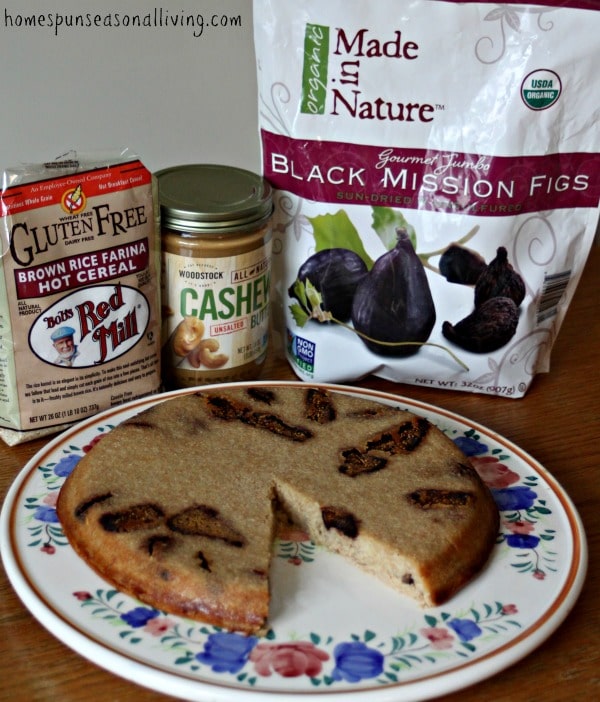 This pudding isn't a fast breakfast, needing approximately 50 minutes to bake, however; actual hands-on prep time is very quick.
Serve the pudding hot from the oven, slicing in to wedges and topping with additional milk, syrup, even jam. I quite like it plain, almost like a very moist cake but Jeff likes his with additional milk, so do what you like best, most importantly enjoy a hot breakfast with your family.
Baked Farina Pudding
Cook up a hot breakfast with this baked farina pudding with figs and cashew butter to fuel up the body for a busy day.
Ingredients
2 Cups Milk
1 Egg
2 Tablespoons Honey
1 teaspoon Vanilla Extract
Pinch of Salt
Instructions
Preheat oven to 350. Grease a 9.5"pie plate.
Whisk together the cashew butter, salt, vanilla extract, honey, egg, and milk until thoroughly combined. Fold the farina and figs into the liquid mixture. Pour into prepared pie plate.
Bake in preheated oven 40-50minutes, until set in the middle.
Serve hot with additional milk, syrup, or jam, as desired.
I imagine you could switch up the rice farina for
wheat
, the cashew butter for any nut butter, and the figs for any
other dried fruit
you have on hand. I didn't test it but I do believe it would work well if you're inclined to do it differently