We're blessed to still be eating from last year's garden harvest. Everyday we're still eating from the garden even in March while the ground is still covered in snow. We still have plenty of choices in canned, frozen, and dehydrated goods. Over the weekend, I made this Buttercup Squash & Black Bean Chili for a potluck and it was extremely well received. I must say it was quite yummy and the fact that the winter squash, tomatoes (canned), and garlic were all homegrown filled me with giddiness.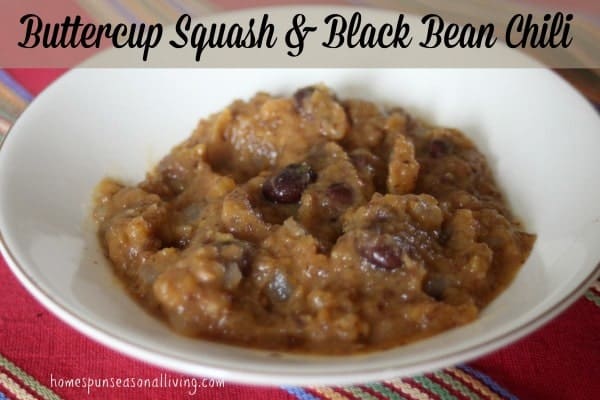 Buttercup Squash & Black Bean Chili
Buttercup Squash & Black Bean Chili is a hearty vegetable chili perfect for cold evenings.
Ingredients
2 Cups Roasted & Pureed Buttercup Squash (Butternut would be awesome, too)
4 Cups Black Beans, cooked & drained and divided (2 cans, rinsed & drained)
1 ½ Cups Tomatoes (chopped, I used home-canned whole tomatoes)
1 Large Onion, chopped
2 Cloves Garlic, minced
1 TBSP Olive Oil
1 teaspoon Chili Powder (more or less to taste)
Salt & Pepper to Taste
Instructions
Puree 2 Cups of the black beans with the tomatoes, set aside.
Saute the onion and garlic in olive oil until translucent.
Pour in the pureed beans and tomatoes. Add the pureed squash and remaining 2 cups of black beans.
Season to taste, mixing everything well.
Simmer until heated through. If it's too thick you could add a little broth or water to thin it out, but thick is nice here.
[sc:Useadsenselarge ]