There are those mornings when we need breakfast in a hurry. It happens to all of us, things don't go according to plan or it's an unusually busy day and something hot, filling, and fast needs to be made for breakfast. This candied apple hot breakfast cereal can be done in less than 15 minutes, maybe even faster depending on the choice of hot cereal used as the base.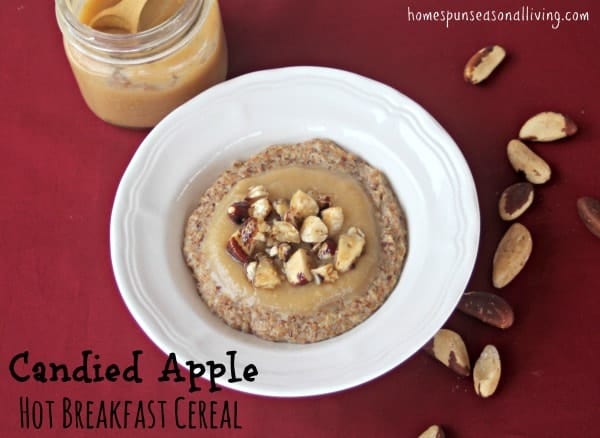 It's this simple and this magical, promise. Start with your favorite hot cereal. I used Bob's Red Mill Organic High Fiber Hot Cereal here. It's full of amazing and tasty nutrition from things like flax, oats, and wheat germ that is also so filling. No midmorning hunger pangs after this cereal.
Next too the cereal with some unsweetened applesauce, again full of filling fiber and natural sugar that won't cause a sugar crash in the middle of a meeting. Finally, top the apples with quickly made maple syrup candied Brazil nuts.
I used some amazing maple syrup from Maple Valley Organic Syrup Cooperative. I generally tap my own maples but for those of who can't this company is an amazing option. An organic cooperative of farmers that place importance sustainable methods and fair treatment of people.
Finally choose a richly flavored, buttery nut. Brazil nuts from NOW Foods is a great choice and full of selenium and magnesium and protein to help this breakfast stay its healthy and filling course.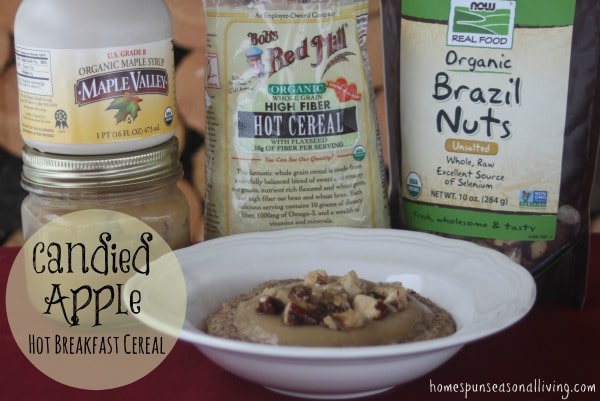 Candied Apple Hot Breakfast Cereal
Candied apple hot breakfast cereal is a filling and naturally sweet breakfast perfect for those rushed mornings.
Ingredients
1 ⅓ Cups High Fiber Cereal
3 Cups Water
½ teaspoon Salt
Candied Apple Nut Topping
¾ Cup Unsweetened Applesauce
Instructions
Make Hot Breakfast Cereal
Combine cereal, salt, and water in a saucepan.
Bring to a boil over medium heat and cook for 10 minutes, stirring frequently.
While the cereal cooks make the candied nuts.
Maple Candied Nuts
Heat a skillet over medium heat, toss in the nuts, salt, and maple syrup.
Cook until the syrup caramelizes, about 3 minutes. Stir and watch and for burning.
Plate the Cereal
Divide the cereal among 4 bowls.
Top each bowl with 3 Tablespoons of applesauce.
Finally, split the nuts between the bowl, topping the applesauce.
Serve hot.