Soup and bread is meal around here often. Both homemade. These carrot cloverleaf rolls are easy enough for every day and yet elegant enough for company.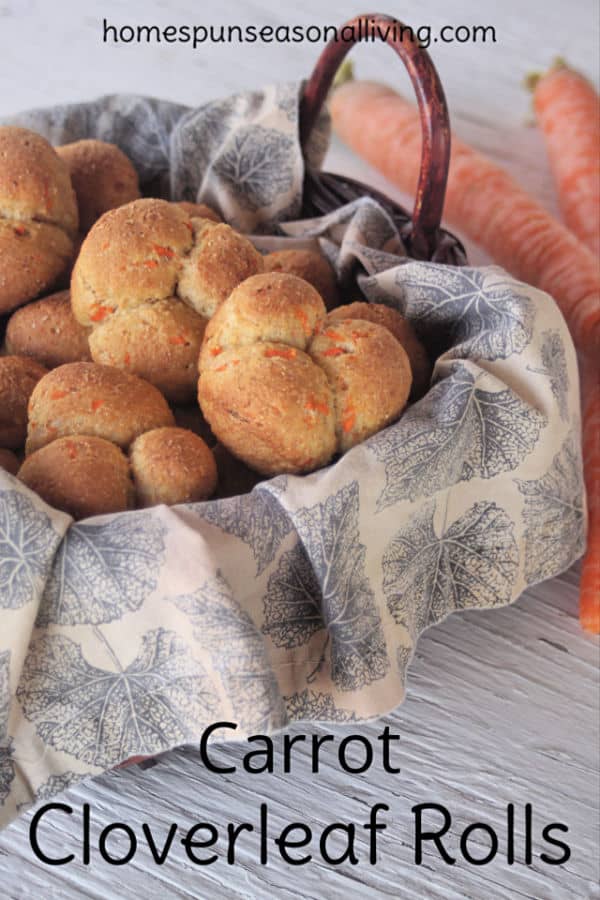 The Hearty Soup Meal
Soup is simple, frugal, and nourishing. Around here we have soup at least twice a week from late autumn through winter. They make use of the vegetables we saved over the summer and meat we've stocked in the freezer. To round out the meal, we often eat our soup with some form of homemade bread, like these carrot cloverleaf rolls.
Simple yet Elegant
Homemade bread full of whole grains is always delicious and filling. The grated carrot adds a slight orange color and sweetness to the rolls, not to mention a little added nutritional punch. The bits of carrot are kind of pretty and we eat with our eyes first.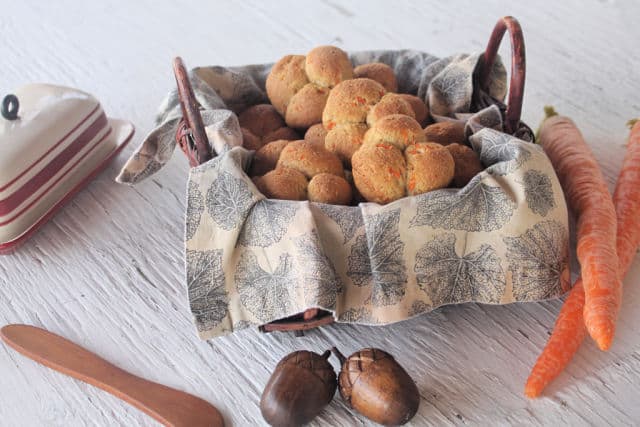 Cloverleaf rolls always seem so fancy on a dinner table, too but despite that rather formal appearance are quite easy to make. They're truly easy enough to make for a regular meal but also look impressive to guests.
Shaping Carrot Cloverleaf Rolls
These rolls start out like any basic bread dough. Mix, knead, let rise once. Once the dough completed it's first rise and has been punched down and kneaded again, simply pinch off a bit of dough and form 1 inch balls by rolling the dough between your fingers.
Place three balls in each muffin tin and allow to rise again. That's it really, I promise, and it doesn't take terribly long for this to happen. The balls don't have to be perfect or smooth, they'll conform to the muffin tin as they rise.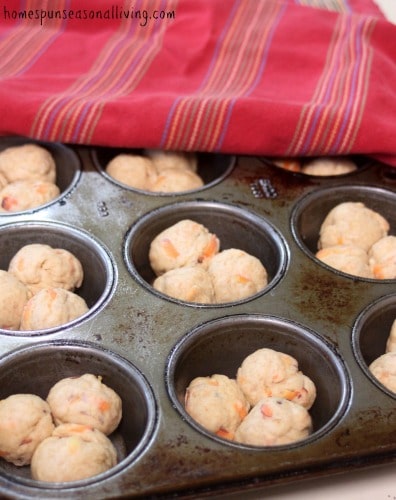 Serving the Rolls
Simply stack the slightly (or completely) cooled rolls into a napkin lined basket for easy serving. We like ours with a little butter. The rolls will break apart easily along the seams of the rolls, creating a perfect place for a smear of butter before dunking into the soup.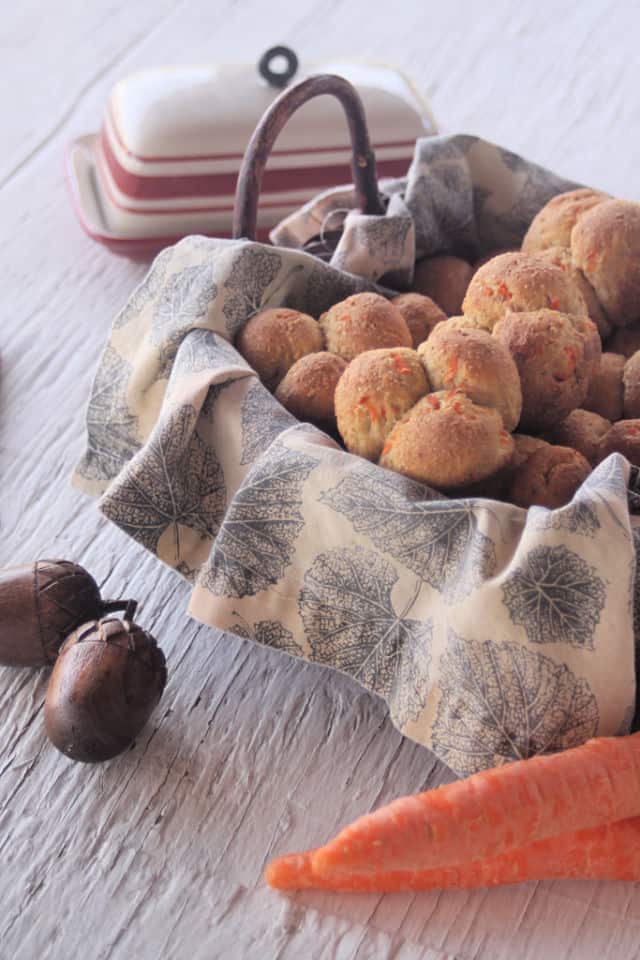 Make Bread Instead
If you're really pressed for time or simply don't like the shape of cloverleaf rolls, feel free to simply place the entire batch of dough into a loaf pan for the second rise and add at least 20 minutes to the cooking time. The bread is done when it sounds hollow when tapped.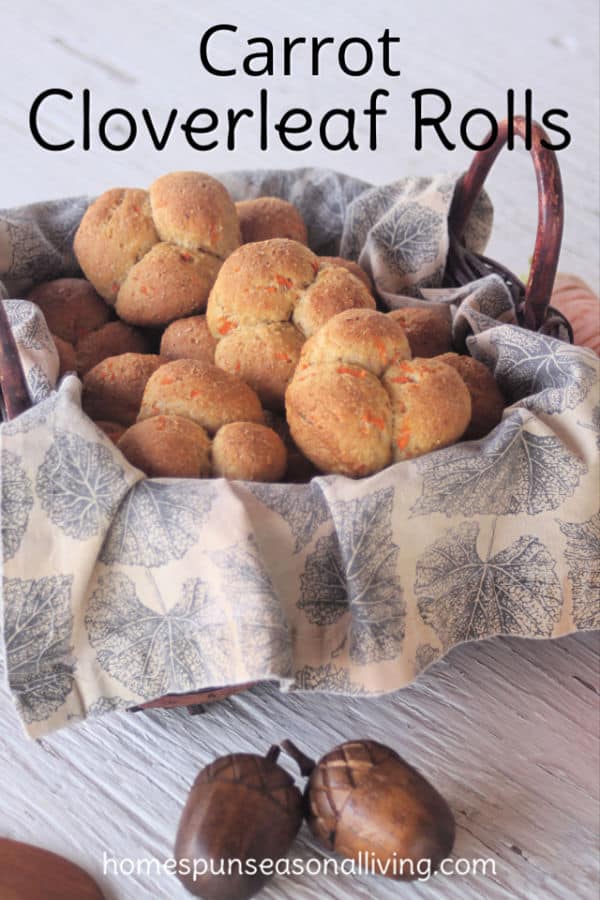 Yield: 12 Rolls
Carrot Cloverleaf Rolls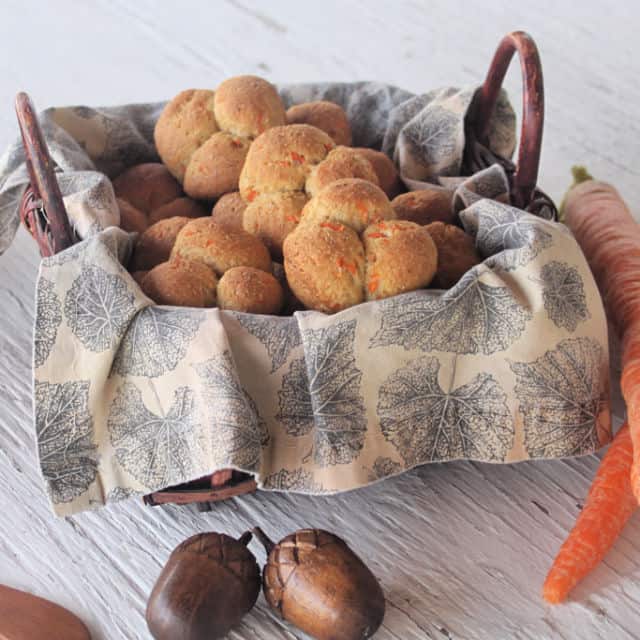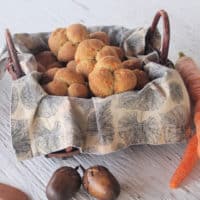 Beautiful and tasty these carrot cloverleaf rolls make a great addition to any dinner table or meal.
Total Time
2 hours
20 minutes
Ingredients
⅔ Cup Warm Water
1 ½ teaspoons Yeast
2 Tablespoons Coconut Oil
1 Tablespoon Honey
2 teaspoons Salt
½ Cup Grated Carrots, Packed
1 Cup Whole Wheat Flour
1 Cup Unbleached All-Purpose Flour
Instructions
In a bowl, whisk together the yeast and warm water. Allow to sit for 5 minutes, until foamy.
Whisk in the coconut oil, honey, and salt until well combined.
Add the grated carrots and 1 cup of whole wheat flour. Stir well and begin adding the all-purpose flour. Start with 3/4 cup and mix adding a little more at a time until a dough forms.
Turn the dough out onto a floured board and knead until soft and elastic.
Oil the bowl and return the dough the bowl, turning to coat. Cover the bowl with a towel and let rise until doubled (about an hour).
Grease a Muffin Tin.
Punch down the dough and turn out on the floured board again. Need a few times adding a little flour if necessary to keep it from being sticky.
Pinch off bits of dough and roll between palms of hands to form 1-inch balls. Place 3 balls in each muffin tin.
Cover the full muffin tin with a towel and let rise another 30 minutes.
Preheat oven to 375.
Bake the rolls in the preheated oven for 20 minutes or until golden brown and sounds hollow when tapped with a knuckle.
Remove from pan immediately to cool on wire racks.