Over the weekend, I made some ricotta. As usual, I was left with whey and wanted to do something new with it. I'd had a craving for some rice pudding for a while and figured I'd give it a go with whey instead of milk or cream. It worked wonderfully, giving the pudding a delightfully tart flavor. I had assumed the whey would make it on the tart side so I decided to give it some warm spice notes as well and that is exactly how Chai Spiced Whey Rice Pudding was born.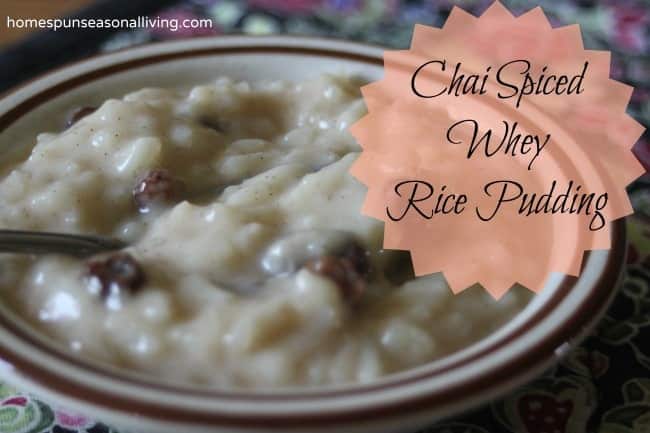 Chai Spiced Whey Rice Pudding
Ingredients
4 Cups Whey (Milk or Milk Alternatives will also work)
1 1/2 Cups Rice, cooked (any will do)
1/3 Cup Honey
1/2 teaspoon Ground Cinnamon
1/2 teaspoon Ground Ginger
3 Green Cardamom Pods
2 Whole Star Anise
1 Vanilla Bean, split
3 Tablespoons Cornstarch
1/2 Cup Raisins (optional)
Instructions
Put the cardamom pods and star anise into a Spice Ball or tie into a Muslin spice bag.
Combine everything but the raisins into a medium saucepan.
Over medium heat, simmer the mixture for about 20 minutes or until mixture is thick enough to coat the back of a spoon. It will thicken as it cools.
Remove from heat and remove the spice ball and vanilla bean. Stir in optional raisins.
Pour into dish or individual containers and refrigerate for at least 3 hours before serving.