Tomatillos were grown in our garden this year. It was a first for us and I'm not sure why we've waited so long. The plants did amazingly well even in our unusually hot and dry year. There was an abundance of the husk covered beauties prompting me to get a little more creative than just salsa verde. Don't get me wrong, salsa verde is reason enough to grow tomatillos but a little change is a nice thing too. This chicken and roasted tomatillo soup is a great way to make the most of abundant tomatillos in a warming and filling way as the autumn chill begins to fall upon us.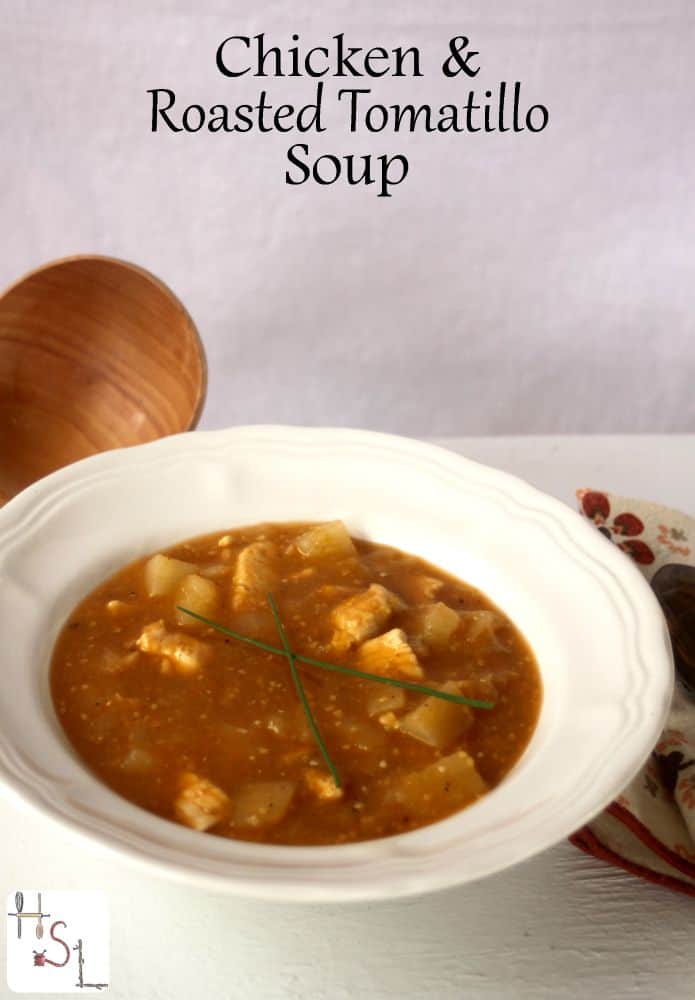 If you're feeding a crowd, this recipe could easily be doubled or quadrupled for that matter. The roasting is an additional step but doesn't take that long and gives this soup a great additional bit of flavor. If you have leftover bits of chicken, feel free to use that instead of cooking up raw chicken.
Make this a complete meal by serving it up in big bowls with a salad and perhaps some rolls or savory muffins.
Chicken and Roasted Tomatillo Soup
Warm and filling this chicken and roasted tomatillo soup is sure to please small and large crowds alike.
Ingredients
2 Cups Chicken, diced
1 Medium Onion, chopped
3 Garlic Cloves, minced
2 Tablespoons Olive Oil
1 Pound Potatoes, peeled and diced
1 Pound Tomatillos
½ Cup Tomato Sauce
2 Cups Chicken Broth
Salt and Pepper, to taste
Instructions
Roast the Tomatillos
Place the tomatillos in a single layer on a small baking pan. Place under a broiler for 5 minutes. Turn the tomatillos over and place under the broiler for another 5 minutes. Remove from oven.
Make the Soup
Scrape all the tomatillos and juice into a blender and add the tomato sauce. Purée until smooth. Set aside.
In a soup pot or dutch oven , heat the olive oil over medium high heat. Add the chicken, onion, and garlic. Sauté until the chicken is cooked. Add the potatoes, salt, and pepper tossing until everything is mixed. Pour in the tomato tomatillo purée and broth. Cover the pot and turn heat to medium low. Allow the soup to simmer for 30-40 minutes or until potatoes are cooked.
Serve hot garnished with chives or scallions, if desired.
Notes
If using leftover, cooked chicken add that when broth is added - no reason to precook.
[sc:Useadsenselarge ]