It is strawberry season on our homestead. After a long winter and spring of preserved fruit, having fresh fruit on hand is an exciting, wonderful blessing. We're eating them on oatmeal, as snacks, in smoothies, and of course with chocolate. This chocolate strawberry cobbler whips ups in a hurry and is simple, delicious dessert.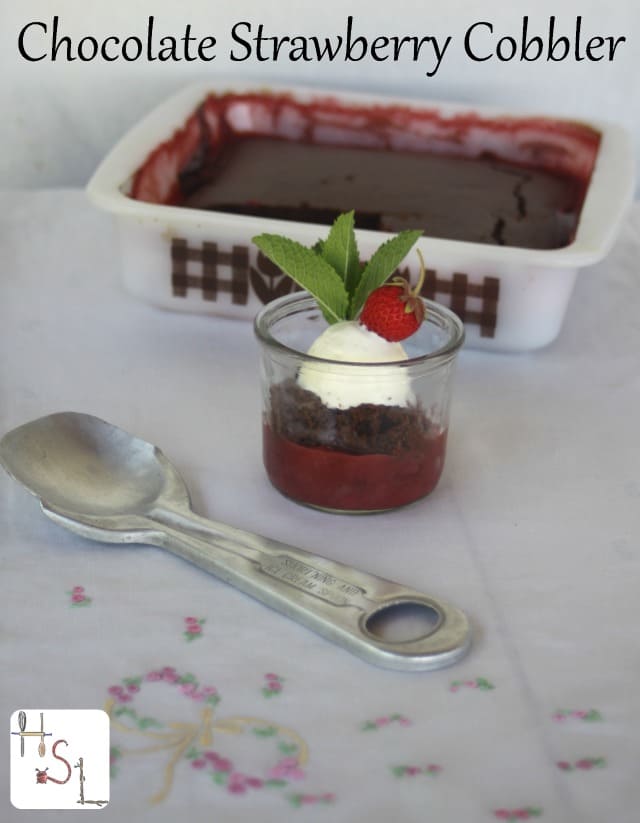 The Berry Layer
It's a simple list of ingredients: strawberries, jam, sugar, flour, and vanilla extract. Don't be fooled, these simple staples are full of amazing flavor. For the jam, use something unsweetened or low in sugar to keep this from being too sweet. If the jam is heavily sweetened, you might want to cut back the added sugar. The options for customization are huge, as well:
The Jam: Use strawberry jam for a delicious single flavor or use a mixed berry jam instead for something a little different. Rhubarb jam would be amazing too.
The Sugar: Use granulated, brown, coconut, date, etc. All will be delicious and provide distinct flavor differences.
Vanilla Extract: Use lemon juice, almond extract, rum, even balsamic vinegar instead for different takes on the recipe.
Berries: Don't have, don't like, or are allergic to strawberries? Use blueberries, raspberries, or any local wild berries on hand. A mix of berries would be great too. Leave small berries whole, quarter or halve large berries.
The Topping
Again simple ingredients, melted butter, milk, sugar, flour, cocoa powder, baking powder. Simple and yet magical and easy to throw together. And again, customization options abound:
Cocoa powder: Any old cocoa powder will work wonderfully. Use black cocoa for a darker color and more intense flavor.
Liquid fat: Melted butter is quick and easy but keep it dairy-free and/or vegan by substituting olive oil or melted coconut oil.
Milk or other liquid: Use coffee for a different but delightful flavor, substitute almond, coconut, or other alternative milk.
Optional additions: Add 1/2 teaspoon of ground spice (cinnamon, ginger, cardamom, etc.). Stir in 1/2 cup chocolate chips or chopped nuts.
Service Ideas
This cobbler is especially delightful served warm. Serve it with ice cream or whipped cream. Give it a light dusting of powdered sugar for a simple but lovely presentation. Go fancy and make some chocolate covered strawberries and put one or two of those on top of the cream. Add a sprig of mint for a lovely presentation. Drizzle some melted chocolate over the top.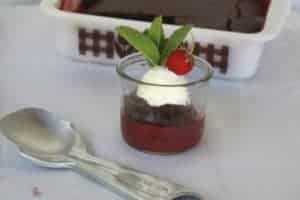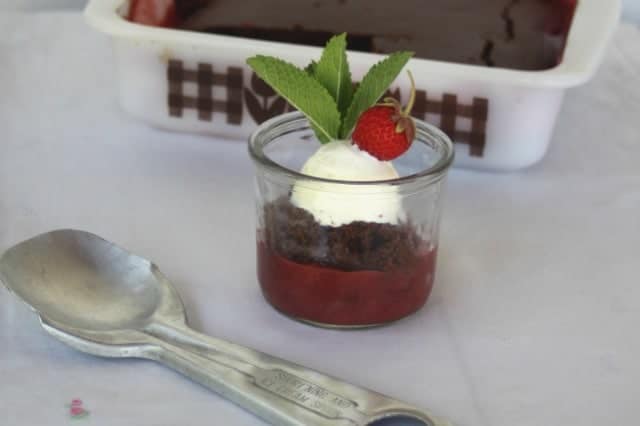 Print
Chocolate Strawberry Cobbler
Ingredients
Berry Layer
4 Cups Strawberries, hulled & halved
1/3 Cup Strawberry Jam
1/3 Cup Sugar
1 Tablespoon Vanilla Extract
2 Tablespoons Unbleached, All-Purpose Flour
Topping
3/4 Cup Unbleached, All-Purpose Flour
1/4 Cup Cocoa Powder
1 teaspoon Baking Powder
1/4 Cup Sugar
1 Egg
3 Tablespoons Melted Butter
2/3 Cup Milk
Instructions
Preheat oven to 400 degrees. Grease an 8" square baking pan.
In a bowl, combine the strawberries, jam, sugar, vanilla extract, and flour. Fold everything together until well mixed. Spread evenly into the bottom of the baking pan.
In another bowl, whisk together the flour, cocoa powder, and baking powder. Set aside. Whisk together the melted melted, milk, and egg until thoroughly combined. Pour the wet ingredients into the dry and stir just until mixed.
Spread the chocolate topping over the berries evenly.
Bake for 35-40 minutes in the preheated oven. The topping will be firm to the touch and the fruit will be bubbling up around the edges.
Let cool at least 10 minutes before serving.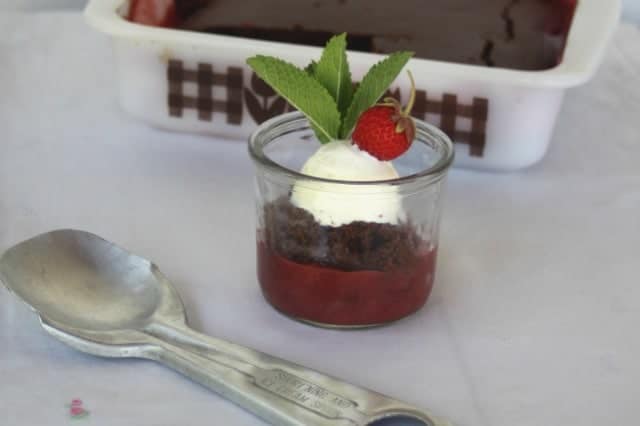 Disclaimer: I may receive compensation for products mentioned in this post. All opinions expressed are my own. I am not a doctor, always seek trained medical advice. No statements should be considered approved by the FDA or as a diagnosis or treatment for any illness. See my Full Disclaimer Here.