Every once in a while a blog commenter or student will as ask me how I do it all. How do I find time or manage my time to let me do so much. Let me be clear that I don't do it all, not even remotely close. However, when someone asked me that just last week, it gave me a few ideas.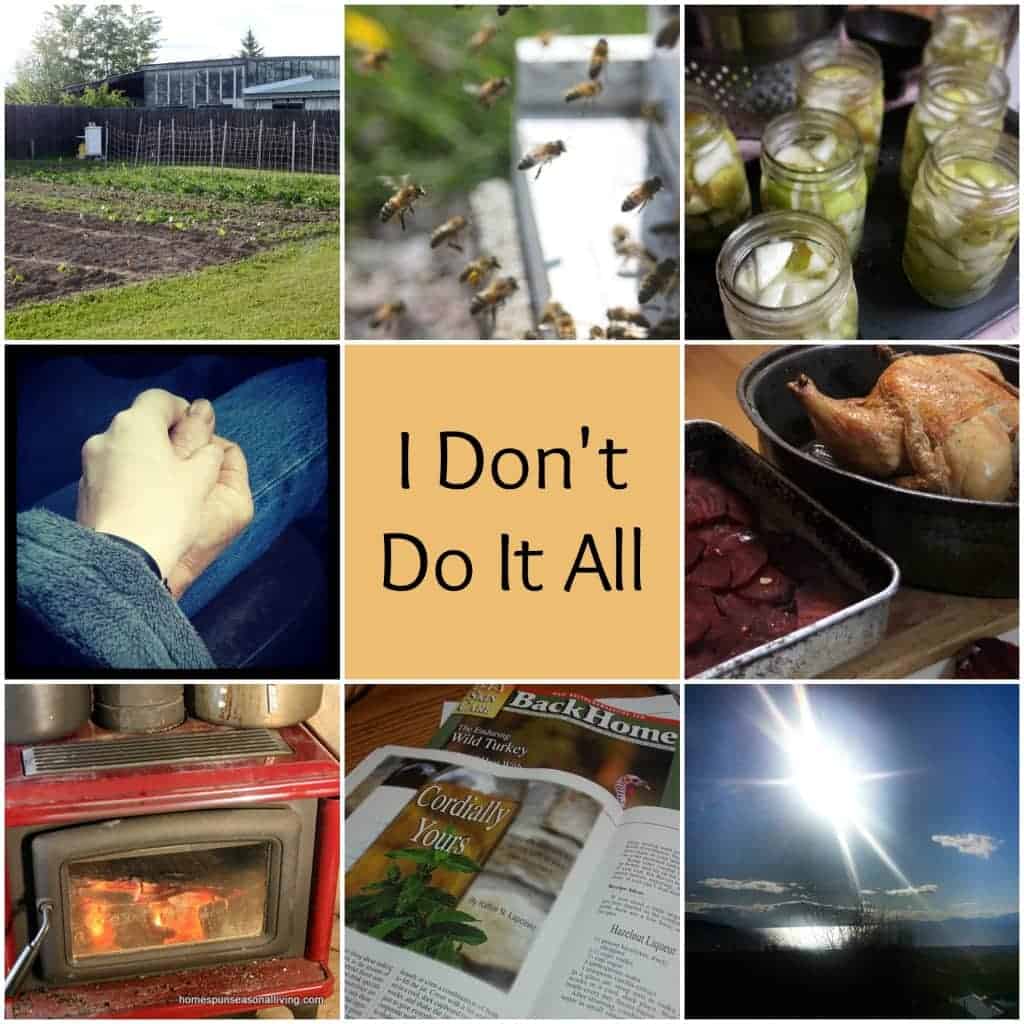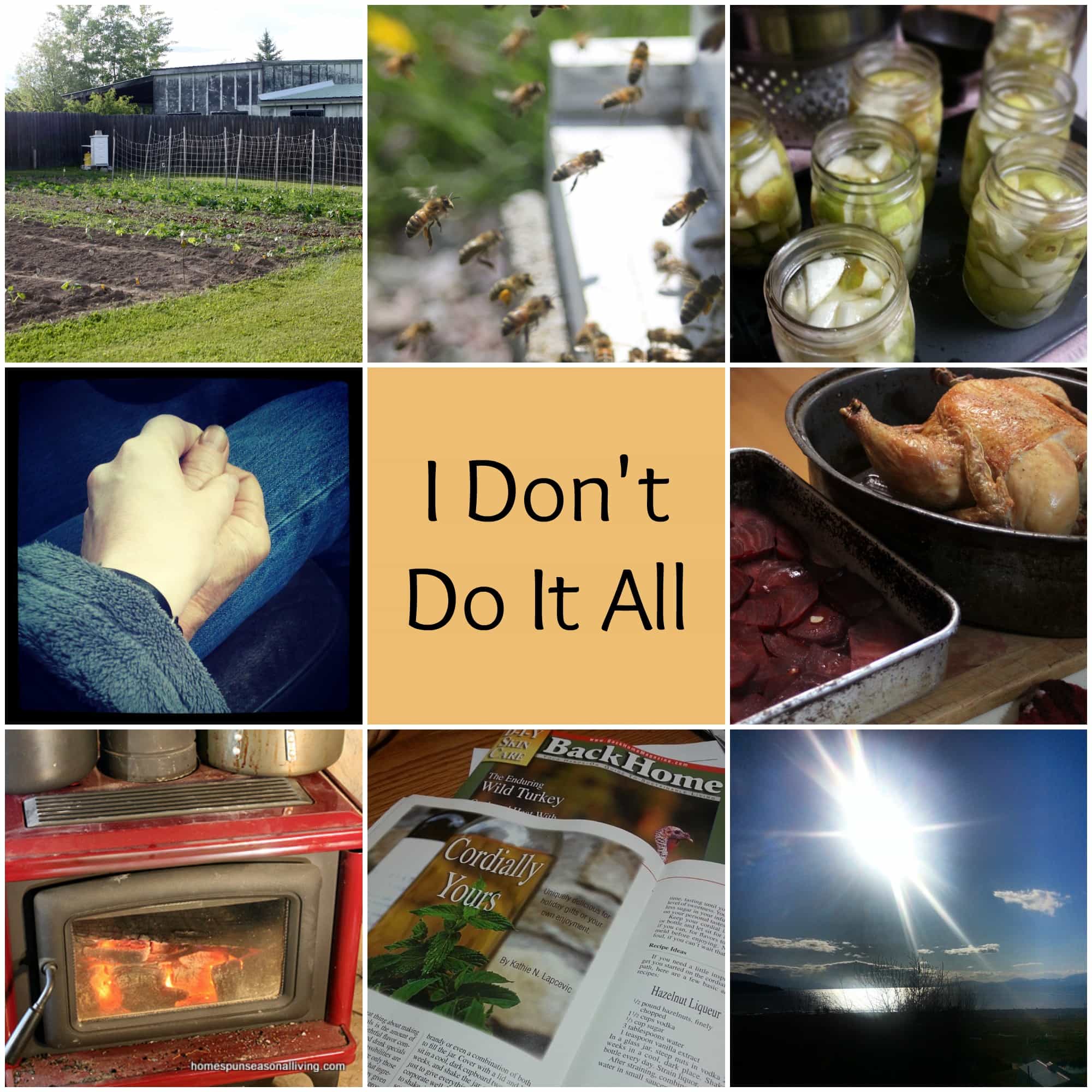 Let's talk about what I do, first. I live in northwestern Montana with my soulmate, Jeff. We live on an acre that we call, Two Frog Home. We keep a garden that's about 7,000 square feet, we easily raise and preserve 65% of our own food. I can, dehydrate, ferment, make hard cider and more from what we grow, forage, trade, and buy. I am fiercely DIY – I make most of our herbal remedies, body products, and cleaning products. We keep bees and composting worms. I cook from scratch and I work a full-time job outside the home. I also keep this blog and another, I do some freelance writing for magazines, and I teach classes on things like canning, cooking, gardening and more. I like to knit, sew, and generally get crafty when I can and I'm training to run at least a half-marathon this summer. I also have rheumatoid arthritis which at times can knock the wind right out of my sails.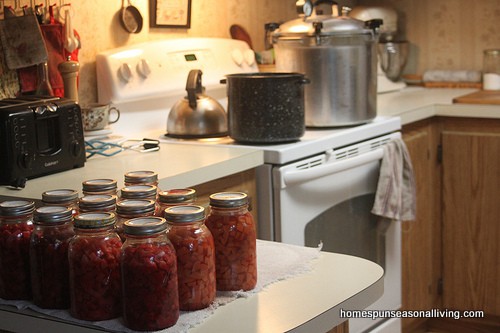 Now, let's talk about what I don't do: I don't have kids. That right there says a lot about my time. My house would never survive a white glove test, it's not filthy but I must admit I sometimes struggle with the lack of Martha Stewart inspired perfect cleanliness. We use wood heat and while it is warm and cozy it is especially messy. The garden generally has a good bit of weeds. When you come to visit it is not Better Homes and Gardens. There are generally books, journals, and pens on every flat surface in the house. Meals are very simple as much as I like to cook, we eat no-fuss most of the time. I don't watch TV, I don't have a Netflix account, and I can't remember the last movie I went too. I don't travel. Besides our pet cats, we don't keep any farm animals or livestock.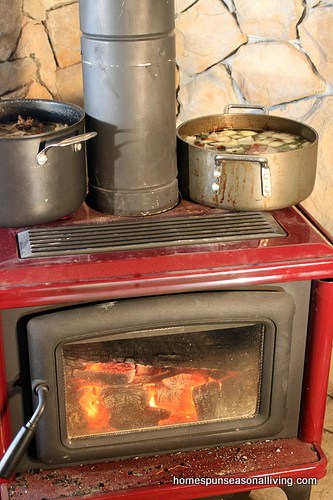 How do I accomplish so much? First, I do a lot of planning and prioritizing. My brain works well that way and I stick to a routine most days. I'm flexible but I can be flexible because I plan well. I use a mixture of pen and paper notebooks and Evernote to keep track of projects and to-do lists. I'm an avid note-taker too because those records and journals become valuable later on. I don't watch TV (see above). There's nothing wrong with watching TV or Netflix, however, for me; those become distraction tools and before I know it an afternoon is gone. We do have a TV, the Olympics were on every night this season, but I'm not paying very close attention – it's on much like a radio, background noise. I'm completely capable of having that on while also testing recipes for a magazine article. I take time to relax and enjoy my life, the incredible state of Montana, and my soulmate. I think time to rest and rejuvenate is a huge part of productive life. I eat right and I work out – proper nutrition and exercise have more to do with my high my energy level than anything else.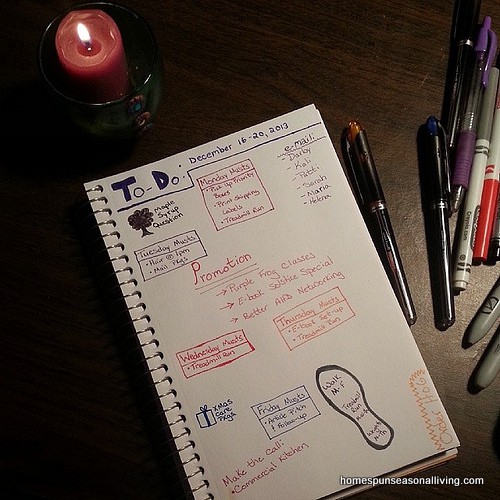 Let me encourage you: First, you can't do it all. No one can, really, no one. Do the best you can and prioritize. What's important to you should get done, what's not important doesn't have to get done and those priorities are personal to you and aren't going to look like mine or your neighbor's or the incredibly popular blogger you look up too. Second, take it all in small bites. We grew into a large garden in incremental steps as we got more experience and more efficient. We canned more food as we got the hang of doing it. Don't try to go all out your first year of doing something, you're more likely to burn out that way. Third, find a planning / organization system that works for you. Whatever works and honestly it's likely to change, that's ok, just give yourself some structure to work within. Fourth, cut out the clutter – physical, mental, spiritual. Get rid of the things standing your way. Finally, give yourself love and stop with the perfectionism. Embrace a simple life don't glorify a busy one. Please give yourself love and patience and unending kindness. Please.
—
In the coming weeks, I'll be sharing an interview series with you from other bloggers and homesteaders and friends all about how they don't do it all, either. I hope each of these will encourage you in your own life as you decide just how to prioritize and celebrate the fact that you too, don't do it all.