Do you need a gift in a hurry but want it to be more meaningful than a gift card? Gift It From Scratch: Body Products Edition is here to help! Following in the footsteps of my cookbook Gift It From Scratch, this body products edition gives you 10 homemade and natural body projects and ideas for combining them with other homemade or store bought items to create truly amazing gifts.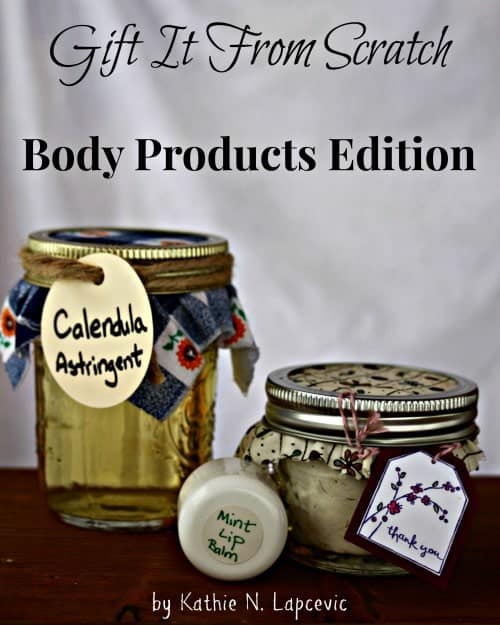 This e-book (a pdf download) includes the recipes for 10 projects including things like lip balm, a clay mask, deodorant, and much more. Most projects in the book can be whipped up in less an hour, a few, like the Calendula Astringent, take several weeks when the time for herbal infusions to be made are included.
Ingredients in the projects are easily found in most grocery stores, most are probably already on hand in many home pantries. Nothing terribly out of the ordinary or expensive is included, on the off chance that something might be difficult to find, links are included for resources to buy online – though again most everything should be easily located in local stores.
Gift It From Scratch: Body Products Edition is a great way to make homemade gifts that are meaningful and in harmony with belief systems of giving useful, sustainable gifts. It's also chock full of projects even the little kids can do.
Download the book today for $4.50.