The world of herbal healing is vast and can be overwhelming especially for the beginner. There can be so very much to learn and it can be difficult to find a starting point. Rather than digging out encyclopedia length books that discuss everything in very scientific doses and measurements, sometimes it's better to just start simple and rather folkloric in approach. While those herbal science books are important and necessary to practitioners helping patients, they tend to be a bit much for the casual person looking to heal a stomach ache or build up the immune system. Here are 6 ways to embrace herbal healing without succumbing to the overwhelming desire to do all the things.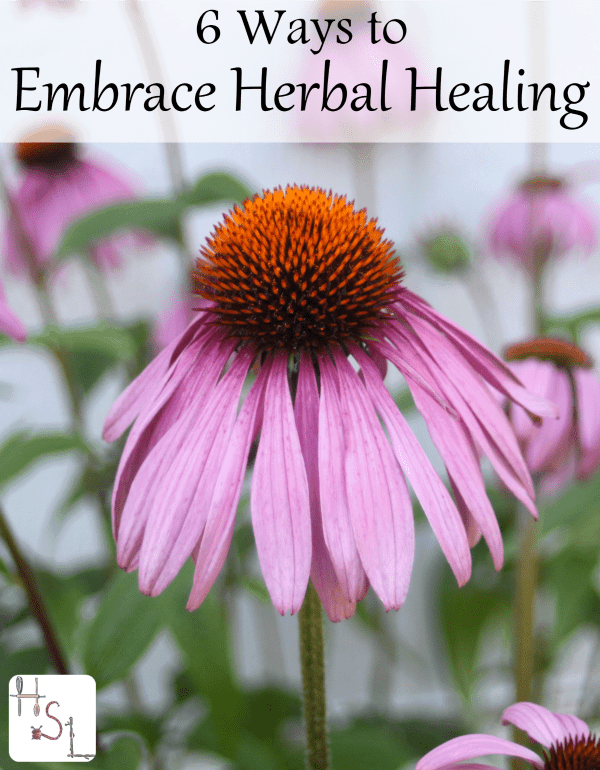 Brew a Cup of Tea
Many of us use herbs for healing without completely realizing it. A cup of mint tea to soothe an upset stomach, chamomile tea to help us sleep this is the very basis of herbal healing. A cup of tea is simple to be sure, but a cup of tea loaded with the right medicinal herb can be very powerful healing and comfort. Start with common herbs like chamomile, mint, clover, and build as research and comfort level grow.
[mailerlite_form form_id=1]
Infuse Some Oil
Soaking herbs in oil for a few weeks releases all the healing properties of the herbs into the oil making it an ideal base for massage oil, healing salves, lip balms, and more. The process is simple, quick, and easy to do with many of the plants growing right outside the back door.
Practice Aromatherapy
Put a few drops of essential oil into a diffuser or use them to add scent to homemade body products. Include the scent of appropriate oils to relieve stress, invigorate the senses, and more. Find good resources (non-biased resources) to learn about the different oils and how they can help different ailments. Use these oils as a supplement to overall good herbal and nutritional living.
Make a Tincture
Tincture is a fancy word for infusing herbs in some kind of alcohol or glycerine. These concentrated plant extracts provide a big hit of healing power in just a few drops. These are especially good for herbs that might not be very tasty in tea form or for those times when a little more concentrated medicine is necessary. They're easily diluted in a glass of water and can often help us kick colds quickly as well as lift our spirits and more. While there can be customized formulas and much more to this form of herbal medicine, starting simply with just a single herb and some vodka (or glycerine) can be a great introduction to deeper studies.
Grow Medicinal Plants and Herbs
The garden, backyard, and local forests and parks are probably already loaded with medicinal plants. Things like dandelion, yarrow, plantain, and many more grow wild with no need for a special herb garden and should be used when necessary. However, there is something very special about cultivating a medicinal herb from seedling to medicine. Many culinary herbs are also medicinal herbs and worth exploring both uses. Beyond those double duty herbs and plants consider growing for a specific remedy needed. Many herbs can be grown in a pot no a windowsill, so don't let a lack of large garden be a reason for not growing medicinal herbs.
Study Herbs
This is not about seeking certification or becoming a master herbalist (though go for it, if so inclined). This is about keeping a few good resources around that increase knowledge of locally available plants and their uses. It's handy to have a few good books at the ready so that research into new illnesses can easily be done. Sometimes more exotic herbs are needed and can often be found in local health food stores or online. While there is no lack of information online (heck, even on this website) be sure to check several sources and compare information, find sources that research their information thoroughly and provide not only traditional sources of information but back it up with current scientific studies whenever possible.
As the summer has officially kicked off, take some time to get acquainted with a few herbs and make the most of them and their healing potential in your home.