Preserve one of the best parts of by making a fall leaf garland with nothing more than leaves, beeswax, and thread.
This autumn garland DIY is perfect for kids and adults alike in that it's not terribly complicated and can be completed easily for a quick win.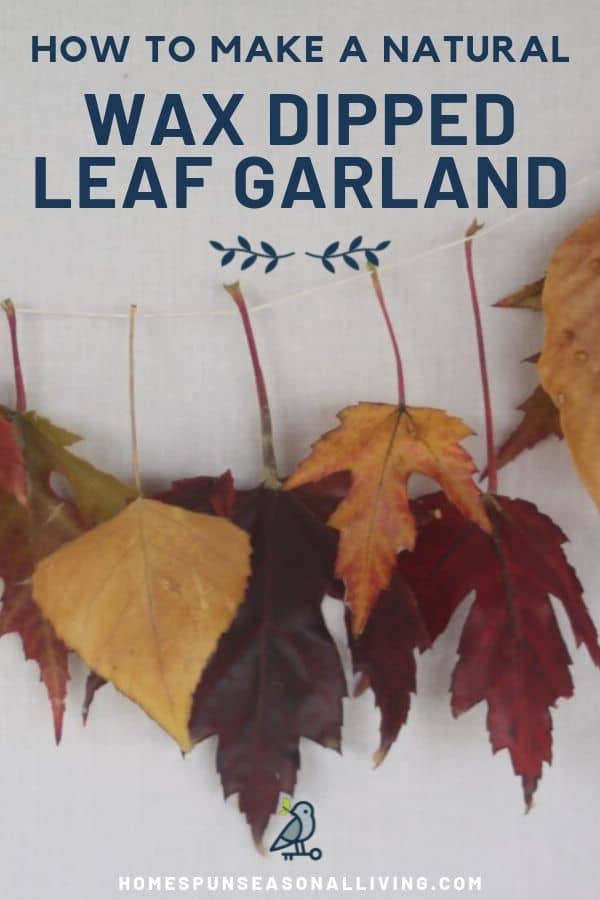 Make the garland as an ideal way to enjoy the autumn season.
For a family, make it a fun afternoon. Gather the leaves and have a warm drink afterward. Dip the leaves in beeswax together (the wax is hot work with small children to avoid burns) and string them up as desired.
Gather Leaves
For this craft, choose leaves that are still rather supple, skip the ones that are already crispy dry.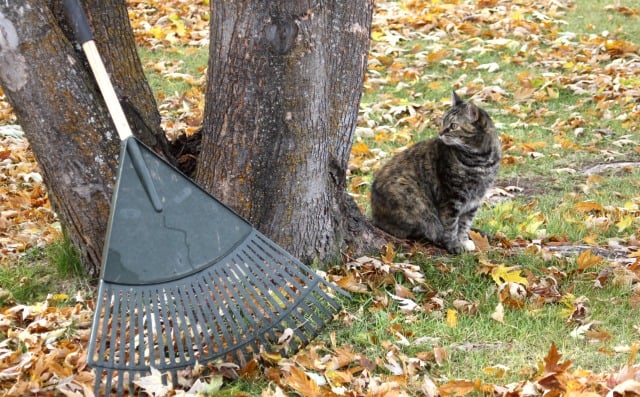 Also, choose leaves that are still flat avoiding ones that have begun to curl.
Gather as many or as few as you'd like. There's no right or wrong and no exact number to make it perfect.
A Box to Dry
While it is possible to dip the leaves and place them on parchment or wax paper to dry, the bit touching the paper tends to lose some of its luster.
It also means loss of a little beeswax which could lead to the leaves to brown rather than keep their color.
To combat this problem, it is best to hang the leaves to dry.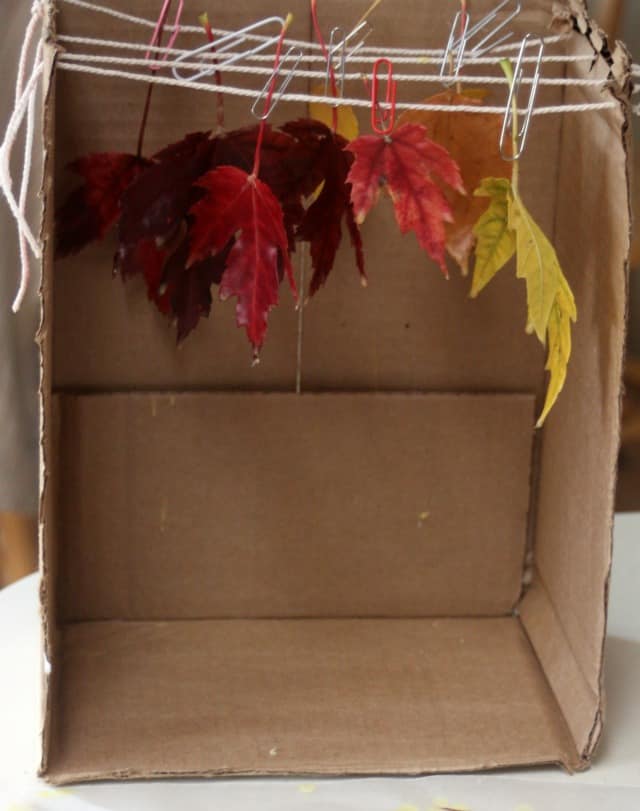 A cardboard box is perfect for this task.
Cut the flaps off one end of the box and open up one end completely.
On both sides of the open end, cut 1″ slits into the cardboard. Space these slits about 2 inches apart.
String some scrap yarn, garden twine, or other small cord through these slits. These will be the 'clothesline' for the leaves to drip and dry.
Other Supplies
You don't need much here but it is wise to gather what you need in advance to keep the project moving smoothly.
Beeswax or Paraffin
The leaves will need to be dipped into some kind of wax to preserve them. I always have beeswax on hand, so I go for that.
Regular paraffin for making candles will work too. How much you need will depend on the amount of leaves to dip.
The wax can always be remelted and reused later if you start with too much.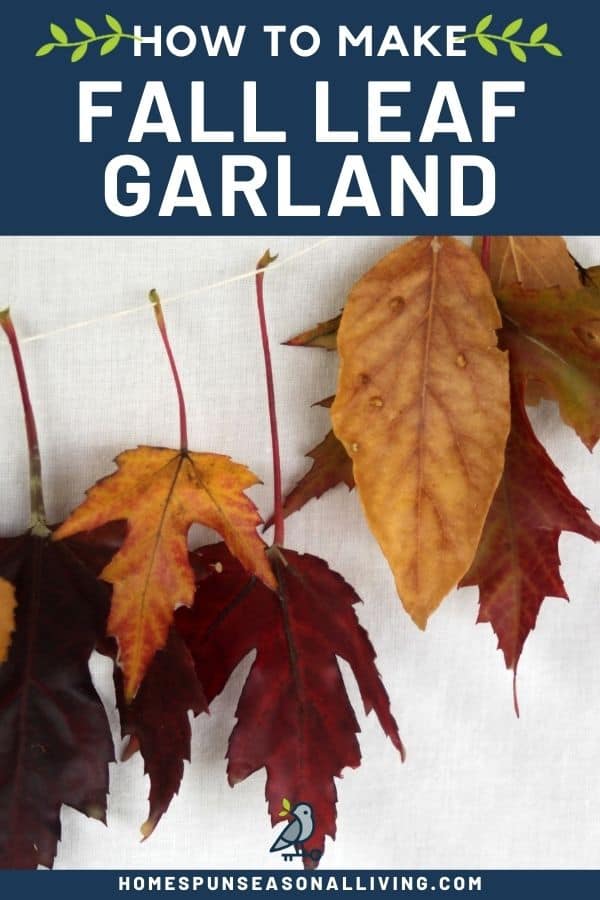 A Double Boiler
A bowl over a saucepan with water in it works, it doesn't have to be an actual double boiler.
You simply need a place to melt the wax and don't want to do this over direct heat.
A note: wax of any kind is difficult to completely remove from a pot or bowl. Use something second-hand or not very good here and just use it for melting wax in again in the future. Don't use something you will cook or eat from later.
Paperclips or Clothespins
You'll need something to hang the leaves from the line to dry. I've found that clothespins are too heavy for the garden twine I use but paperclips work just perfectly.
If you're going to make a garland with the dipped leaves you'll also need a fine sewing needle and some thread (I use cotton hand quilting thread but I imagine any thread would work).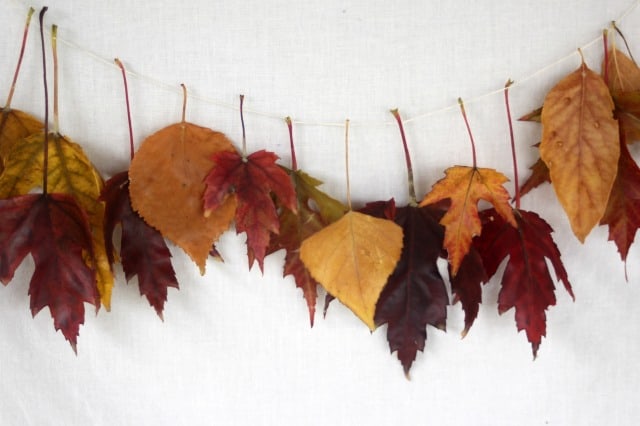 Dipping the Leaves
Now that you have everything set up, let the fun begin!
Melt the wax in the double boiler, once melted remove from heat.
Do keep the water in the bottom of the double boiler on a low simmer, just in case you need to remelt the wax.
Hold the leaves by the stem and dip into the wax. Coat it completely. Shake off the excess wax and hang it to dry on the line (or place on wax paper). Repeat until all the leaves are coated.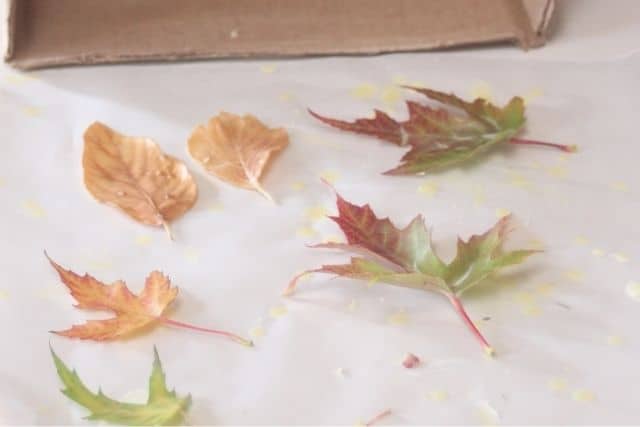 It may be necessary to place the wax back over the water if it gets too cool and remelt. You'll know when it's getting too cool because it will clump on the leaves.
Let the leaves hang until dry and cool. An hour at the very most, likely much faster.
To Make Garland
Using the thread and needle, carefully insert the needle through the stems of the leaves. Continue stringing until all the leaves are used up. Slide the leaves along the thread and space as desired. Hang from hooks and display proudly.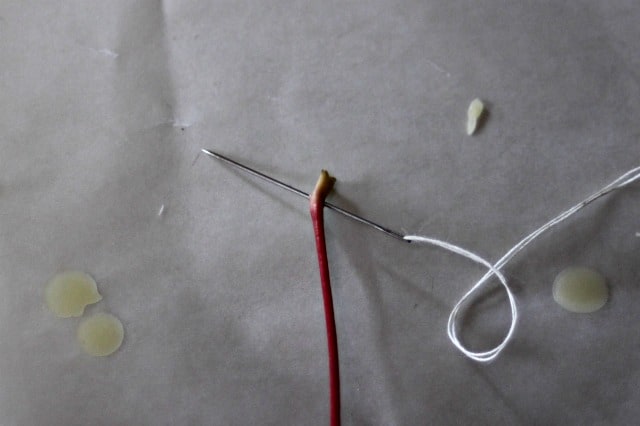 Other Craft Ideas with the Dipped Leaves
Spread them out onto table centerpieces. Fill a vase with them as another centerpiece. Glue a magnet to the back and stick to the refrigerator.
Use them to decorate your first day of school signs!
Before dipping, write names on the leaves with a permanent marker and then dip. Use those leaves as place cards for your fall feasts or even gift tags.
Make the most of those beautiful fall colors by preserving leaves with wax and displaying them proudly. It's a great way to bring nature inside and celebrate seasonal living. Perhaps even more importantly, this is simple craft and fun for the whole family to enjoy together.