During the hot days of summer we all like a cool, sweet treat now and then. Ice cream seems to be the obvious choice but it's not always the healthiest choice. I wanted to come up with something cool, naturally and lightly sweet, and if at possible nourishing too. It seems like a lot to ask of a dessert but this fresh fruit gelatin is all that while being incredibly delicious and completely customizable.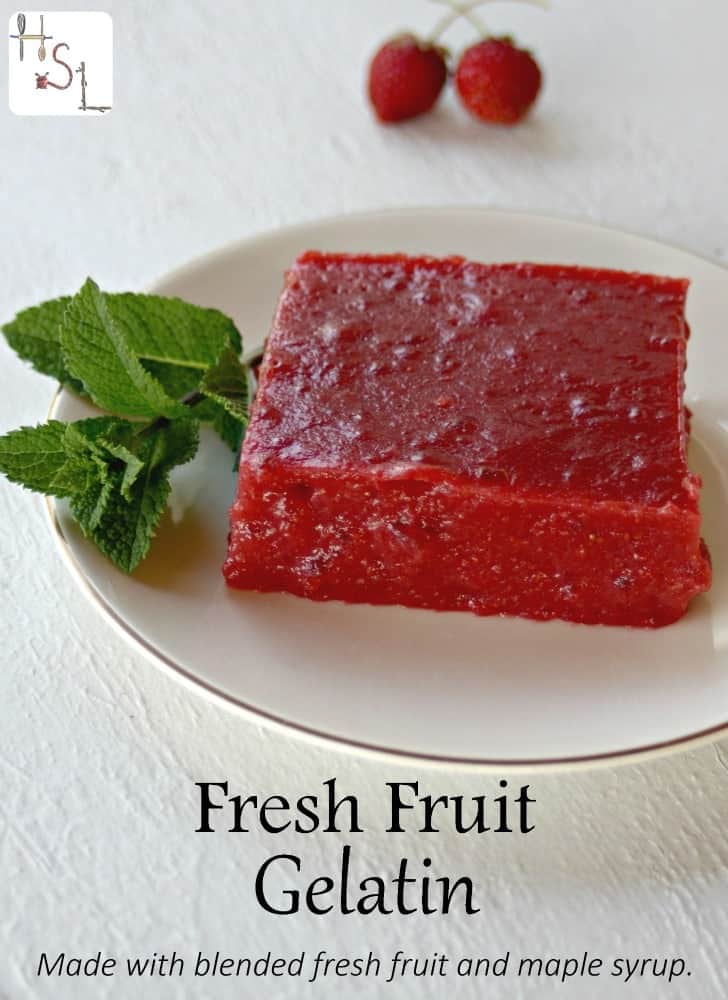 This is not the fruit flavored, artificially colored gelatin found on your grocery store shelves. It's way better in taste and texture. While it's not instant, it's not terribly time consuming either. Refrigeration is the most time consuming part and that is obviously hands-off. We start this recipe with fresh fruit purée, use whatever is your favorite. Berries and stone fruits are going to work better than say bananas but try your favorite fruit and grab a spoon.
Fresh Fruit Gelatin
Whip up a cool and nourishing dessert using the sweet abundance of summer with this recipe for fresh fruit gelatin.
Ingredients
3 Cups Puréed Fresh Fruit
1 ⅓ Cups Cold Water
½ Cup Maple Syrup
2 Tablespoons Lemon Juice
3 Tablespoons Unflavored Gelatin
Instructions
In a pot combine fruit purée, maple syrup, lemon juice and 1 cup of water.
In a small bowl, add the remaining 1/3 cup of water. Sprinkle gelatin over this water and let it soften.
While the gelatin blooms, warm the purée mixture over low heat to 110 degrees.
Remove from heat and whisk in gelatin. Keep stirring until dissolved.
Pour gelatin into individual cups, a large pan, or any other container.
Refrigerate until mixture sets. Serve cold with additional fruit, whipped cream, or yogurt, if desired.
What fruit will you use in your gelatin recipe?
[sc:Useadsenselarge ]