Red wine and chocolate is a favorite dessert combination. They're also some of my favorite things to combine in a gift basket. It seemed while both things separately are good, combined together in a dessert would be even better. That thought is exactly how these chocolate red wine cookies were born.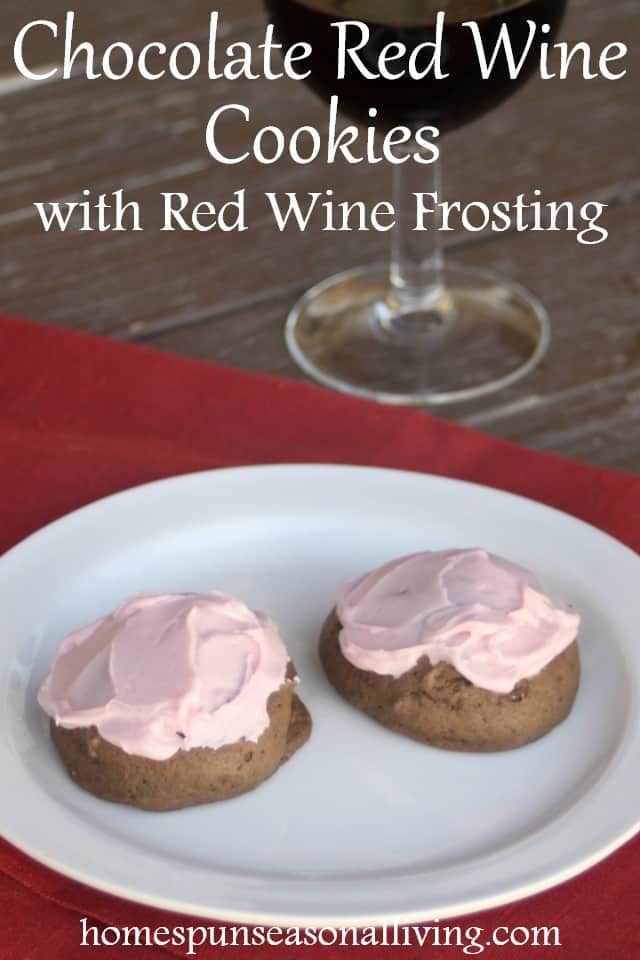 An Adult Cookie
While alcohol generally cooks out, these cookies are definitely more for adults in flavor. They're lightly sweet and full of wine flavor. They're soft and perfect to have with a glass of wine or cup of tea. The alcohol is uncooked in the frosting but there isn't much, so now one is going to get drunk. Skip the wine and use milk if desired. Chocolate frosting would work delightfully well if someone wanted to avoid the alcohol.
No need for expensive wine here, use something tasty but not necessarily high end.
Decorate for a Fancy Touch
These can be simple with just the frosting. Take it up a notch if desired by using chocolate sprinkles or shaved bits of chocolate on the top of the frosting. A drizzle of melted chocolate would be nice too.
Make Whoopie Pies Instead
These would make delightful whoopie pies too. Instead of frosting large, individual cookies, bake smaller cookies and make sandwiches with the frosting as filling. Roll the edges of the frosting in chocolate sprinkles for a truly delightful treat.
Yield: 29 Large Cookies
Chocolate Red Wine Cookies with Red Wine Frosting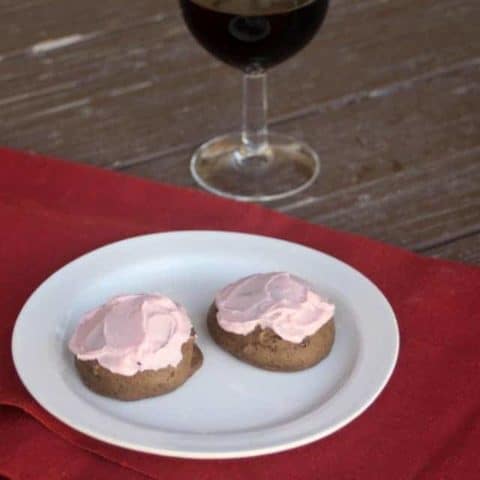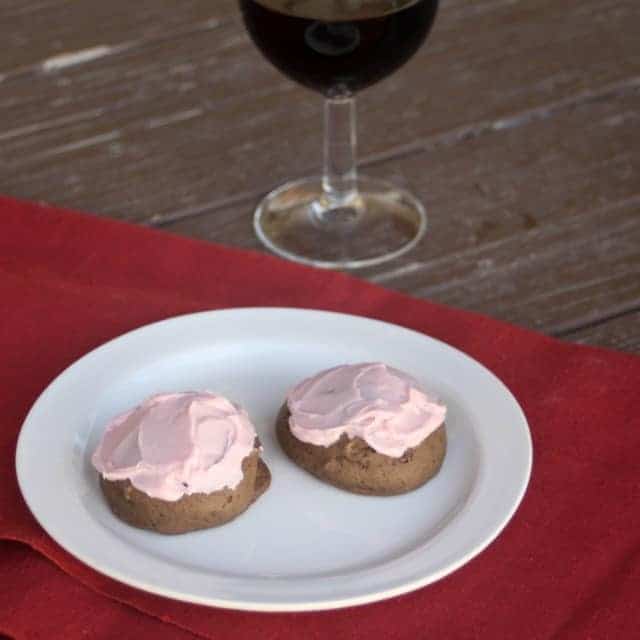 Sweet, soft, and earthy these chocolate red wine cookies make a special and colorful addition to any cookie tray or buffet.
Ingredients
Chocolate Red Wine Cookies
¾ Cup Butter, softened
½ Cup Sugar
⅔ Cup Red Wine
1 Egg
2 Cups All-Purpose Flour
½ Cup Cocoa Powder
1 teaspoon Baking Soda
Red Wine Frosting
1 ¾ Cups Powdered Sugar
¼ Cup Butter, softened
2 Tablespoons Red Wine
Instructions
Preheat the oven to 350 degrees.
Line cookie sheets with parchment paper or silicone baking sheets.
Make the Cookies
Sift together the flour, cocoa, and baking soda. Set aside.
Cream together the butter and sugar, until light and fluffy. Beat in the egg until the thoroughly combined.
Alternate mixing in the red wine and sifted flour until everything is thoroughly mixed.
Drop tablespoons of dough onto parchment lined baking sheets.
Bake in preheated oven for 13-15 minutes, until set and bottoms are lightly browned.
Remove to wire racks to cool completely.
Make the Frosting
Cream together the powdered sugar and butter, add the red wine and beat until creamy.
Spread the frosting onto cooled cookies and decorate, if desired.