We've been having a hot summer here in northwest Montana. It's unusual for us to stay in the 90s for 3 weeks but that is how this summer is going. I suppose like most folks I want something a little cool and sweet on a hot summer day. That desire for something cool and sweet but still healthy inspired these Frozen Chocolate Banana Bars. They're sweet and creamy and just the perfect August day cold dessert.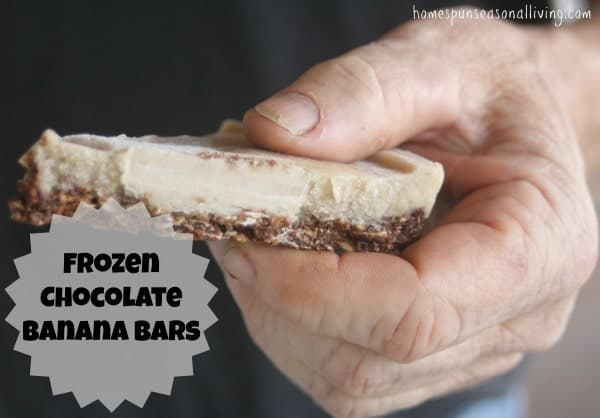 We're coffee lovers here and the bit of espresso powder in the crust with coffee liqueur is nice. However, feel free to skip it, if coffee just isn't your thing.
Frozen Chocolate Banana Bars
Frozen chocolate banana bars are a slightly sweet and potentially dairy and gluten-free cold treat perfect for a hot summer day.
Ingredients
Chocolate Oat Crust
3 Tablespoons Cocoa Powder
¾ Cup Oats
⅓ Cup Almond Meal
¼ teaspoon Salt
⅓ Cup Sugar
¼ Cup Coconut Oil, melted or Olive Oil
2 teaspoons Espresso Powder (optional)
1 teaspoon Vanilla Extract or Coffee Liqueur
Banana Cream Layer
2 Large Bananas
¼ Cup Milk or Milk Alternative
Instructions
In a mixing bowl combine the dry ingredients for the oat layer. Pour in the coconut oil and vanilla extract. Mix until everything is moistened. Press evenly into the bottom of a 9" round cake pan. Set aside.
In a blender combine the bananas and milk. Puree, adding more liquid if necessary. Pour this over the oat layer.
Cover the pan and freeze for at least an hour, several is better.
Slice into wedges and serve.
[sc:Useadsenselarge ]