I'm a planner, a list-maker. I have a lot of goals and dreams, always, and I've learned that the only way to make them happen is to 1) make them a priority, and 2) stay organized. The thing about organization is that it doesn't have to be rigid, in fact, I'm learning the more organized I am, the more flexible I can remain. Life has a way of giving us the unexpected but I've learned that if I have a plan in place, I can roll with the punches (both good and bad) because I'm sure of my priorities and can adjust accordingly. I do believe that we all have to find a system that works and that there is no one way that will work for everyone, that being said, I have found some really great goal planning resources to help my priorities remain an organized priority. If you're thinking about making New Year's Resolutions or goals, here are some resources that may help.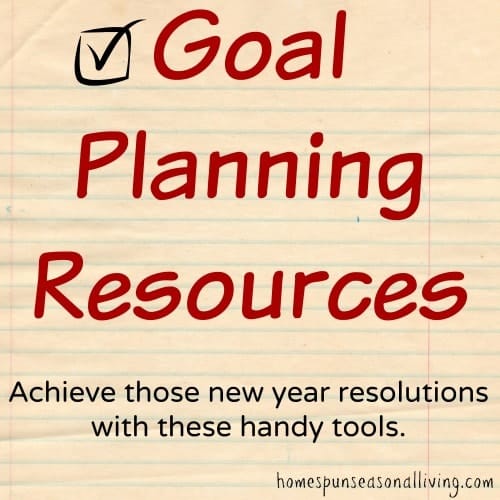 But first, Why Create a Plan or Make Resolutions?
I read this quote a few weeks back and while they are not my words, they do sum up the reason for setting goals quite nicely. "Make New Year's goals. Dig within, and discover what you would like to have happen in your life this year. This helps you do your part. It is an affirmation that you're interested in fully living life in the year to come. Goals give us direction. They put a powerful force into play on a universal, conscious, and subconscious level. Goals give our life direction… Write it down. Take a piece of paper, a few hours of your time, and write it all down – as an affirmation of you, your life, and your ability to choose. Then let it go. The new year stands before us, like a chapter in a book, waiting to be written. We can help write that story by setting goals." ~Melodie Beatty
Set those goals, whatever they might be, so that you have your priorities clear for the coming year and so that you can create the life you want.
Basic Calendar:
This 2015 free printable from Creative Mamma is simple, pretty, and most importantly effective. It can easily be punched for a binder or hung on the wall or fridge to help keep everyone aware of events and appointments. I do use Google Calendar for keeping track of most appointments but a printed calendar is a nice thing, I've got in my three ring binder between monthly tabs that also have other monthly planning pages.
Business & General Life Planning:
I bought the 2015 Biz workbook from Leonie Dawson a few weeks back and am so glad I did! The workbook really helped me focus on what worked and didn't in 2014 and use that as a jumping off place for 2015 goals and plans to make that happen. I printed it out and put some of the monthly pages in my 2015 binder to help me stay focused on my goals and making them happen. There's a personal life workbook as well for folks not interested in running a business. The author's general style is not my personal preference, that being said her workbooks are effective in getting to the heart's desires in a direct yet compassionate manner.
Meal Planning:
We eat much healthier when we have a meal plan in place at our house. While processed or fast foods aren't a temptation for us, when in a hurry without a plan in place we don't make the best choices. If that is true for you too, these meal plans (free with newsletter subscription) could be mighty helpful. They focus on real food ingredients and frugality with a family mindset.
Garden Planning:
If planting a garden or keeping better track of the garden is on the goal list, The Gardening Notebook is hugely helpful. It's part journal, part educational material. The book covers tips like ideal soil conditions, plant spacing, and more while giving you ample space to write about your garden and ideas on how best to use a garden journal to grow the most and food possible for your climate and garden.
Preparedness:
If you're looking to get prepared or keep your food storage and documents organized, The Preparedness Planner, will help you do just that. It comes with sections for food storage, medical / first aid, pet supplies and more – complete with inventory sheets, tips, and explanations galore. It'll help you be ready for the next ice storm, hurricane, earthquake, or any other disaster.
Budget Planning:
Getting control of those finances is a huge goal for many folks and it's a great goal. Dave Ramsay always offers practical advice and has a free budgeting guide to help you get started.
Seasonal D.I.Y. Living:
If you're trying to make seasonal living more of a priority, I wrote a workbook that includes 12 weekly lessons to help you incorporate the natural rhythms of the earth into your daily life. Beyond that be sure to sign up for my newsletter and stay tuned here for Fiercely D.I.Y. projects, inspiration, classes, and more.
What's your favorite planning resource / method?
[sc:Useadsenselarge ]