As I mentioned in the Fiercely D.I.Y. Friday post, I had all this beautiful citrus from the Schneiderpeeps homestead. I wanted to make something a little sweet and gluten-free from the grapefruit. After all the holiday baking (and indulging), I didn't want cookies or cakes. I considered grapefruit bars, even a grapefruit pie but even those felt too heavy and frankly more work than I had energy. Somewhere in the back of my mind, I had this idea for grapefruit gelatin. I pulled out my copy of The Joy of Cooking for ideas. I'm blessed to have Jeff's mom's copy – it's old and worn and held together with glue and duct tape, but still a treasured and often used resource.
There was a recipe for 'grapefruit jelly' in the book. The recipe included orange and lemon juice but I chose to keep it 100% grapefruit juice as I adapted it. I also chose to use some of my mint infused honey instead of sugar and much less than the recipe suggested. The mint idea came after searching my copy of The Flavor Bible for possible flavor combinations and learning that mint and grapefruit was popular. Now, plain honey will work perfectly, so don't let the lack of mint infused honey stop you from making this – but if you do have some, this is a tasty way to use it
We found this to be a delightfully sweet yet tart and light dessert. The gelatin is a little loose – it didn't set up firm enough to cut into cubes but it did set into a nice jiggly texture that is great on the tongue. While we were perfectly healthy when we ate it, I think this would be great when overcoming a cold and just wanting something light, cool, and soothing.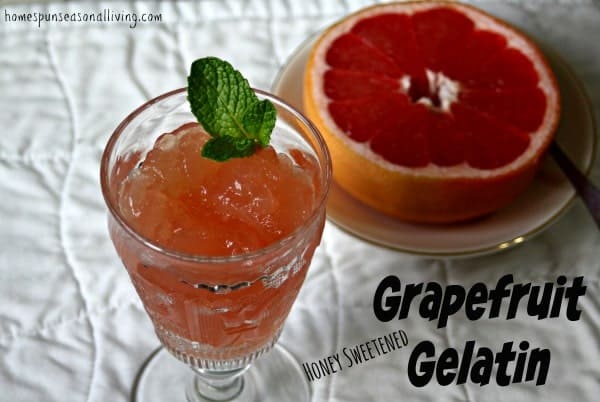 While this is most definitely a dessert, I do think it is one you can feel good about serving your family. Honey is full of vitamins and minerals that help our body and gelatin can aid digestion. All that to say, make and enjoy while the citrus is in season!
Grapefruit Gelatin
A cool and healthy dessert that makes the most of fresh citrus season, this honey sweetened Grapefruit Gelatin is sure to please the whole family!
Ingredients
3/4 Cup Cold Water, divided
1/4 Cup Honey
1 1/4 Cup Grapefruit Juice
Pinch Salt
Instructions
Soak Gelatin in 1/4 cup cold water. Set aside.
In a small saucepan, whisk together the honey and remaining 1/2 cup water. Bring to a boil and simmer until honey is completely dissolved (about 3 minutes).
Dissolve the soaked gelatin in the honey syrup. Allow to cool to room temperature.
Stir the grapefruit juice and a pinch of salt into the gelatin mixture. Divide into individual servings or pour into one container. Refrigerate until set, about 4 hours.
Serve cold plain or with whipped cream.
[sc:Useadsenselarge ]
Additional Resources: