It's the last week of National Hot Breakfast Month and our theme for this week is the ever tasty and favorite Breakfast for Dinner. I grew up in western Pennsylvania, near Pittsburgh. Home fries were (and probably still are) an institution there. They're touted on restaurant menus, every family has their own way of making them, and they are as easily served alongside breakfast as they are dinner. Now days, I make home fries loaded with onion, green pepper, and bacon as a hearty breakfast or dinner often enough that I've learned some things that make them better and stick to some of the tradition I had as a kid.
I prefer a waxy potato for this dish – Yukon Golds are very nice but a regular russet will work too. I never peel either, though if that is something your family hates, feel free to remove it. Parboiling the diced potatoes and then letting them cool makes for crispier home fries, which is preferred in my house. A nice black char but not burn is also preferred here but can easily be avoided by turning down the heat and cooking for a little less time should that be the preference. Onion and garlic are almost always present in anything savory I cook and in this case, add a great layer of flavor to the overall dish. Don't skimp.
My mom always added paprika to her home fries and so I do too. I don't remember having any meat or bacon in our home fries as a child but when I first made home fries for my husband, he said something about bacon would be great and so I tried it and of course, bacon makes everything better it seems. I suppose the adding of meat makes this dish a hash, but we've always called it loaded home fries.
Let's be honest, this is not the prettiest food a person can make. I struggled with the photos quite a bit, but what it lacks in high-end restaurant visual appeal it makes up for in simple fill-the-belly amazing flavor and comfort.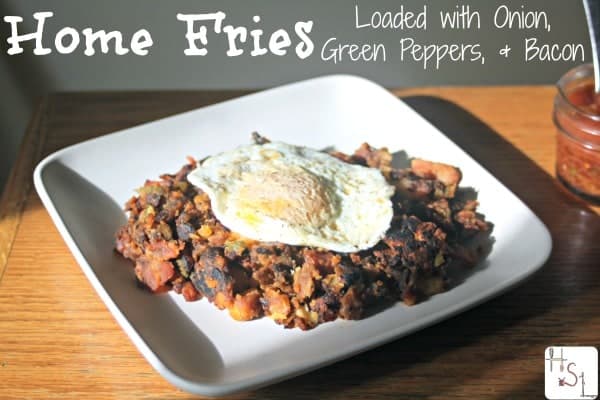 For breakfast serve these home fries with an over-easy or poached egg right on top. I particularly like the warm yolk on there, but if it's not your thing or if you're allergic to eggs, it's easy enough to skip. Top the home fries with ketchup or salsa for added flavor and kick. A sprinkling of cheese on top isn't a bad idea either, though something I rarely do. For breakfast for dinner, serve them the same way or along side a pan fried pork chop for something hearty and oh-so-comforting.
Yield: 2 Servings
Home Fries Loaded with Onion, Green peppers, & Bacon
Home Fries Loaded with Onion, Green Peppers, & Bacon make a tasty hot breakfast or breakfast for dinner dish served with eggs or even alongside pork chops.
Ingredients
4 Potatoes, Cut into 1/2" Pieces
4 Strips of Bacon
1 Small Onion, Diced
2 Cloves Garlic, Minced
1 Green Pepper, Chopped
2 Tablespoons Bacon Fat, Reserved or Olive Oil
1 Tablespoon Paprika
Salt & Pepper, to taste
Instructions
In a saucepan, cover the potatoes with water. Bring to a boil, and cook for 10 minutes. Drain and set aside to cool.
In a large fry pan, cook the bacon until crisp. Drain on towel and cool. Crumble and set aside.
In the fry pan drain off the fat, keeping only 2 Tablespoons. Heat the bacon fat and add the onion, garlic, and green pepper.
Saute for about 5 minutes, add the cooled potatoes and paprika. Toss everything well.
Cook, stirring often to prevent sticking, until the potatoes are brown and crispy 15-20 minutes.
Add the crumbled bacon and salt and pepper to taste. Heat through and serve hot.
Notes
Makes 2 hearty servings, but can easily be doubled or more for a crowd.