When creating budgets many stick to the normal categories: housing, food, utilities, savings, etc. These are important things, of course, however; it lacks a clear plan, there are no goals or priorities in a budget beyond making ends met. Setting financial priorities should be as vital as creating an emergency plan for homesteaders.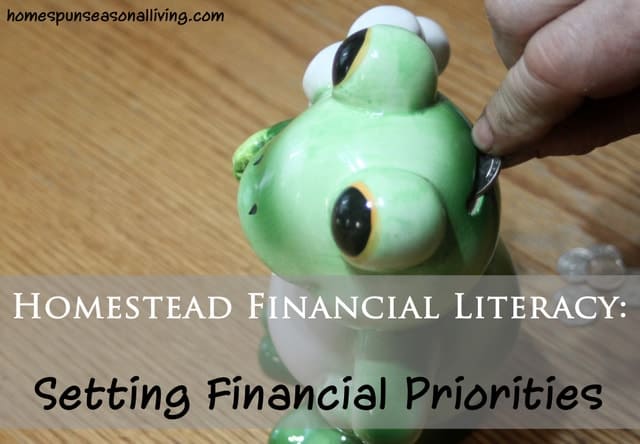 Obviously, priorities are a very personal thing, no one can identify those for someone else. The process for setting financial priorities can be done in the same way as setting any goals.
1. Dream Big
What's important? A debt-free, mortgage-free piece of land to homestead? Caring for a sick loved one? A trip around the world? Funding a modest (or not-so-modest) early retirement? Hiking the Appalachian Trail? Again, personal to you and your family and no right or wrong answers here.
2. Give It Importance
Write that dream, that goal, that priority down. Type a list, create a collage / vision board, make a mind map, do whatever feels natural. Give those priorities importance and place it a prominent location so that the goal can be seen and kept at the forefront of life.
3. Create a Plan
Once the priority is clear, finding a way to achieve it is of upmost importance. Break the goal into bite-sized pieces. Maybe finding extra income is necessary. Or is paying off a car loan or credit card debt a higher priority. Does the frivolous spending need to be kept in check? Create a road map so that the goal isn't some lofty dream but a doable daily task.
4. Make the Goals S.M.A.R.T.
Make sure the goals and steps to achieve the goals are Specific, Measurable, Achievable, Relevant, and Time Bound. It's a common business and marketing acronym but it applies just as easily to personal, financial priorities.
5. Go After It
Go after the goal without apology. Make it happen, do it with integrity but make it happen and don't let anyone stand in the way.
It might seem daunting, setting financial priorities is a big step, after all. However, the above steps will make it easier to further your homestead financial literacy.
Additional Resources:
[sc:Useadsenselarge ]