Baking a loaf of bread is a magical, wonderful thing. It's delicious and much easier than the inexperienced think. It's a process that seems almost as old as civilization itself and it can so easily connect us to our foremothers and our history. Learning how to bake a  loaf of bread takes some hands-on time but requires no special equipment.
This is a great project for a fall or winter day in which you want to nothing but stay in the house. Baking bread takes some time there are two risings and the baking itself. A good bit of this time is not very hands-on but rather just letting the yeast and flour do its thing.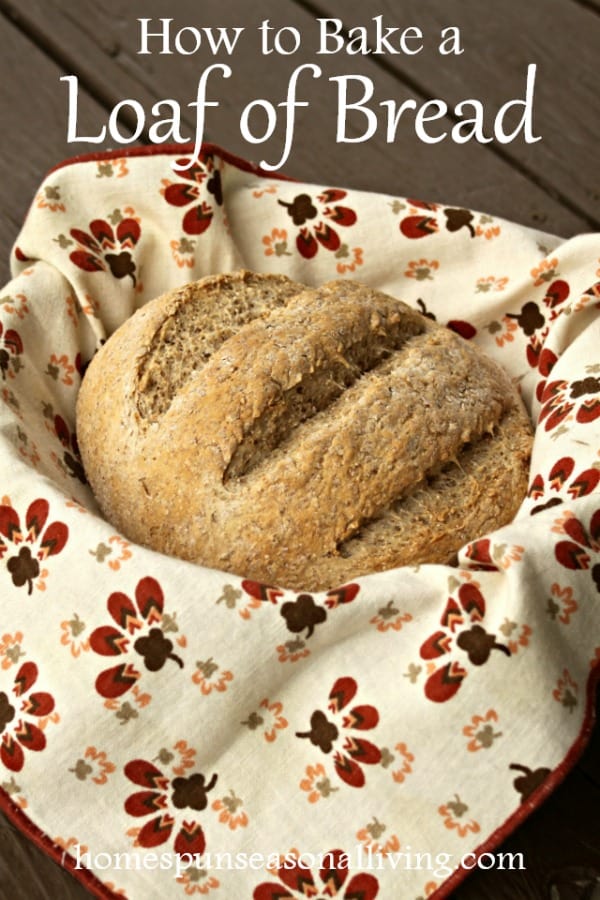 The Basic Ingredients
A basic loaf of bread contains – yeast, water, salt, and flour. That's it. Options to customize and flavor it up abound but start with the basics and get the hang of the process before trying different things. An exact recipe to get started with is below.
The Basic Equipment
We don't need fancy mixers or even bread pans to bake a loaf of bread. The mixer might make the work a bit easier but it's not necessary. These are the basic things needed for baking bread and most kitchens already have these:
These basic things will get you a tasty and beautiful loaf of bread.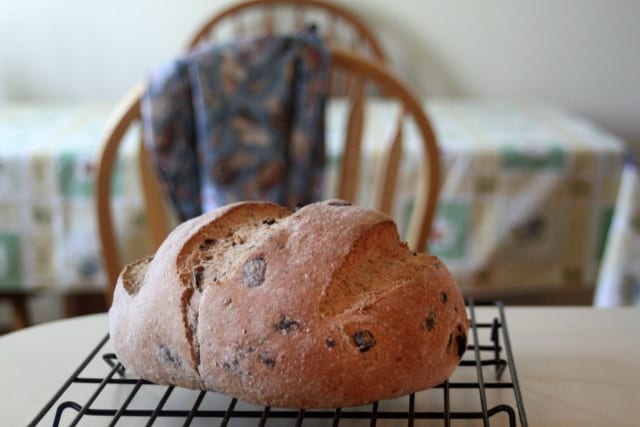 Getting Started
The water should be warm in the 110 to 115 degree Fahrenheit range for optimum bread. Most taps get that hot without having to warm up the water on the stove. Use a thermometer if you feel you must, I simply make sure it feels warm on the underside of my wrist much like you would for a baby bottle.
Pour that water into a bowl, add the yeast, and stir gently. Let that sit for about 5 minutes, the yeast will dissolve and the mixture will get foamy. Now it's time to add the flour and salt.
Add just a cup or two of flour and the salt. Mix it together and continue adding flour until the mixture begins to form a dough. Use a wooden spoon or spatula of some kind to do the mixing, it might take some time, be patient. If using a mixer with a dough hook, the dough will cling to the hook and pull away from the sides of the bowl. Once the dough begins to form it will be a sticky mass at first.
Turn this dough out onto a countertop that has been dusted liberally with flour. Rub some flour on your palms and start kneading the dough. This is a simply a process that allows the gluten to form and gives bread its structure. There are all kinds of videos and books on how to do this 'properly.' For the most part just keep pushing the dough in one direction and folding it over itself over and over again, adding flour as necessary to keep it from sticking to the counter or hands. Eventually, the dough will form into a smooth, elastic ball.
The First Rise
Rub a little oil on the sides of a bowl and turn the dough around in the oil to coat lightly. Cover this bowl with a towel and let it sit somewhere warm. Give it about an hour to 90 minutes. The dough will rise in this time and grow to about double the size.
Punch Down & Knead Again
Punch down the dough in the bowl, it will deflate. Turn this out onto the counter still coated with flour and knead again, pushing out any air bubbles that form in the dough. Shape the dough into a disk or ball or alternatively, place in a bread pan.
The Second Rise
Let the dough rise again on a baking sheet, in a towel lined basket, in the bread pan. This will allow the bread to take some shape.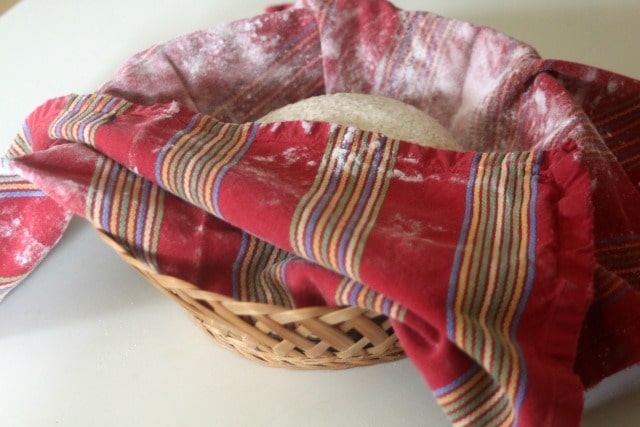 Again, let it reach double in size this should take about 30 minutes to an hour.
Baking the Loaf of Bread
Preheat the oven to 425 degrees. Once the preheated oven and the dough has risen again, slash the top of the dough with a very sharp knife or razor blade (optional but pretty).
Place the bread in the oven and bake 30 minutes. The bread is done when it sounds hollow when tapped with the knuckle.
Remove the loaf of bread from the baking sheet or pan and allow to cool completely on wire racks before slicing.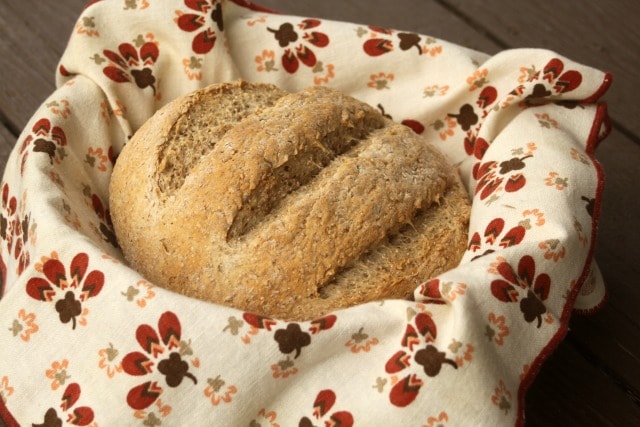 Store the Bread
Homemade bread will not last as long as commercial bread. Store it in linen bags for a few days on the counter. Freeze for long term storage, but use up frozen loaves within 3 months for best flavor.
Ready for something beyond basic bread? Try these ideas:
Yield: 1 Loaf
How to Bake a Basic Loaf of Bread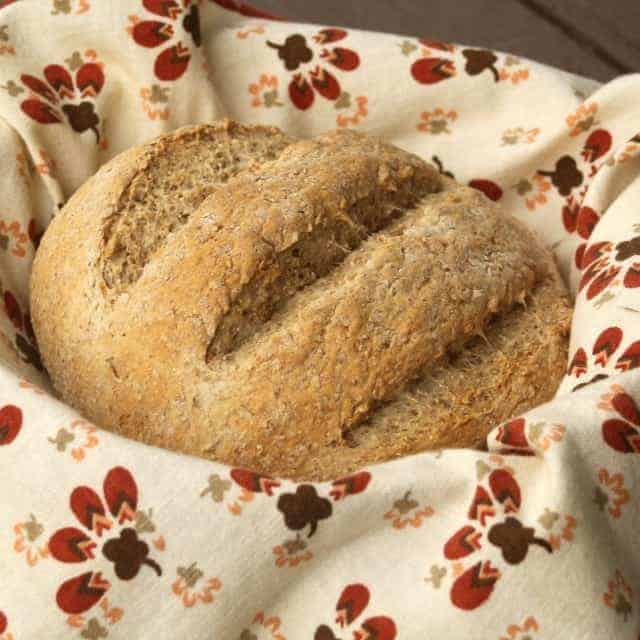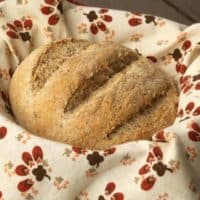 Learn how to bake a loaf of bread from flour, water, salt, and yeast and no other special equipment with this easy method that provides great results.
Ingredients
1 Tablespoon Dry Active Yeast (1 packet)
1 Cup Warm Water
2 teaspoons Salt
1 ⅓ Cups All-Purpose Flour
1 ⅓ Cups Whole Wheat Bread Flour (or use more All-Purpose flour)
Instructions
Mix water and yeast. Let sit until foamy.
Add 1 cup of flour and the salt. Continue adding flour until a soft dough forms. Turn out onto a floured counter and knead until soft and elastic.
Put in an oiled bowl and turn to coat. Cover with a towel and let rise until doubled (60-90 minutes).
Punch down dough and knead again, pushing out air bubbles.
Let rise in a bowl, on a baking sheet, or in a bread pan until doubled (about 30-60 minutes).
Preheat oven to 425 degrees.
Bake bread in preheated oven for 30 minutes or until golden brown and sounds hollow when tapped with a knuckle.
Let cool completely on a wire rack before slicing.