As an avid from scratch baker and cook, I'm constantly amazed at how many baked bean recipes start off with a purchased can of cooked beans. I understand the convenience factor in buying canned beans but cooking dried beans isn't at all difficult and while it does take time, it's not time that requires anything much of the cook. The other great thing about cooking dried beans is that it's extremely frugal compared to the buying the canned version and when buying is done in bulk it can almost delete any waste factor to be tossed or recycled. If you've ever wondered how to make baked beans from scratch here are some very simple steps to get you from that hard little nugget of a bean to soft, tasty beans in a delightfully tangy sauce.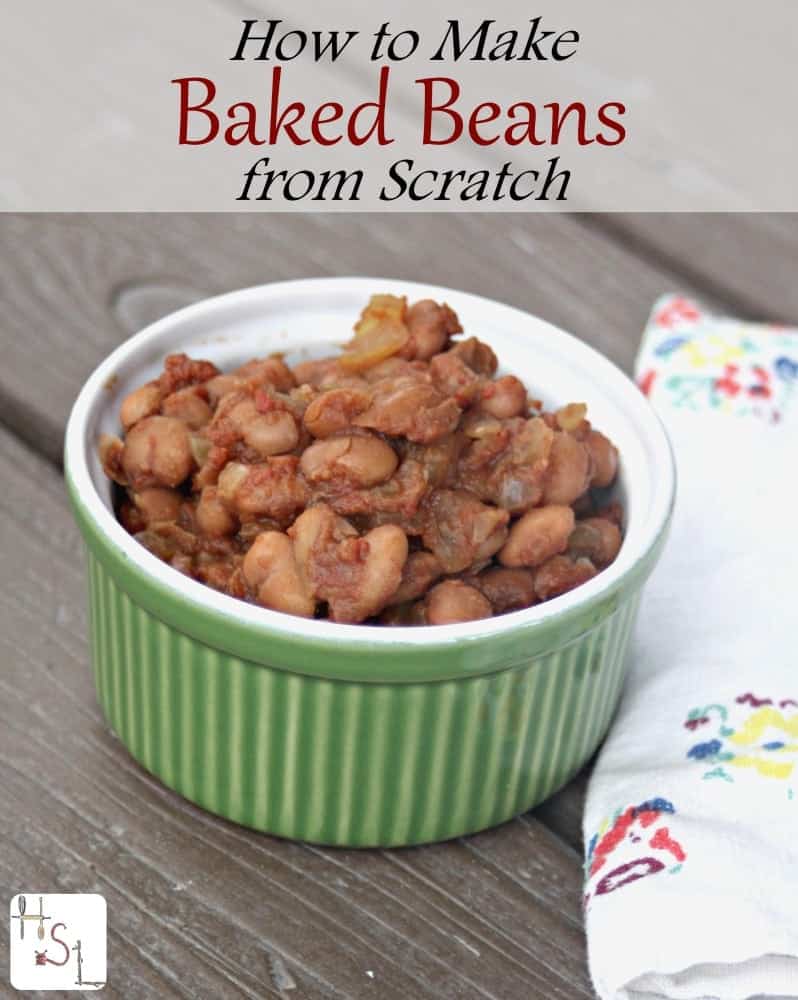 First, don't the skip the soaking of the beans. I use pinto beans most often in the recipe but most any bean will work wonderfully. We grow Jacob's Cattle beans in our garden and they are particularly lovely in this dish, but again use whatever you have on hand. The soaking takes time but again isn't hands-on time. Simply put those beans in a pot, cover with 2 inches of water and let sit overnight. I've read all the tips about the quick soaking method or skipping it all together and just cooking the beans. That might work for some people but for other people it's going to cause some serious intestinal trouble. Soak the beans, it makes them easier to digest and will keep everyone happier and healthier. In the morning, drain that water off (I pour onto houseplants) and start fresh before cooking the beans.
Use the slow cooker to cook the beans. This is my favorite method and the method that has consistently given me the best results. If you don't have a slow cooker, simmering the beans on the stove will work just fine. The main purpose is to just cook those beans until done. In the slow cooker, I cook on high for 4 hours. On the stove, simmer for approximately two hours or until soft. Do Not Add Salt – salt toughens the skins, meaning they may never get soft. In baked beans, we add salt in the next step, if you were cooking beans for other purposes add the salt towards the very end of the cooking time for flavoring.
Because these cook at a low temperature for several hours, it's a perfect cool day activity and food. The baked beans go great alongside ribs or roasts, other things that can often be cooked low and slow meaning optimum use of the oven and minimal cooking effort. Add the bacon or skip it for vegetarians. The bacon does add a nice, smoky flavor but I often skip it because I'm generally serving the baked beans alongside a meat dish and feel like that's enough. This recipe easily doubles or triples for a crowd, so don't be afraid of making a big batch for potlucks and honestly the leftovers are delicious.
Baked Beans
Learn how to make baked beans from scratch for a frugal and tasty meal or side dish.
Ingredients
For the Beans
1 Cup Dry Pinto Beans
2 Bay Leaves
For the Sauce
1 Cup Tomato Sauce
½ Cup Water
¾ teaspoon Dry Mustard
1 ½ Tablespoons Blackstrap Molasses
1 Cup Onion, chopped
2 Cloves Garlic, minced
¼ teaspoon Black Pepper
½ teaspoon Salt
4 Strips Bacon, cooked & crumbled
Instructions
Prepare & Cook the Beans
Soak the pinto beans by placing them in a pot and covering with 2 inches of cold water. Leave sit overnight. In the morning, drain the water from the beans. Put the beans back into the pot, cover again with 2" of water, toss in bay leaves. Cover the pot and place over medium heat. Bring to boil, then reduce heat and simmer until beans are soft - about 2 hours. Alternatively, place in a slow cooker and cook on high for 4 hours.
Drain the beans and place into a casserole dish or oven-safe pot.
Make the Sauce
Add the onions, garlic, and bacon, if using to the bean dish. Set aside.
Combine the tomato sauce, water, molasses, and spices in a small saucepan. Whisk together and bring to a simmer over medium heat until the molasses is dissolved and everything is thoroughly combined.
Pour the sauce over the beans and veggies. Mix everything well. Cover the pot or casserole dish.
Bake the Beans
Place the pan in a 250 degree oven and bake for 90 minutes to 2 hours or until bubbling and thick. Serve hot.