Let's just be honest, there is nothing fun about having a cold. It's downright miserable and while the body can generally take care of itself, we can use herbs to boost the immune system.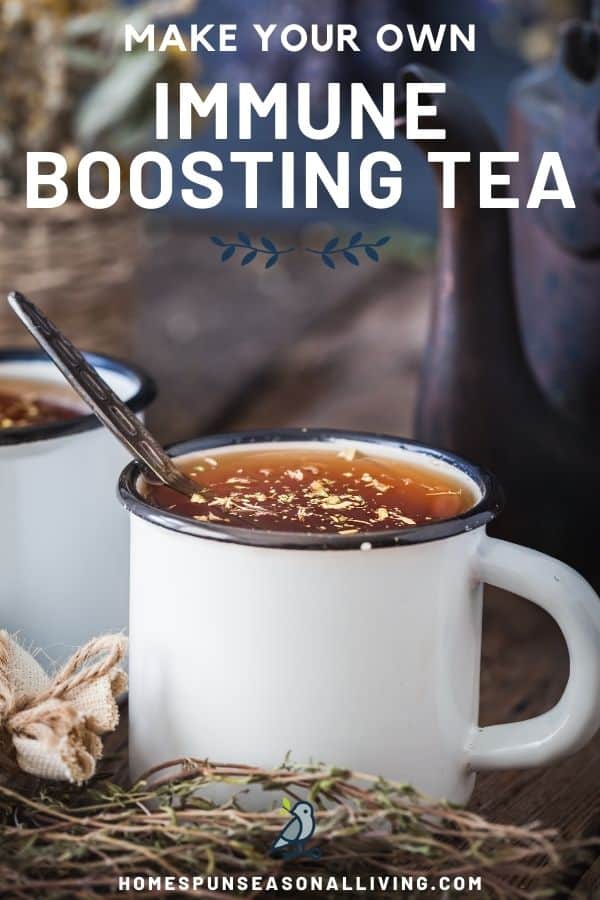 The great thing about making tea for a cold is that all of the ingredients can be understood, it's frugal, and pretty darn tasty. This immune boosting tea blend contains basic herbs and common spices for helping combat all those cold symptoms while also being quite palatable.
The Herbs
There are a multitude of herbs good for the immune system, this particular blend is just the best tea for a cold based on flavor and my experience with its effectiveness.
As in all herbal teas and medicinal herbs, do check with a doctor or herbalist to make sure none are harmful to you and your conditions. Double check with a pharmacist to make sure none of the herbs interact in a negative way with existing medications. Pregnant and nursing mothers should always ask for a professional's advice. Avoid this tea if you're allergic to any of the ingredients.
Nettle
Stinging nettle is high in vitamins and great for vitality energy. It has been traditionally used to cleanse the liver and more. It's an incredibly simple and yet nourishing herb for the body as a whole making it ideal for boosting immunity.
Oat Tops
Oat tops (not to be confused with the oats you eat for breakfast) are also high in vitamins, nourish the immune system, and can help calm the nerves and encourage sleep. Never underestimate the power of good sleep in helping the body's immune system stay strong.
Elder Flowers
Encourage sweating and as a result the cooling of fevers with the inclusion of elderflowers.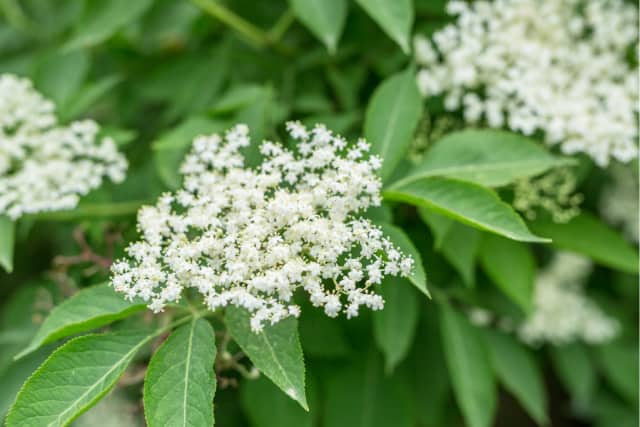 Echinacea
Long studied for its ability to boost the immune response by increasing cell activity, echinacea leaf here makes the tea more tasty as well as suitable for fighting colds and flus.
Lemon Balm
Lemon balm does indeed provide a nice flavor but goes so much further. A nervine, lemon balm can further aid calmness and sleep. It has been studied for its ability to stimulate an immune response making it ideal for fighting colds.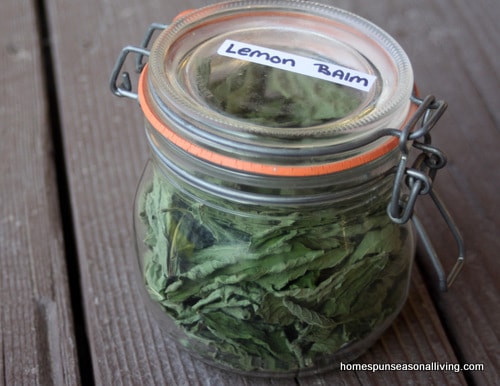 Licorice Root
Yes, licorice root will provide a bit of that black licorice flavor to the tea. It is also a demulcent meaning it relieves irritation in the mucus membranes which tend to get inflamed when sick.
Blue Mallow
This lovely flower is great for dry coughs and irritations to the mouth and throat. It's probably one of the less commonly used herbs but it's benefit here is great.
Cardamom
Cardamom is a flavorful addition to the tea but also helps move congestion from both the digestive tract and lungs out of the body.
Cinnamon
A spice we're all familiar with but often ignore its medicinal qualities. Cinnamon adds flavor and soothes irritating coughs while also helping to dissolve mucus.
Make Ahead
Tea for colds is an easy herbal remedy to make in advance and have ready to call into service quickly. There's no need to worry about time to infuse like in making tinctures and truly all that is needed here is the herbs, a jar, a cup, tea ball / strainer and boiling water.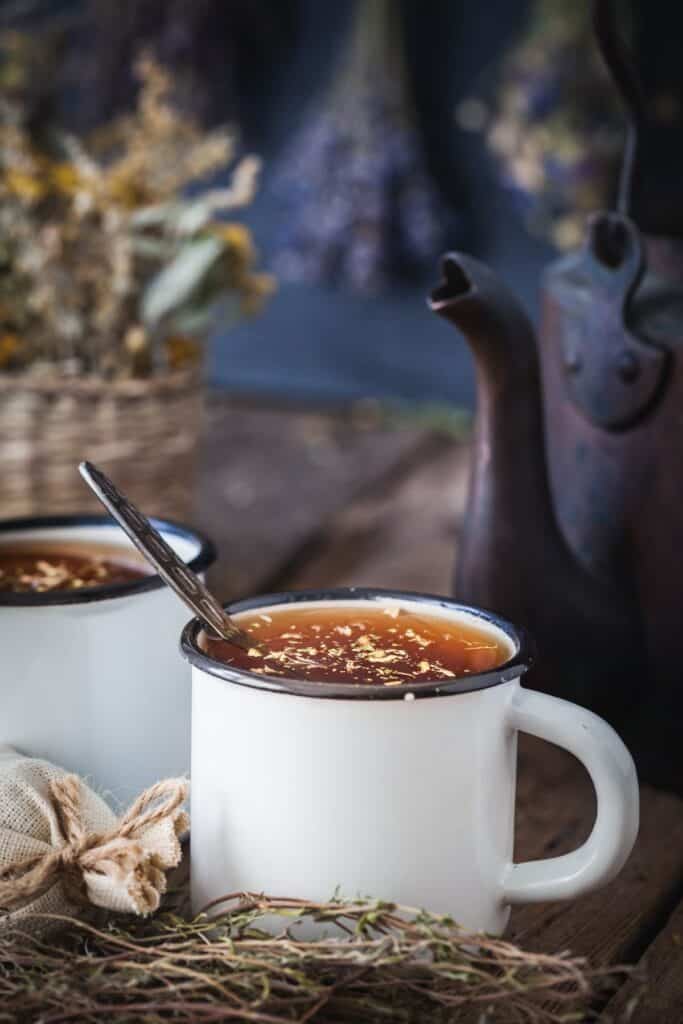 We often feel like we have to make extensive herbal preparations to get the most healing benefit and while there are definitely times for those things – there are plenty of times when a simple and time honored herbal tea can be just as effective if not as 'glamorous'.
Sweetening
Sweetening in the herbal tea is a completely personal decision. If it feels necessary for you to enjoy the benefits of the tea choose something more natural and nourishing like maple syrup or honey over white sugar.
Manuka honey has been studied for its ability to fight colds, infections, and more. Consider adding just a bit of that to your tea to further add to its benefits.
Dosage
There are some studies that show some of these herbs have diminishing returns when used everyday. Consider just having a cup or two a day for a few weeks at a time – like when you've traveled or been exposed to someone else who is ill.
Of course try drinking a cup or two each day when you feel a cold coming on and for a day or two after it has passed.
Yield: 2 ounces / 30 Cups
Immune Boosting Tea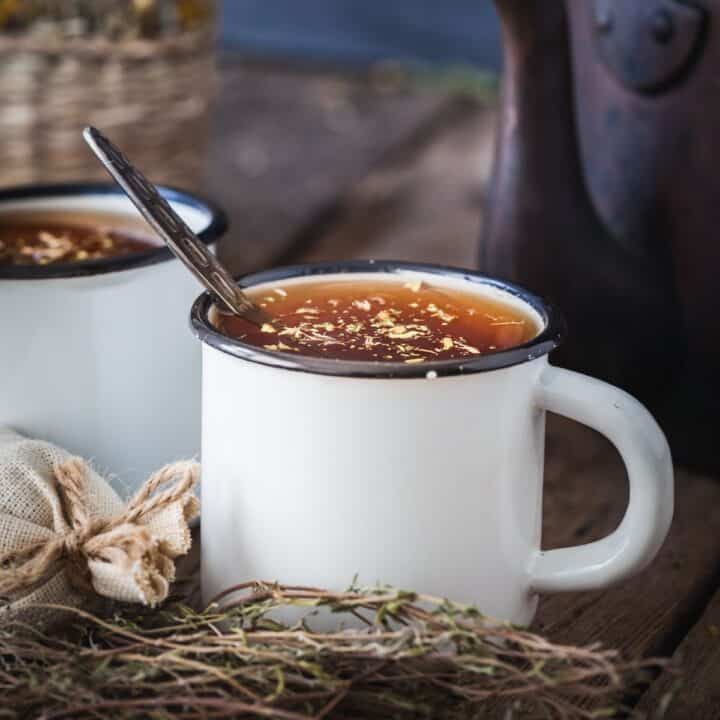 Blend herbs for a flavorful and immune boosting tea to fight colds.
Ingredients
15 grams dried Oat tops (Avena sativa)
3 grams Cardamom seeds (Elettaria cardamomum)
3 grams Cinnamon chips (Cinnamomum verum or cassia)
Instructions
Combine all the herbs in a jar with a tight fitting lid. Store with lid on and out of direct sunlight.
To Make a Cup of Tea
Put one Tablespoon of herbal mix into a tea cup and cover with 1 cup of boiling water. Steep for 15 minutes, sweeten if desired. Sip and enjoy slowly.

Recommended Products
As an Amazon Associate and member of other affiliate programs, I earn from qualifying purchases.
Nutrition Information:
Yield:
30
Serving Size:
1 Cup
Amount Per Serving:
Calories:

4
Total Fat:

0g
Saturated Fat:

0g
Trans Fat:

0g
Unsaturated Fat:

0g
Cholesterol:

0mg
Sodium:

1mg
Carbohydrates:

1g
Fiber:

0g
Sugar:

0g
Protein:

0g
We try our best but cannot guarantee that nutrition information is 100% accurate.