Despite having lots of time to read during these winter months, in January, I read two very short books that have quickly became favorites. If you're looking for a new cookbook or thinking about tapping your maple trees then I've got some great books for you to check out.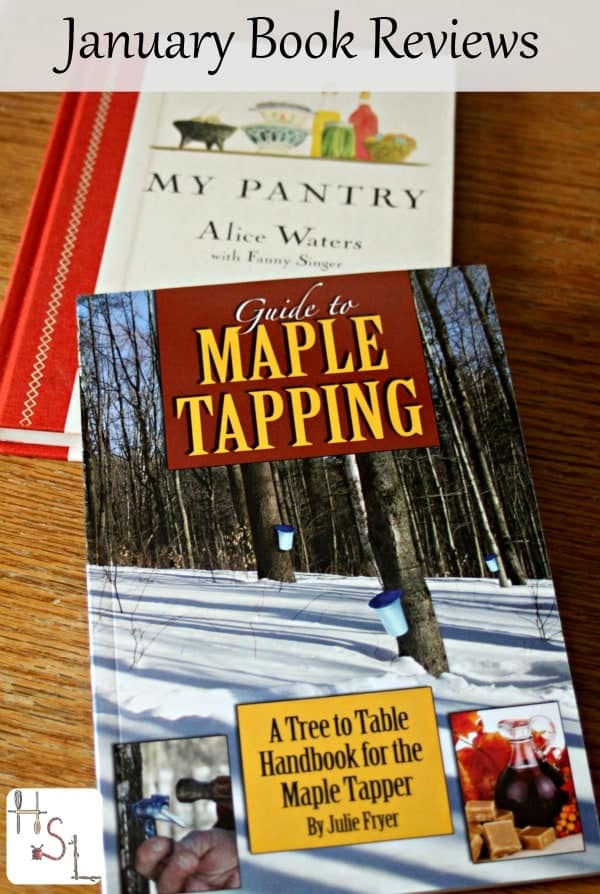 I found My Pantry by Alice Waters to be a delightful little book. Something about being invited into someone's personal kitchen and pantry is always endearing to me and that is exactly what the author does in this book. She shares little details of her home cooking routine as well as simple and inspired recipes. It's quickly become a favorite little tome in my house. I truly enjoyed that the book was full of hand-drawn illustrations rather than overly stylized color photos, it gave the book and even more homey feel.
As an active home-canner, I was hoping for some food preservation recipes, there is a jam recipe and she mentions canning the tomato sauce but doesn't walk the reader through the actual canning process. However the book makes up for that with plenty of other ideas for everyday kitchen use. As in everything Alice Water does, the recipes and ideas are grounded in whole, healthy food but My Pantry is accessible and feels without pretense making it a wonderful experience each and every time it's used.
If you're thinking about tapping maple trees this year then the Guide to Maple Tapping: A Tree to Table Handbook for the Maple Tapper by Julie Fryer is the book for you. Again, a small book that packs a powerful punch and is packed with useful, practical knowledge for the home tapper. Don't let the size of this volume fool you, it will guide you the entire process and give you recipes for using that maple syrup, too.
Let me honest, as a home tapper, the process truly isn't all that involved or complicated. Tapping trees for syrup is done in a few simple steps with very basic supplies and this book drives that home with exact descriptions and plenty of photos of each step to help you get the sap from the tree in a way that protects the health of the tree to boiling it all down into syrup.
This is the book to have on your shelf if tapping trees is a project you want to start next on your homestead or in your backyard. It truly does give you everything you need to know to get started. Get it and the necessary supplies soon as tapping begins with the temperatures hit 40 during the day and below freezing at night which is soon in many parts of the country.
As we start to head in the longest, shortest month of February pick up these amazing books to help pass the time and get a little education too.