Jo Rellime is the Ohio-based blogger behind Homestead Chronicles. Like most of us, she can't do it all and doesn't want to do it all. Instead, she's embrace a simple life in which her loved ones and personal priorities take center stage.
1. Tell us about yourself, your homestead, your family, and what you 'do' with your days.
I am a semi-retired technical writer turned blogger, photographer, gardener, occasional wordpress support person, and aspiring homesteader. We started homesteading back in 2009, but didn't realize until probably 2011 that there was word for what we were doing. We have a house in the city (where I work and run the garden) and 110 acres in the Hocking Hills region of Ohio, where we are working to build a house, establish a permanent homestead, and retire.
My husband, Eddie, is a computer programmer who is still stuck in the rat race for now (poor guy). After dealing with work at the office all day, he comes home and works even more to help me with the heavier work that I cannot do myself. Sometimes, I don't know how he does it. He amazes and inspires me. I do not remember the last time we took a day OFF work and just watched TV or read a novel or lounged around. We just don't know how to do that. Still, we do NOT do it all.
My time is divvied up (usually based on the weather/seasons) between research, writing, taking and editing photos for the blog or for clients (I do family portrait photography, too). To that, add running both our ever-expanding backyard garden, all the harvest processing (canning, dehydrating, etc.) as well as daily cooking. I cook from scratch as much as possible, but admit that I don't always. I still take shortcuts especially when it comes to bread and pasta.
I cannot write a blog post for a recipe or a project without taking and editing photos for it. So when working in the garden or kitchen, I am usually doubling as a photographer. Then there is screen time. There is always a document on my computer screen that is being outlined, developed, revised or illustrated with photos. This interview is a good example of that. You invited me to participate in this series WEEKS ago … and I am just now getting it done. But it is up on the computer screen.
2. Obviously, with everything you do in a day, there has to be things you don't do. What are those things?
Oh, good grief. How much time do you have? All my dogs desperately need baths and nail trims. It is shameful. I have needed a haircut for about six months now and I just cannot make time to get to a salon. I just don't have time for – you know – normal stuff like that.
Because we heat mostly with wood, there is always layer of ash/dust on everything. All "dusting" does is kick up the dust, which promptly resettles right back where it was. It is pointless. Maybe I should improve my technique or my tools, but I don't have time to experiment with that.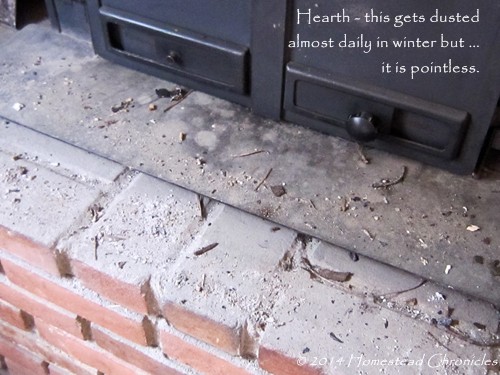 It is pretty much the same story with the floors. We have no carpeting. It is either hardwood or ceramic tile (ugh). Between the ash from the fireplace, the sawdust from Eddie carrying firewood through the house, and the three dogs (one of which has long, thick fur), these floors need swept a couple times a week. I am lucky if I get it done twice a month. Mopping is even less frequent than that. However, I DID find a new best friend in my handy little Dirt Devil upright … the only vacuum cleaner I have ever had that actually works on hard floors without kicking the dirt right back out on my feet. This has helped me to keep up a bit better.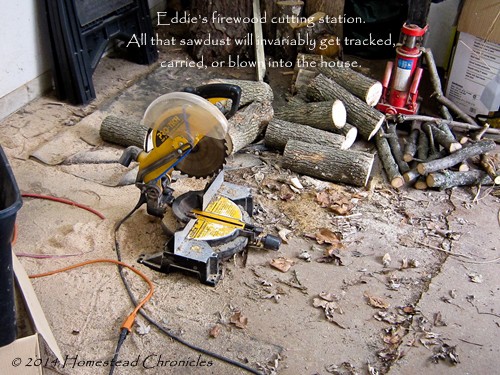 Our living room is not really a living room at all. It is a catch-all. By the looks of it, you would think we are hoarders (not the disgusting kind … just stuff) but it is all stuff we use regularly, need access to, and have nowhere else to put. Mostly, it's camping gear, equipment, and supplies and one corner of the room is stuff we are collecting to donate to charity which we do about every 6 months. We hang out downstairs in the family room, as a result. Yes, the living room could be better organized, but we know where everything is. Pretty much.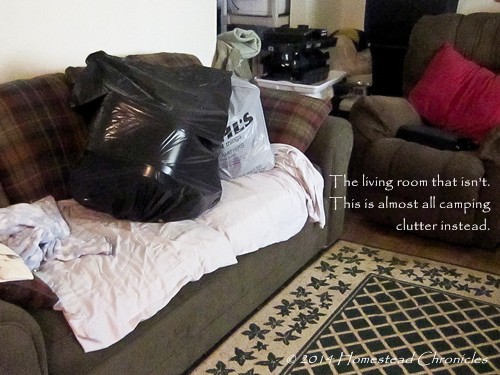 I should probably set aside a day twice a month devoted to nothing but heavy cleaning, but every time I have tried that it always get preempted by something more important anyway (so why plan it?). Cobwebs and dirty windows just don't bug me that much – not anymore – not since my heart attack and the realization that life is short. It has to really bug me for me spend time on it.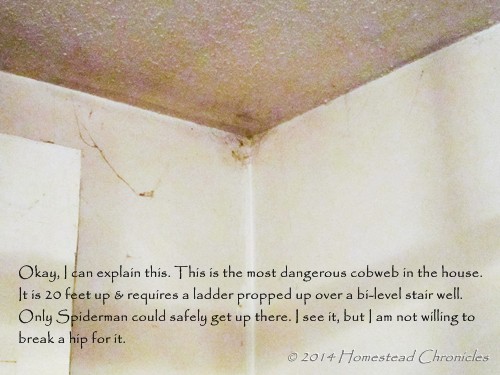 3. How do you manage your limited time? How do you choose which tasks / chores / plans become priorities while other things are discarded?
I keep three master lists of major goals (updated several times a year) to ensure I stay focused on "the Big Picture" as I plan each month, week, and day. They are my "garden journal, blog journal, and land activities journal" (which is related to our building plans, land management, and major projects) … just simple three ring binders where we track our high level goals, print outs of any research, instructions we will need, materials lists, etc. Most of what I do daily should (theoretically) roll up to meet those goals. With these master lists in mind, I use a simple steno pad to write a weekly to do list and then …
On Monday mornings, I review my unfinished to do list from the week before. Unfinished tasks get carried to top of this week's list. Then I brainstorm for a few minutes to see what else I might need to tackle that week and I write those on the new list. These weekly to do lists consist of things that either a) require large chunks of time (project work) or b) unrelated nagging little details. I try to get nagging details out of the way first so I can be free to focus on project work. The nagging details don't always roll up to meet a master list, but needs done nonetheless – things like scheduling a vet appointment, mailing a package, or making a phone call. Once I have my head around the weekly list and get the nagging details off my plate, I can focus on the most important tasks the rest of the week.
If something has been on my list for more than two weeks, I reevaluate its importance. I ask myself, "Why have I not yet done this? Can this one just drop off or is it truly important?" If important, I resolve to get it done that week. I don't want things carrying over week after week. (Yep, that is what happened with this interview ;)
As for routine chores, well, being the creature of habit that I am, a lot of things I just do on autopilot and they don't usually go on my list. This includes meal preparation, cleaning the kitchen, trash, laundry, and other chores. I just make a point to take an hour around lunch time and again after dinner to knock those things out. Also, I often do little things ahead of time. For example, before bed, I make the morning coffee for the next day, set out meat to thaw or soak beans – things like that. But that is all on autopilot.
4. What words of encouragement would you offer to others looking to maximize their time while also not feeling pressure to 'do it all'?
Your physical, emotional, and spiritual health and the health of your relationships simply MUST be your top priority. If you don't pay attention to those, you will work yourself to death, have nothing to show for it (except maybe a spotless house), and have more regret than joy when you leave this life. "I didn't dust enough" and "My floors were always dirty," said NO ONE ever from their deathbed. Life is just TOO short to stress over housework, a well manicured lawn, or a shiny clean car. Take on the attitude with family, friends, and neighbors that, "If you are coming over to see me, then come on over and pull up a chair! But if you are coming over to see my house, then make an appointment."
I am not saying to ignore your environment and let it go to hell in a hand basket. What I am saying is eat healthy, rest enough for your body (we are all different), do the things you love whenever you can, and spent time with the people you love FIRST. If there is time in your day after that, fine. Clean your house.
Don't feel guilty about things you left undone unless you know you will regret it when you reach the end of your days.
I used be a completely anal, obsessive compulsive cleaner. It was more than just "a place for everything and everything in its place." The place and the thing had to be clean, too! Nothing ever fell into disrepair. I painted every room in my house every few years, and I never kept anything that I had not used in a year. I had frequent yard sales to just get rid of things that were cluttering up my perfectly organized home. I vacuumed every square inch of my house at least three times a week, just because I didn't like how the carpet looked when someone walked on it. Cobwebs? Are you kidding me! I would have had a stroke. Oddly, I was not a very happy person back then. Now, I am happy. I have learned to LET GO and just be happy.