Let me just be honest in saying I don't do much reading in the summer months. If I'm picking up a book during these busy gardening and food preservation months it's generally because I need to find some piece of information about garden disease or confirm the canning time for peaches. That being said, however; I have finished these two books in the last month and so and wanted to make sure I shared them with you. Both are amazing books that will help you take control of different aspects of your fiercely D.I.Y. home.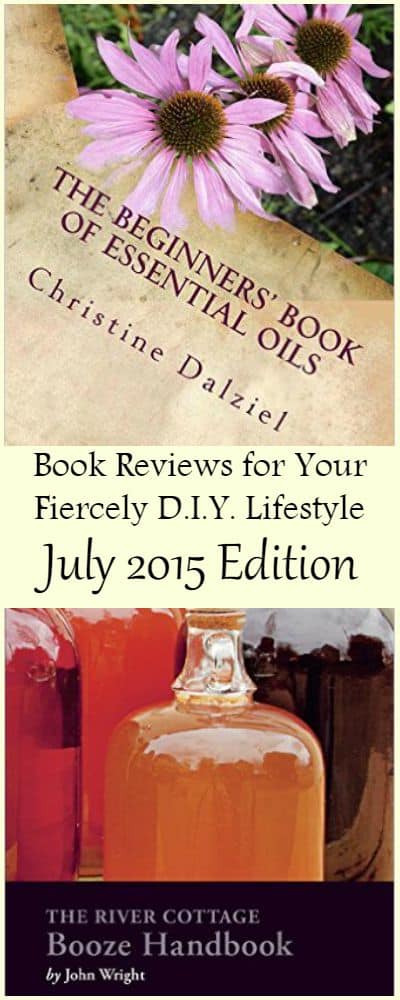 The Beginners' Book of Essential Oils: Learning to use your first 10 oils with confidence by Christine J. Dalziel: First don't let the title fool you. While the book is most definitely written with the beginner in mind, the more advanced among us can also learn many new things from this amazingly crafted resource. Rather than trying to cover everything under the sun, the author takes us on a rather complete journey of 10 essential oils. These oils are more common than most and can for the most part can complete a home's essential oil tool-kit. The properties and uses of each oil is covered before delving into more practical applications, recipes, and tutorials for everything from body care to cleaning products. I highly recommend owning this book and keeping it as a handy resource for all your natural home needs, I've already pulled it out several times just to confirm some thoughts I had and I know I'll use it often as a trusted resource.
The River Cottage Booze Handbook by John Wright: I really enjoy making cordials and am dabbling into the art of home-brew so I was excited about getting my hands on this book. The book is gorgeous for one but more importantly written in such a way as to be empowering and encouraging. The instructions for the flavored liquors are straight-forward and include a wealth of ideas and flavor combinations I would not have thought of on my own. The dandelion brandy was a huge hit in our house, though I did add more sugar than the recipe suggested. The detailed home-brew instructions are some of the best I've read to date. We've been making hard cider for a few years now but this book has taught me so much more in a much simpler method, I can't wait for the fall apple crop to try again. So often, home-brew books are written as if the reader already has a basic knowledge – this book doesn't which I appreciated. The author takes the time to explain and lead the reader through the entire process with detailed instructions and definitions which will empower you later to tackle more advanced projects. If you enjoy a little booze now and then, whether an infused vodka or a full blown home-brew, this is the book you need to get started and keep on your shelves as a handy resource for all your booze making exploits.
[sc:Useadsenselarge ]