Fill your home herbal medicine cabinet with homemade elderberry syrup for a cold busting remedy that also tastes good.
There's nothing fancy or fussy about this elderberry syrup recipe, it's simple and straight-forward in both ingredients and method.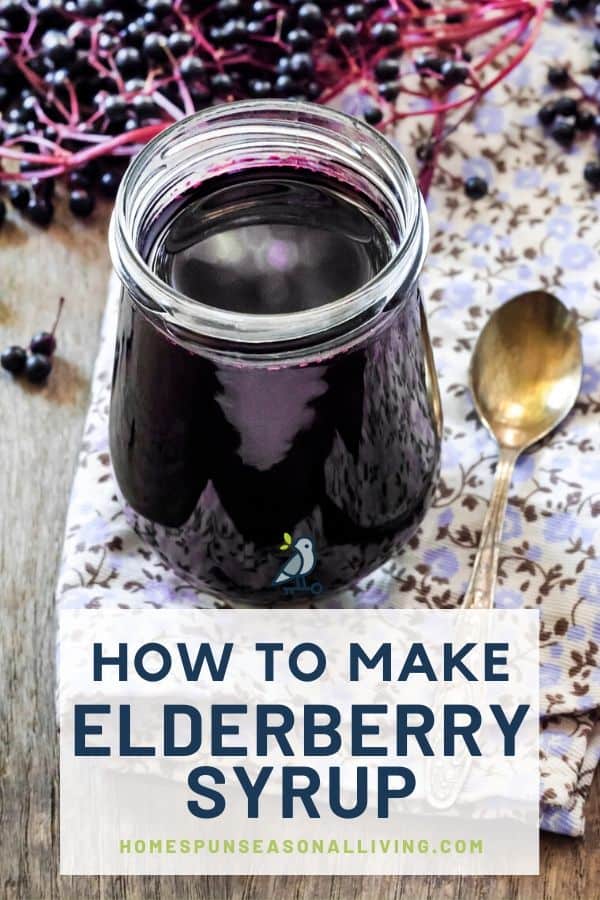 Benefits of Elderberry
Volumes have been written about elderberry and their success at reducing the length and severity of colds and flu. There are, I'm sure, a multitude of ways to make elderberry syrup. I use a combination of methods and recipes I've learned over the years as well as my own little take on it.
This is more of method than an actual recipe so that you can adapt it to the amount of elderberries blessing your herbal kitchen. Here's how to go about making medicinal elderberry syrup for your medicine cabinet:
How to Make Elderberry Juice
In order to make elderberry syrup, one first has to make elderberry juice. You have two options to do this with fresh or even frozen elderberries.
Boiling Berries
Put elderberries in a pot with half their volume of water. So 4 cups of berries, add 2 cups of water as an example.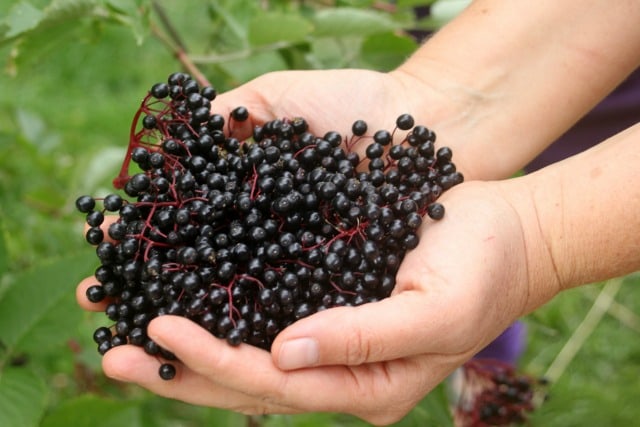 Simmer and stir occasionally for about 2 hours or until reduced by about half. Strain the berries and squeeze out the juice using cheesecloth or a jelly bag. If you have a large quantity of berries, consider getting a brew bag that home winemakers use to juice fruit.
Unlike making jelly, you want to squeeze the berries and get out as much of the juice as possible rather than letting drain on its own.
Steam Juicer
If you have a steam juicer, use that to juice your berries and follow the manufacturer's instructions to get the most juice possible.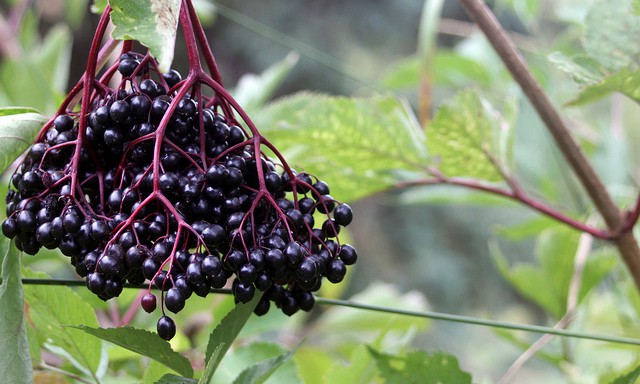 Long Term Storage
After the elderberry syrup has been made. Store in the refrigerator for up to 6 months.
For longer storage, consider making it into ice cubes. Freeze the ice cubes until solid. Pop out of the trays and store the syrup cubes in airtight containers.
Thaw a cube at a time in the refrigerator to use as needed.
Process small jars in a boiling water bath canner. Consider using the 4-ounces jars so you only have to open a small container at a time. Process for 10 minutes, adjusting for elevation. Store any opened jars in the refrigerator.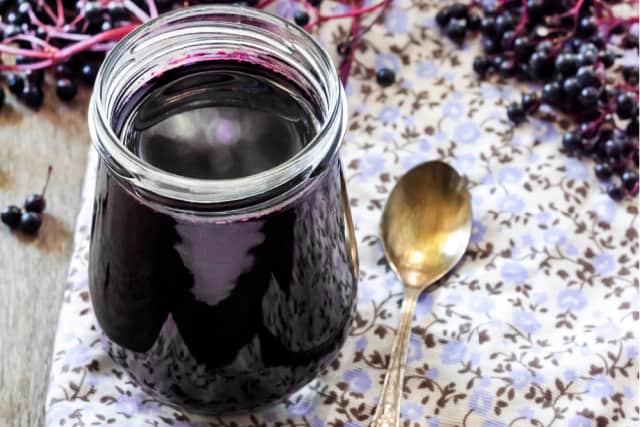 How to Use Medicinal Elderberry Syrup
The most standard elderberry dosage is 1 teaspoon every hour the minute you feel a cold or flu coming on.
Make homemade elderberry gummies with the syrup, hot water, and gelatin.
Can you take elderberry syrup daily to prevent colds & flus?
There is no evidence stating that taking elderberry syrup everyday will prevent colds. It may not hurt – but it isn't likely to help either. Take elderberry syrup as a way to boost immunity and shorten colds rather than prevent them.
This concoction has worked wonders for me over the years and while I'm not a doctor and can't treat whatever ails you, next time you have a cold or flu you might just want to give this a try.
Elderberry Resources
Some great elderberry (and general herbal medicine) resources – most of which I used as source info for this article and my own elderberry / herbal education:
Yield: Approximately 4 Cups
Homemade Elderberry Syrup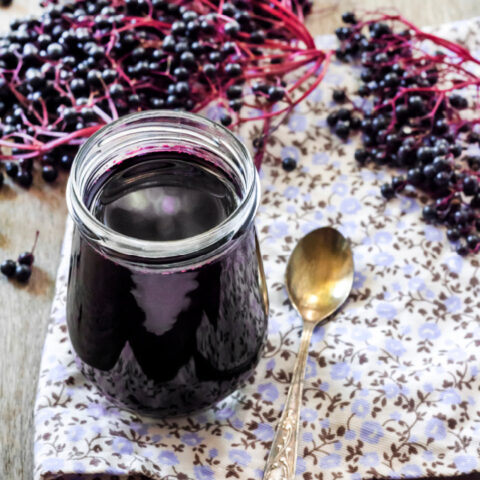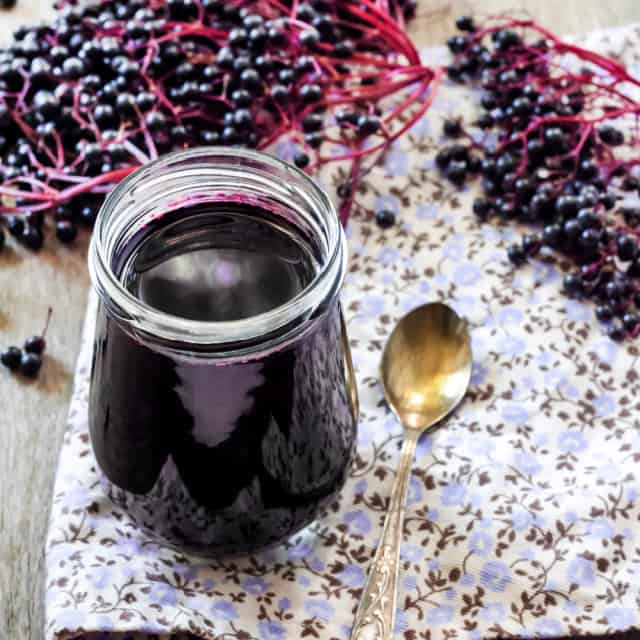 Use this elderberry syrup recipe to help fight off the common cold and flu naturally.
Ingredients
4 Cups Elderberry Juice
1/3 Cup Honey
1 Inch Cinnamon Stick
1 Whole Clove
2 slices of Lemon
2 Tablespoons Fresh Ginger, chopped
Instructions
Combine everything into a saucepan.
Simmer the mixture over low heat for approximately 20 minutes.
Strain the spices and lemon out of the syrup.
Pour the syrup into a clean bottle and store in the refrigerator or freezer.
Alternatively, can the the syrup in a boiling water canner for 10 minutes (adjusting for elevation).
Recommended Products
As an Amazon Associate and member of other affiliate programs, I earn from qualifying purchases.
Nutrition Information:
Yield:
192 teaspoons
Serving Size:
1 teaspoon
Amount Per Serving:
Calories:

5
Total Fat:

0g
Saturated Fat:

0g
Trans Fat:

0g
Unsaturated Fat:

0g
Cholesterol:

0mg
Sodium:

3mg
Carbohydrates:

1g
Fiber:

0g
Sugar:

1g
Protein:

0g
We try our best but cannot guarantee that nutrition information is 100% accurate.