My friend, Sarah, invites me to pick elderberries at her farm every year.  In trade for the free and easy picking, I  make medicinal elderberry syrup for her family and mine. Without a doubt, this is my favorite cold remedy and the thing that my herbal medicine cabinet is never missing.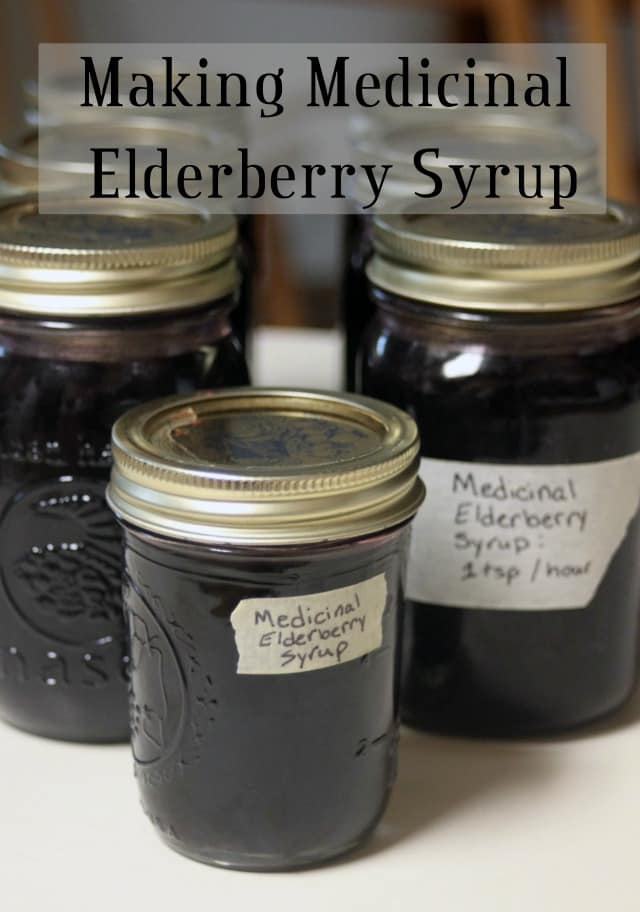 Volumes have been written about elderberry and their success at reducing the length and severity of colds and flu.  There are, I'm sure, a multitude of ways to make elderberry syrup.  I use a combination of methods and recipes I've learned over the years as well as my own little take on it.
How to Make Medicinal Elderberry Syrup
This is more of method than an actual recipe so that you can adapt it to the amount of elderberries blessing your herbal kitchen.  Here's how to go about making medicinal elderberry syrup for your medicine cabinet:
You'll need:
Elderberries
Water
Honey
Cinnamon Sticks
Whole Cloves
Chopped, Fresh Ginger
Lemon
Put elderberries in a pot with half their volume of water.  Simmer and stir occasionally for about 2 hours or until reduced by about half.  Strain the berries and squeeze out the juice using cheesecloth or a jelly bag.  Unlike making jelly, you want to squeeze the berries and get out as much of the juice as possible rather than letting drain on its own.
Measure out the strained juice, into a clean pot, and for every quart of juice add:
1/3 Cup Honey
1 inch of Cinnamon Stick
1 Whole Clove
2 Slices of Lemon
2 Tablespoons Chopped, Fresh Ginger
These measurements are approximate, a little more or a little less of any of them isn't going to ruin your syrup.  Return this pot to the stove and simmer for 20 minutes.  Strain and bottle.  You can store the syrup in the fridge, freezer, or can for 10 minutes in a water bath (adjusting time for elevation).
How to Use Medicinal Elderberry Syrup
Take 1 teaspoon every hour the minute you feel a cold or flu coming on.  This concoction has worked wonders for me over the years and while I'm not a doctor and can't treat whatever ails you, next time you have a cold or flu you might just want to give this a try.
Some great elderberry (and general herbal medicine) resources – most of which I used as source info for this article and my own elderberry / herbal education:
Do you use elderberry as part of your herbal medicine chest?  Any other suggestions for making medicinal elderberry syrup?