My apple tree overfloweth. It's an amazing boon of fresh, delicious produce. Each year I try to experiment with new ways to use up some of the apple abundance. Last week, I decided to toss them into scones with green tea. These matcha apple scones turned out just perfectly for a hearty morning breakfast full of flavor with just a touch of natural sweetness.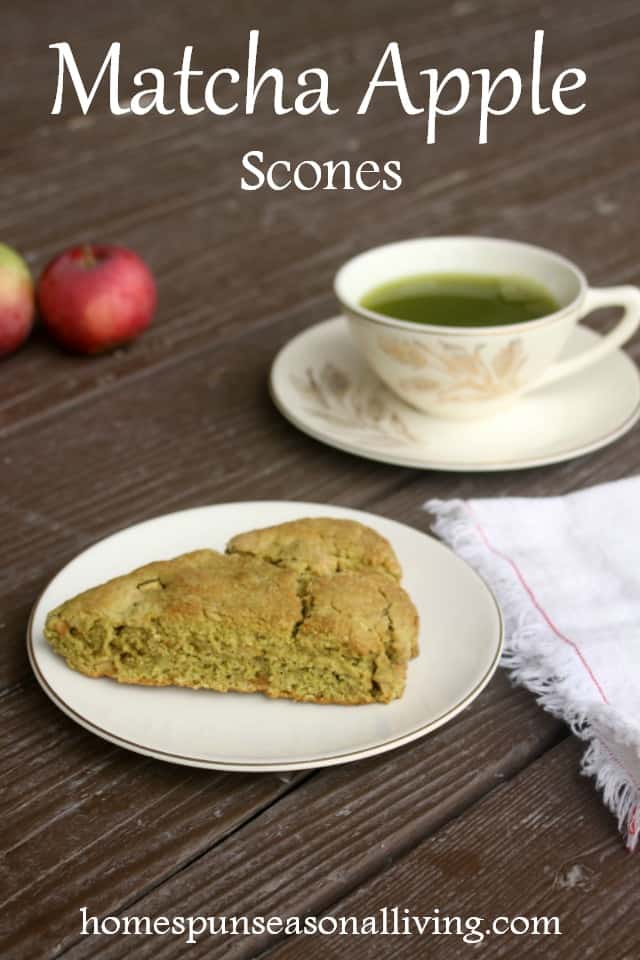 Nourishing & Filling
These scones are pretty easy to whip up and while still a pastry they do have some nourishing ingredients sure to fuel a busy morning or afternoon. There's the fat from the butter, some whole grain from the wheat flour, fiber and natural sugar from the apples, and nourishing matcha too. Matcha has been studied for boosting brain power. It also contains caffeine for a little energy but without the normally associated jitters, in fact, it can even provide a sense of calm. I used the organic culinary-grade matcha powder from Kiss Me Organics.
[grwebform url="https://app.getresponse.com/view_webform_v2.js?u=BsyZQ&webforms_id=16713504″ css="on" center="off" center_margin="200″/]
Earthy Flavor & Color
Matcha tea can be, well, rather grassy in flavor. It is an acquired taste in the cup at least in my experience. However, when that same flavor is combined with apples, maple syrup, and whole wheat flour there is a delightful earthiness that makes for a delicious breakfast. Yes, the matcha provides a greenish color to the final scones but it's not so overpowering as to be off-putting.
Yield: 8 Large Scones
Matcha Apple Scones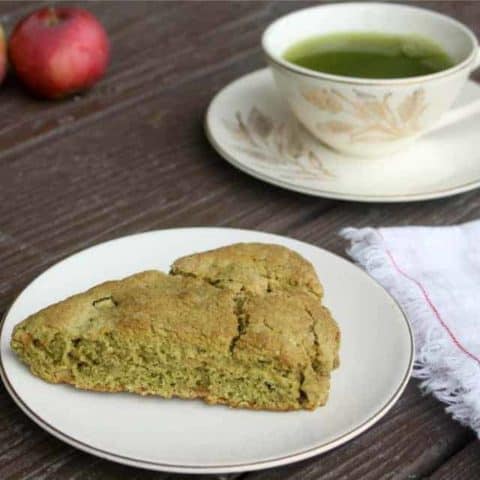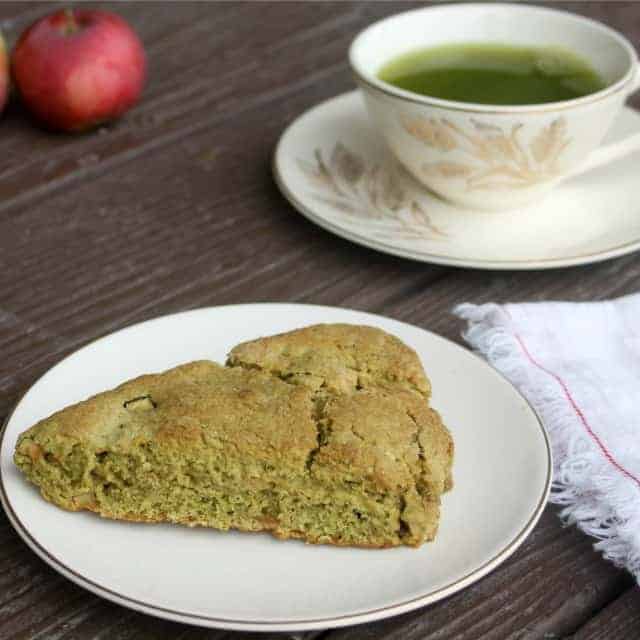 Fuel a busy morning with a breakfast full of nourishing and delicious flavor with these easy to whip up matcha apple scones.
Ingredients
¼ Cup Maple Syrup
⅓ Cup Milk
2 Cups All-Purpose Flour
¾ Cup Whole Wheat Flour
2 Tablespoons Baking Powder
1 Tablespoon Matcha Powder
12 Tablespoons Cold Salted Butter
1 ½ Cups Apple (peeled, cored, diced)
Instructions
Preheat oven to 400 degrees.
Line a baking sheet with parchment paper.
In a large bowl, whisk together the flours, baking powder, and matcha.
Cut the cold butter into the flour mixture with a pastry blender, two knives, or your fingers until the mixture is crumbly.
In a small bowl, whisk together the maple syrup & milk.
Pour the wet ingredients into the dry and fold together until almost combined.
Add the diced apples and mix well.
Turn the dough out onto a lightly floured board and knead just until it comes together into a ball.
Flatten the dough into a large circle about 1" thick.
Cut the dough into 8 triangles.
Place the triangles onto the prepared baking sheet, leaving some room between them.
Bake in the preheated oven for 25-28 minutes or until golden brown.
Let cool on wire rack.