When we walk down a seasonal and self-sufficient lifestyle, we quickly learn that there are lean times and over-abundant times. During those over-abundant times, we often can, freeze, and dehydrate to get us through the lean times. The trick, however; is learning how to use up all those 40 quarts of beets or 30 pints of green beans in a way that keeps it from getting boring. The trick is to use that pantry to its maximum frugal, nutritional, and time-saving potential. It's not as difficult as one thinks, especially when moving from a routine of processed foods to whole foods but rather simple and tasty. Here are some 5 ways to maximize pantry potential: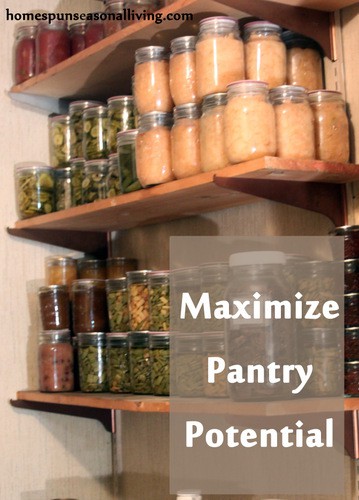 1. Use It Whole: Obvious, but it's good to be reminded that there's nothing at all wrong with simple. Strain fruit preserved in sugar syrup and use it as a snack or served with yogurt for lunch. A jar of green beans popped open and dumped into a pot to reheat is a quick weeknight side dish to pork chops or some other pan-fried meat. Frozen fruits can be used for smoothies. Dehydrated fruits can be rehydrated while being cooked with the morning oatmeal.
[sc:Adsense ]
2. A Quick Stir-Fry: Strain canned veggies and throw frozen veggies into a wok with some rice and protein if you so desire for a quick, nutritionally dense meal that is super frugal and can easily be doubled for leftover lunch the next day.
3. Soup: Never underestimate the power, frugality, and ease of a hot soup. It's so easy to toss canned, dehydrated, and frozen veggies and herbs into a broth and get a delicious result. Add some starch and protein if desired for a meal in a bowl. Not only are soups like this healthy and frugal there's something extremely comforting about them to our minds and souls during a long winter or on a tough day.
4. Casserole / Salad: These do not have to be the cream of mushroom soup casseroles full of processed chemicals seen all too often on TV or in magazines but rather simple combinations of pasta, quinoa, or rice with some veggies and cheese or milk cooked on the stove hot dish style or baked in the oven. Homemade, frozen pesto thawed and tossed with veggies and pasta or rice make a great salad for lunch boxes, pot lucks, side dishes and more.
[sc:Adsense ]
5. Toppings / Fillers: Think baked potato bars with frozen broccoli (thawed and reheated) and cheese, or those baked beans. Frozen spinach or other greens can be stirred into eggs and topped with salsa for a filling and tasty way to get greens when the ground is covered with snow. Dehydrated fruits turned into compote are great on top of French toast, oatmeal, pound cake and more. There's no limit here, again let personal tastes and preferences guide the cook.
What's your favorite way to maximize pantry potential?
Shared with: HomeAcre Hop & Simple Saturdays .