It's still early in my Zone 4B garden. There are greens and radishes, we've had lots of strawberries but for the most part, there isn't much variety yet. There is, however; a huge variety of herbs available. The herbs are used to season many meals, some are dried for winter teas, some are used for medicine, and even some are left to flower for the bees. Still, I'm constantly trying to get more creative and make better use of all the flavor so readily available to me in these fresh herbs. This Mint and Calendula Quinoa Salad was born out of that desire and my goodness what a tasty creation. It's easy making it perfect for quick meals at home and summer potlucks and picnics. It's gluten-free meaning you can take it most anywhere and easily made vegan for group settings in which you might feed a variety of food choices and sensitivities.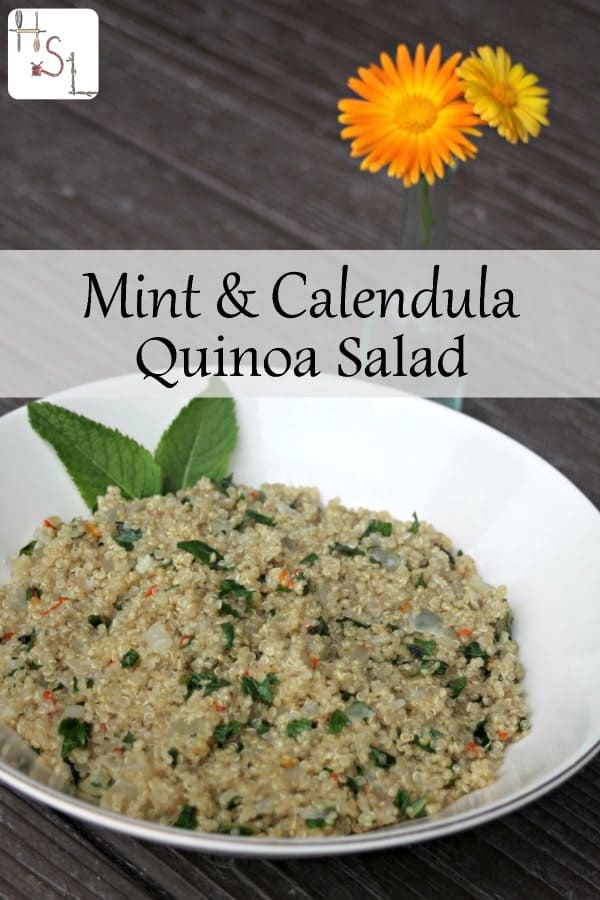 The mint is the main flavor component here, it permeates every bite in a delicious and savory fashion – don't skimp and use it as fresh as possible. The calendula does not add much in the way of flavor but it does add a beautiful color punch that makes this dish even more delightful, we eat with our eyes first after all. When cooking the quinoa considering cooking it in chicken or vegetable broth instead of plain water to simply give the dish extra flavor.
Serve Mint and Calendula Quinoa Salad warm as a side dish to a larger meal. It's also lovely cold and served as a salad with or without added garbanzo beans. It is a favorite packed lunch item around here too because we can reheat if we desire or eat cold.
Mint and Calendula Quinoa Salad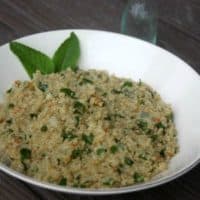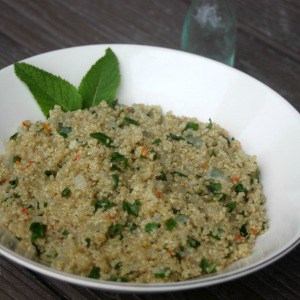 Ingredients
2 Tablespoons Calendula Petals, chopped
⅓ Cup Mint, chopped
1 Large Onion, chopped
1 Garlic Clove, minced
2 Tablespoons Butter or Olive Oil
1 ½ Cups Cooked Quinoa
Instructions
Melt butter in a skillet. Add the onion and garlic and sauté until translucent.
Add the calendula and mint, stir and cook just 1 more minute.
Add the herb mixture to the cooked quinoa and stir well. Serve warm or cold.
Notes
Eat plain or serve over greens for a delightful salad. Toss in a cup of cooked garbanzo beans for even more delightful and filling flavor.