March 9th is National Meatball Day. A silly, little holiday perhaps but meatballs can be a delightful dish in the meal plan rotation. These mushroom meatballs happen to be our favorite take on the traditional.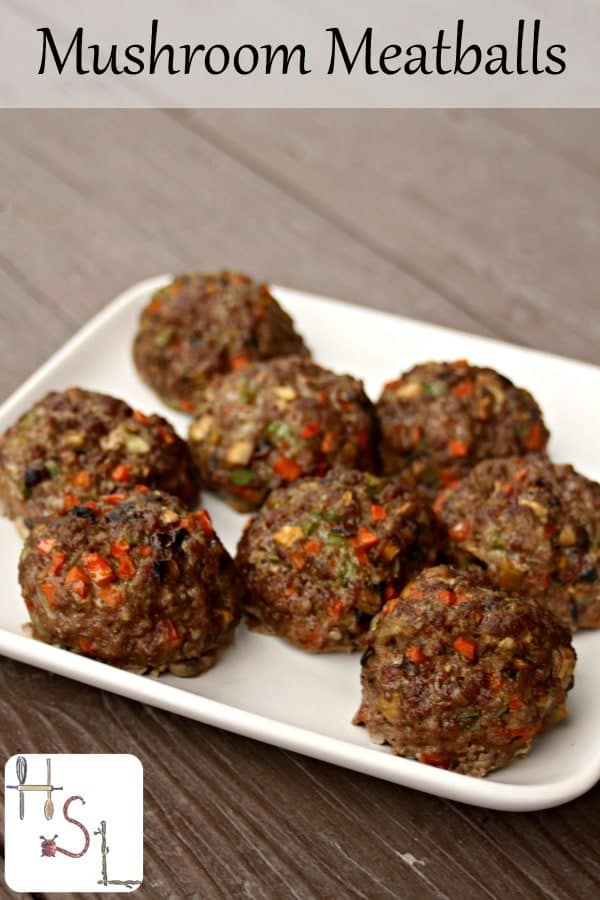 These meatballs are delicious on their own alongside some roasted vegetables, which is how we eat them most of the time. However, they're great served on a bun with some cheese, delicious mixed with tomato sauce and served over pasta, and tasty when served over mashed potatoes with a mushroom gravy.
The large amount of vegetables mixed into the meat can help stretch the meat budget which can be a very nice thing. The vegetables also help kick up the nutritional content and add layers of flavor.
These also make for a great freezer meal. Make a big batch and freeze them raw. Thaw and bake on another day. Alternatively, freeze them cooked and toss them into tomato sauce in the slow cooker for pasta or hoagie after work.
I generally make these into main dish size servings, however they can easily be made smaller, adjust the cooking time but otherwise enjoy as you would any normal meatball.
Frying seems to be a more traditional method of cooking meatballs but I personally hate that mess. Baking these meatballs cut down on the mess while maintaining a great flavor. I cook these on a broiler pan to let the fat drain off but a regular baking sheet works fine too.
Yield: 8 Large Meatballs
Mushroom Meatballs
Mushroom meatballs are full of vegetables and flavor perfect as a main dish, served on a bun, over pasta, and more.
Ingredients
1 Pound Ground Beef
1 Egg
1 Tablespoon Olive Oil
6 Ounces Mushrooms, chopped
½ Cup Carrots, chopped
½ Cup Celery, chopped
½ Cup Onions, chopped
2 Cloves Garlic, minced
1 teaspoon Dried Oregano
Salt & Pepper to taste
Instructions
Heat olive oil in a skillet. Add the mushrooms, carrots, celery, onions, and garlic. Add salt and pepper. Sauté until veggies are tender, the volume will shrink quite a bit. Remove from heat and set aside to cool.
Preheat oven to 375 degrees.
Add the cooled veggies to ground beef and mix slightly. Add the egg and mix well. Scoop the mixture out into 1/3 Cup portions and form into balls.
Place meatballs onto baking sheet.
Bake for 35 minutes. Serve hot.