Keep your stomach feeling well with this super simple spiced flaxseed for digestive health mixture.
Even the healthiest eater has moments of over indulgence or has to travel and eat things normally avoided. It's during these moments that we can carry some spices good for digestion in our pockets.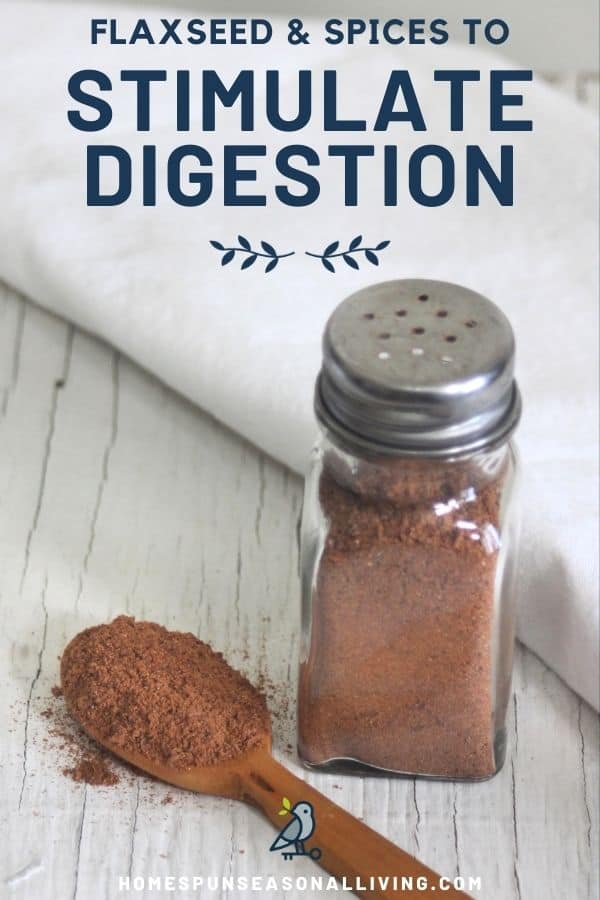 There's nothing wrong with feasting or eating the less than healthy thing now and then. In fact, these are often prized moments of connection with friends and family. While we should celebrate these connections and travel the world, the change can be a little difficult on the digestive system.
Thankfully, we can whip up our own home remedies for digestion like this.
Flaxseed for Digestive Health
Flaxseeds contain soluble fiber which helps move things through the digestive tract and they are high in natural oils which lubricate the system.
They also contain omega-3 fatty acids which have been studied for their positive effect on gut microbiota which helps with digestion, detoxification, and more.
Warming Spices Good for Digestion
The great thing about the spice combination in this is mixture is that they all taste quite good and are easily found in most spice racks and pantries.
Cinnamon warms and stimulates the digestive system.
Ginger has long been used to help prevent nausea and soothe upset stomachs and is also often used to stimulate digestion.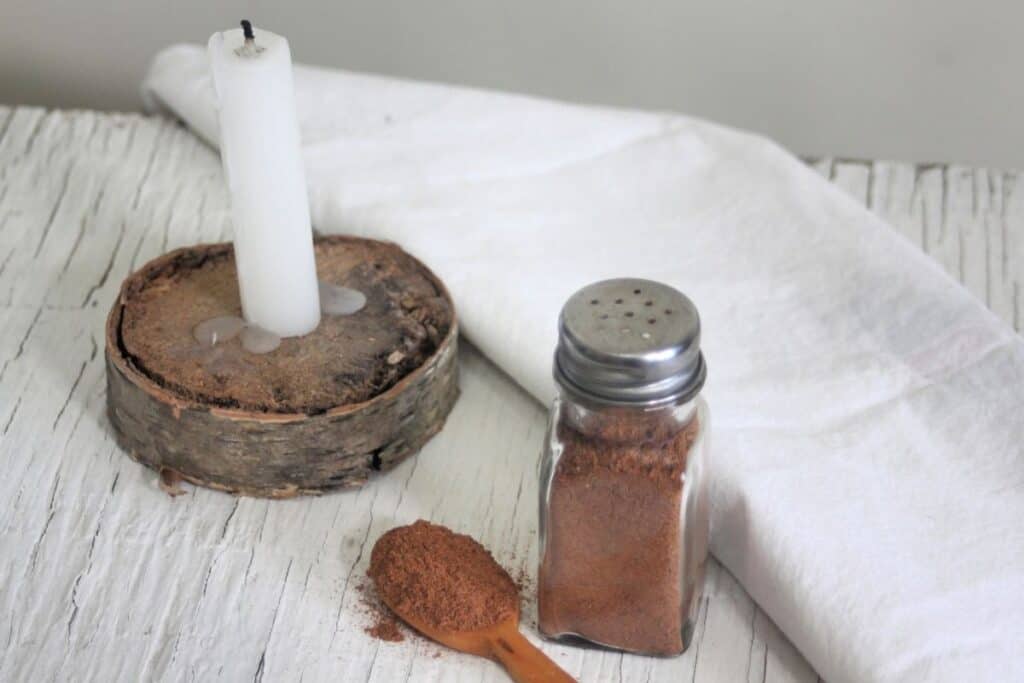 Cardamom helps relieve gas and indigestion as well as helping to move mucus from the digestive system. It can also help bring relief from too much acid in the stomach.
Cloves have been traditionally used to treat a variety of bowel problems including diarrhea, bloating, and vomiting.
How to Use the Sprinkle
Simply sprinkle, truly it's as simple as that. Sprinkle a bit in your coffee or tea, over oatmeal or on toast, in your smoothie, etc.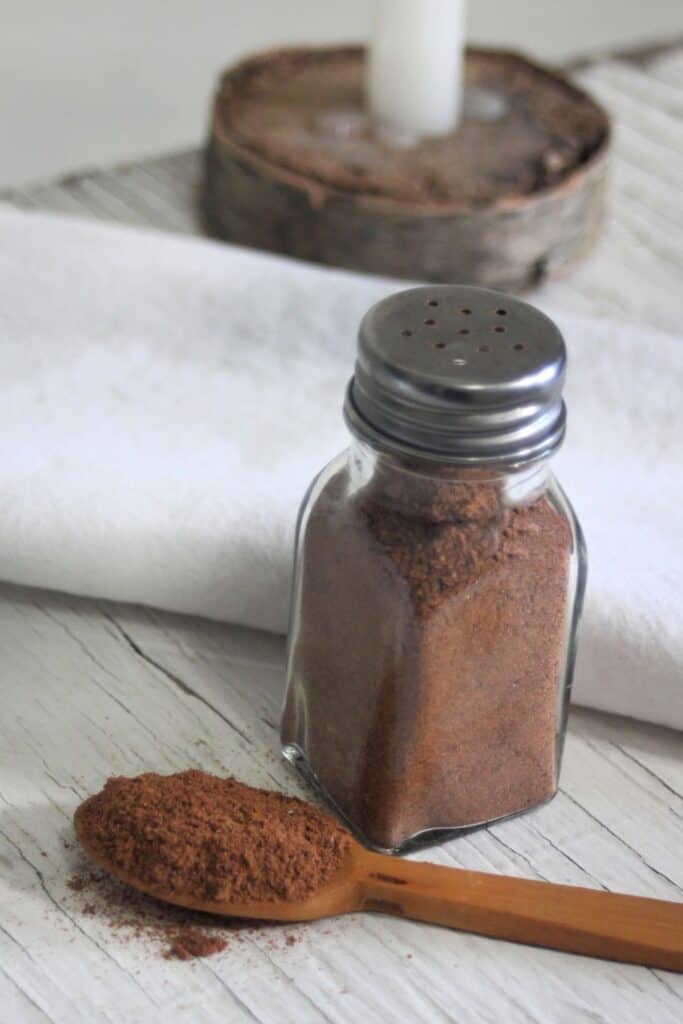 Carry it along with you on your travels, eat a bit each day during the holidays, etc. to keep your digestive system moving well even if you're eating a little less than optimally.
It's quick and easy to whip a batch and like this digestive seed mixture, easy to carry around on your travels.
Yield: Approx. 6 Tablespoons
Spiced Flax Sprinkle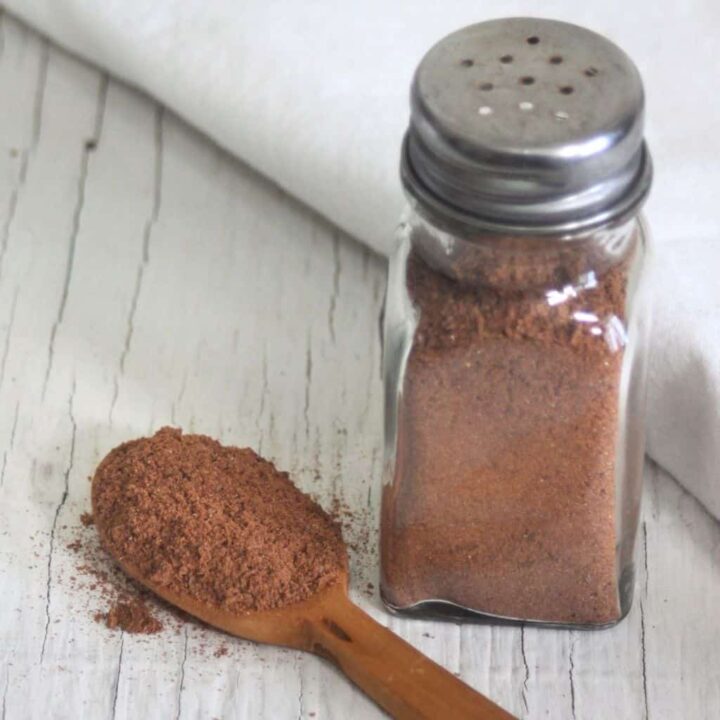 Help a sluggish digestive system with this natural digestive remedy. Spiced flax sprinkle whips up in a hurry and is easy to carry along when traveling.
Ingredients
2 Tablespoons Ground Cinnamon
1 teaspoon Ground Ginger
1/2 teaspoon Ground Cardamom
1/4 teaspoon Ground Cloves
Instructions
Stir everything together until thoroughly combined.
Store in container.
To use, simply sprinkle over food and drinks to help aid digestion.
Recommended Products
As an Amazon Associate and member of other affiliate programs, I earn from qualifying purchases.
Nutrition Information:
Yield:
64
Serving Size:
1 (1/4 teaspoon)
Amount Per Serving:
Calories:

2
Total Fat:

0g
Saturated Fat:

0g
Trans Fat:

0g
Unsaturated Fat:

0g
Cholesterol:

0mg
Sodium:

0mg
Carbohydrates:

0g
Fiber:

0g
Sugar:

0g
Protein:

0g
We try our best but cannot guarantee that nutrition information is 100% accurate.