I keep the cleaning routine pretty simple. I used to make all kinds of different cleaning products for different uses. In the end, I've decided that basic vinegar does most everything I need – sometimes diluted, sometimes full strength. I do use a special laundry cleaner, but most everything else gets just vinegar when I'm cleaning the house. There are times, however; when a little extra is needed and generally speaking the toilet is one of those times and places. Occasionally, it needs a little more than just a vinegar and a brush. That's where this all natural toilet bowl cleaner comes in handy. It's quick and easy to whip up and makes the entire room smell great.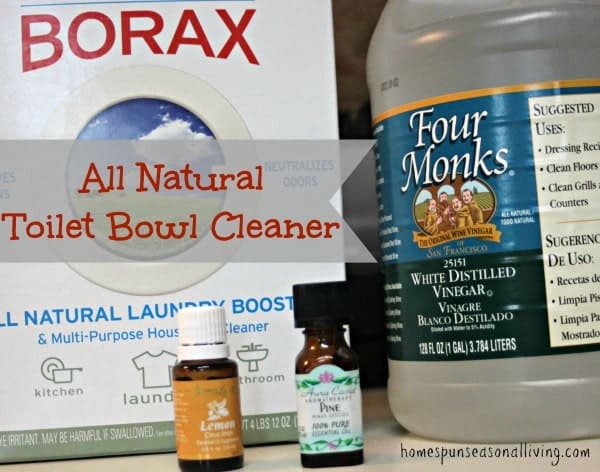 The best part is that this cleaner is incredibly easily.
In a bowl mix together:
Stir until the borax dissolves and pour into your toilet bowl.
Let sit overnight; in the morning brush the bowl, and flush.
That's it, really. A clean bowl with very little elbow grease and a pretty nice smelling bathroom. All accomplished with no harsh chemicals or fake perfume smells.
Looking for more natural cleaning recipes? Perhaps some cleaning recipes that would make a good gift? Be sure to check out Gift it From Scratch: Cleaning Products Edition
[sc:Useadsenselarge ]