October begins to mark so many different changes in my little home. It's so much darker here in northwest Montana, shorter daylight hours means more reading and crafting. The cooler temperatures mean more baking and puttering in the kitchen as well as plenty of time curled up under a blanket with a cup of something warm with a book and a journal planning next year's great garden and other adventures. I don't imagine I'm alone in that and if that is the case here are some great books to help you drink warm things, plan next season's garden, and bake up some amazing treats.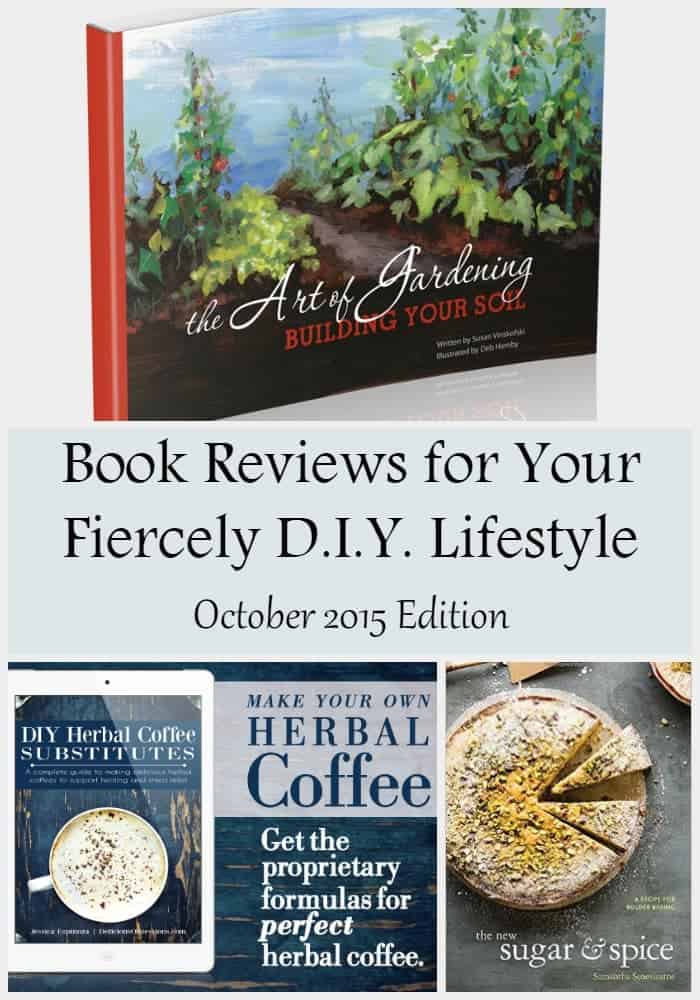 The Art of Gardening by Susan Vinkofski
First, this e-book, The Art of Gardening, is beyond beautiful. The artwork, by Deb Hamby, pulled me in and I spent some time just looking at the artwork on my screen before I even started actually reading the text. Just gorgeous in every way, which helps remind a gardener why they want to keep gardening even after a disappointing or difficult season.
[sc:artgardeningad ]
Beyond the beauty is a deeply inspiring, encouraging, and educational e-book. The author takes the time to break gardening down into simple pieces. She starts with the soil and breaks down different gardening methods, composting, mulch and more and will help experienced gardeners better understand soil testing and other basics while also giving new gardeners a solid foundation from which to build in the coming season.
Seeds and seedlings are important but it can be so very confusing – do we know the difference between hybrid and open-pollinated, which is better? Is old seed okay? Direct seed or start indoors? The author takes the time again to break it all down and explain it simple, clear language while also teaching us how to save our own seed.
There's an alphabetical guide to vegetables that covers hardiness zones, planting depth and distance, sunlight needs an much more taking the mystery out of those favorite homegrown vegetables. Beyond just talking about those vegetables, she covers trellising and watering as well – you will not be be left clueless after reading this book. Growing those vegetables also means we need to find a way to use and prepare them in our home kitchens – the author gives us ideas there too with a collection of inspired and tasty recipes that cover main dishes, sides, and even dessert.
Whether you're a new gardener or a seasoned one this book is a great reference to have in your digital library. The Art of Gardening will help you figure out where to get started and how to fix problems once you do get started all while inspiring you to keep growing, gardening, eating, and enjoying the wonders of nature. Order before the end of October and you can buy it for the bargain price of $5 (Use code BUILDSOIL to get $8.00 off of the normal $13 price).
DIY Herbal Coffees by Jessica Espinoza
Let me be very honest here. I like coffee and I drink it every single day. I'm not going to change that habit any time soon. However, I know that there is much debate about coffee and caffeine and effects on health, I've made my (very informed) choice and will continue to drink it. However, I know not everyone drinks coffee and I do quite like many herbal 'coffee' variations which is why I wanted to read DIY Herbal Coffees.
[sc:diycoffeepostad ]
If you're still on the fence about coffee, the author provides a number of references and reasons to not drink coffee but more than that she gives very tasty options for those who have decided to give up but still miss it. This amazing book will guide you through tasty herbal ingredients like dandelion root, chicory root, and more that do indeed have a coffee-like flavor. She doesn't just opt for the flavor, however; she explains the properties of each from healing and vitamin and mineral perspectives.
Once the ingredients are on hand the book guides you through a number different blends for healing and taste purposes as well as how to brew and fix up fancier brews like flavored lattes and iced frappes. Even though I like my coffee I do really enjoy several of these blends and see that there will be many winter nights spent with a cup of herbal coffee next to the fire. It's a great read and I highly recommend it whether or not you're ready to give up coffee.
The New Sugar and Spice: A Recipe for Bolder Baking by Samantha Seneviratne
I'm a fan of sugar and spice. I love tossing the common and not-so-common spices into my baked goods and so The New Sugar and Spice instantly drew my attention. The author takes us on a journey through common 'sweet' spices like cinnamon but doesn't stop there she invites us to try chili powder and many other more traditional savory spices in our sweet baked goods. More than just a cookbook, each spice chapter gives us a description of the spice as well as its history and how to buy and store it at home. It's beautiful too, though there are more photos for art sake than actual finished product shots – still quite lovely and I wanted the book for the recipes not the photography.

The book is for the t
rue scratch baker, everything is made from whole ingredients which I appreciate and made me enjoy the book even more. The author invites you to keep it simple with cookies like All-Edges Brownie Cookies and Shortbread with Coff
ee and Cardamom. There are more complex yeasted breads and pastries, like Orange-Clove Pull Apart Bread, for the more experienced bakers as well. The recipes don't just stick to those pre-ground spices you find on the grocery store shelves, in the ginger chapter for instance she's encouraging you to use bits of the fresh stuff in your baked goods. Bolder baking is most definitely what this book will inspire and it will keep you and anyone you bless with your baked goods inspired and satisfied. The book does go beyond baked goods like cakes and cookies and into the realms of candies and frozen treats as well so all those different levels of sweet tooth can be fed.
I'm glad to have this book on my shelf and know that I'll turn to it again and again for sweets at home and for taking treats, like sweet fig & black pepper scones, to business meetings. If you like to bake this is a book you should have on your shelves, you'll turn to it again and again for recipes and spice suggestions.
[sc:Useadsenselarge ]