We've eaten the first handful of strawberries from our small patch this past weekend and I don't mind saying that they are pretty darn yummy.  However, our small patch doesn't really give us enough berries for the amount we eat so we bought some more as well.  We've frozen some but most will be eaten fresh.  I also wanted to play a little with an idea I had for jam.  The resulting, Peppered Balsamic Berry Jam is pretty darn good if I do say so myself.  It might seem like a strange flavor combination but I assure you it's positively yummy.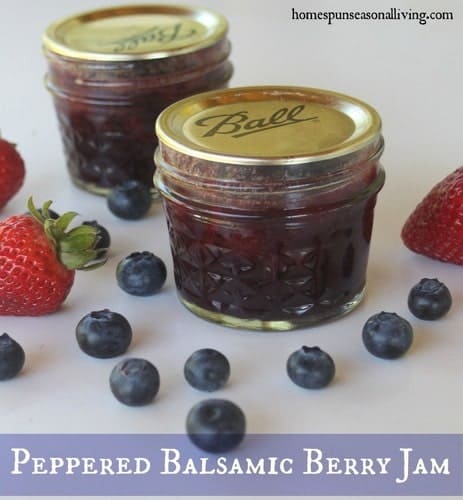 Peppered Balsamic Berry Jam
2014-05-08 03:25:17
Ingredients
4 Cups Strawberries, quartered
2 Cups Blueberries
1/3 Cup Balsamic Vinegar
1/4 teaspoon Ground Black Pepper
1 Cup Honey
2 teaspoons Pomona's Pectin
2 teaspoons Pomona's Calcium Water
Instructions
Whisk together the honey and pectin, set aside.
Combine the berries, vinegar, black pepper, and calcium water in a pot. Mash the berries with a potato masher and bring to a boil. Boil for 2 minutes.
Stir in the honey/pectin mixture. Stir well and boil for 2 minutes or until gel stage is reached.
Pour into sterilized jars, leaving 1/4 inch headspace. Process in a boiling water bath for 10 minutes (adjusting for altitude by adding 1 minute for every 1,000 feet above sea level). Makes approximately 6 half pints.
Homespun Seasonal Living https://homespunseasonalliving.com/
Note: I can't guarantee how this would work with other pectin, even the low-sugar kind.  I'm quite fond of Pomona's Pectin for homemade, low-sugar jams. 

Disclaimer: I may receive compensation for products mentioned in this post. All opinions expressed are my own. I am not a doctor, always seek trained medical advice. No statements should be considered approved by the FDA or as a diagnosis or treatment for any illness. See my Full Disclaimer Here.