I've always enjoyed red devil's food cake and I'd seen a recipe in the Moosewood Book of Desserts that used beets to help give it color. I happen to have a lot of canned beets from our garden still in the pantry and felt like this was a good excuse to give red devil's food cake a whirl. That particular cookbook is one of my favorites but something about their red devil's cake just didn't appeal to me. I set off on my own to find something that I would really love and would make use of my ample supply of beets. These Red Devil's Food Cupcakes with Cinnamon Frosting are just the ticket, light and moist with just hint of that reddish chocolate color that tends to mark red devil's food cake. If you don't happen to have home canned beets, fresh boiled or store bought will work just great, also don't be shy in switching up the frosting – cream cheese or chocolate would be tasty too.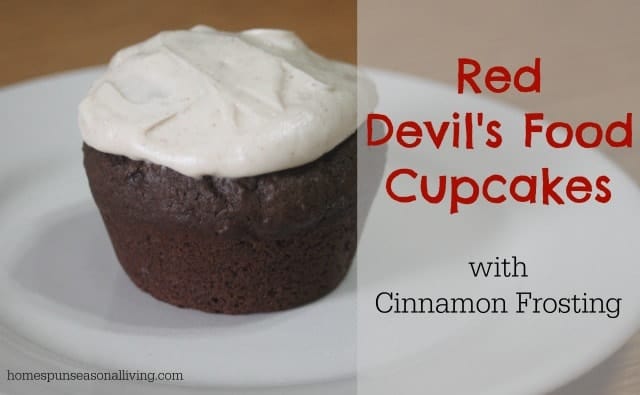 Ingredients
2 Cups Cooked Beets, Drained & Pureed to make 1 Cup Puree
½ Cup Butter, Softened
1 Cup Sugar
1 Egg
1 teaspoon Vanilla Extract
1 ¾ Flour
½ Cup Cocoa Powder
1 teaspoon Baking Soda
Cinnamon Frosting
¼ Cup Butter, Softened
1 teaspoon Vanilla Extract
3 Tablespoons Milk
½ teaspoon Ground Cinnamon
1 ¾ Cup Powdered Sugar
Instructions
Preheat oven to 350 degrees. Line a muffin tin with cupcake liners or grease the cups.
Sift together the flour, cocoa powder, and baking powder. Set aside.
Cream together the butter and sugar until light and fluffy. Beat in the egg and vanilla extract. Alternate adding the beet puree and sifted flour until thoroughly combined.
Spoon the batter into the prepared muffin pan filling each cup about 3/4 full.
Bake in the preheated oven for 22 to 25 minutes, until an inserted toothpick comes out clean. Cool in pan for 5 minutes before removing to cool completely on a wire rack.
When the cupcakes are completely cool. Make the frosting by combining all ingredients and mixing well, until fluffy and spreadable. Spread onto cupcakes and enjoy!
[sc:Useadsenselarge ]