My grandmas were hugely important figures in my life. Hugely, most especially in my cooking and kitchen life. They impacts in other areas of course, I can't limit their influence to only the kitchen but seems I am closest to both of them and their spirits when I am in the kitchen. I feel them moving with me, admonishing me to pull up my hair or put on my apron, and encouraging me in the ways only grandmas can. I imagine grandmas everywhere to be that way, though I know realistically that's not true, but my own memories are just so full of grandma love and wisdom that it's hard for me to face that reality. It should be no wonder that with all my grandma memories surrounding food and kitchen that I jumped at the chance to read and do a review of In Her Kitchen : Stories and Recipes from Grandmas Around the World by Gabriele Galimberti.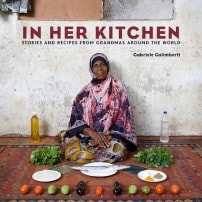 The book is full of lovely portraits of grandmas, truly from all corners of the earth, in their kitchens with the ingredients for their signature dishes spread out before them as well as photos of the completed dish. Each grandma is introduced with a brief story of her life and the recipe for her signature, most requested, most beloved dish. I found myself really pouring over the photos of the women in their kitchens, looking all the little details, trying to get more of the story of their daily lives. These photos deserve more than just a quick glance, they deserve study – from rather untidy to incredibly formal, the kitchens and the women who run them have huge stories to tell in their homes and faces, take time to truly look and absorb.
The recipes range from simple to quite complex and while it could be seen as a cookbook, in my opinion, it's more of a story about grandmas and food and how that all relates to family than it is about the recipes in and of themselves. I will for sure be trying some of them, but isn't a cookbook I'd refer too for recipe inspiration terribly often. Many of the recipes call for ingredients that aren't going to be easy to find, if at all, simply because they do come from all corners of the earth. Still, I found those ingredients to be a big part of the stories of each woman as well and it helped to give a more complete picture of the women and their lives.
If I had anything bad to say about the book it would be that the introductory stories were far too short, they were tantalizing and I truly wanted more of each. Still the book and photos were amazing and I would heartily recommend this book to anyone looking to learn more about food, family, and cultures throughout the world.
I was provided with a copy of In Her Kitchen by the publisher free of charge in exchange for my honest review. The opinions expresses are solely my own after spending a week quite immersed in the pages of the book and the free copy did not sway my opinion in any way.
[sc:Useadsenselarge ]