Use this homemade pizza sauce canning recipe to keep your pizza nights delicious and sugar-free all year round.
This simple pizza sauce recipe highlights the natural sweetness of tomatoes and skips the additional sugar found in most commercial varieties.
While getting a thick sauce can take some time, it is hands off time meaning you can still enjoy summer and not slave away in the kitchen.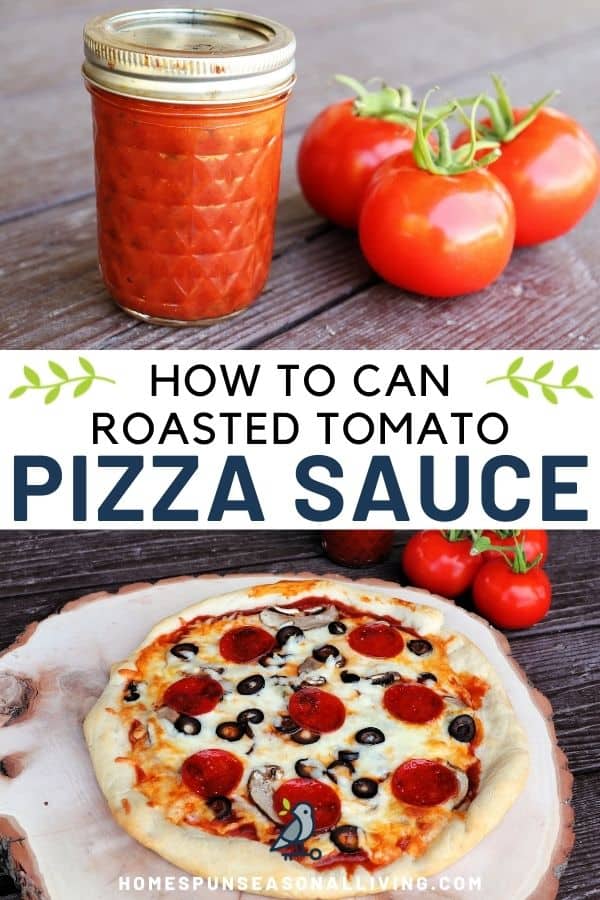 Why Roast?
Roasting the tomatoes first helps bring out the natural sweetness of the tomatoes meaning additional sugar is simply not necessary.
The roasting process also convinces the tomatoes to give up some water making the cooking down process go faster. It also makes everything more flavorful.
Paste or roma tomatoes are always nice for sauce because they tend to be less watery but this recipe will work with any type coming in from the garden. Cooking time will vary to make the sauce thick but doing that in the slow cooker means time to do other things beyond standing at the stove and stirring.
Pressure Can or Freeze
I recommend pressure canning this because of the pureed onions, peppers, and garlic. Those things bring down the acidity level of the tomatoes making it iffy for water bath canning without adding some lemon juice to bring up the acidity, which I believe would change the flavor too much.
A half pint jar is usually enough sauce for a 12 to 16 inch pizza and means no waste. Pint jars would also work.
If you don't want can, it will freeze beautifully in jars or other containers.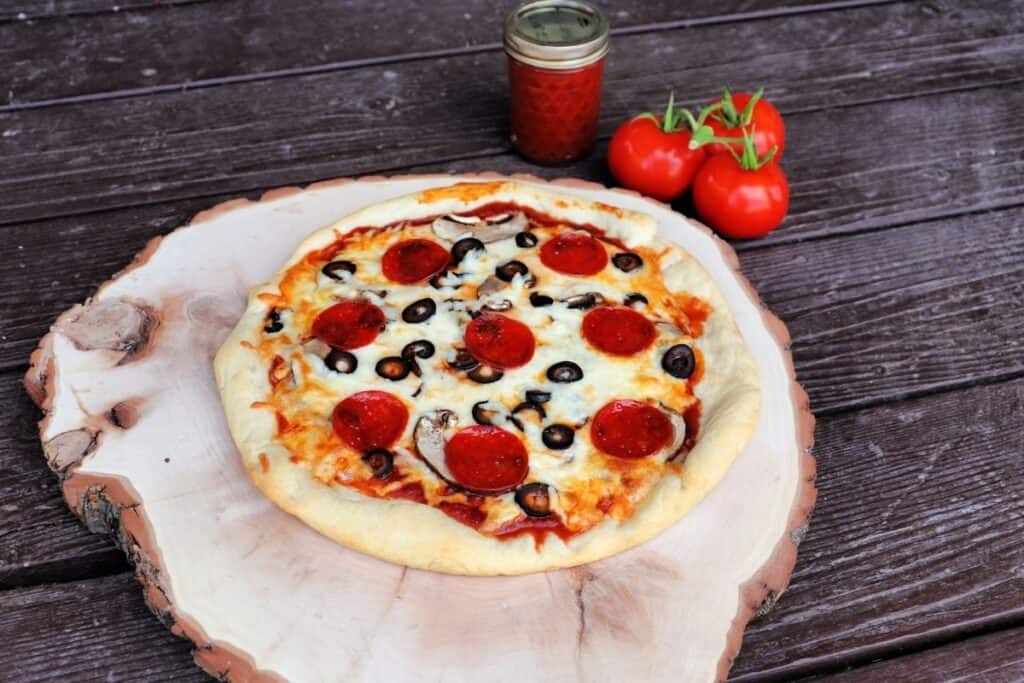 Slow Cooker
Use the slow cooker after the tomatoes and other veggies have been roasted to cook it done. Keep the lid off and stir occasionally. This process lets the water evaporate slowly and means that the cook doesn't have to stir constantly or watch for scorching.
Get more tips for the great homemade pizza here.
Yield: 6 Pints
Roasted Tomato Pizza Sauce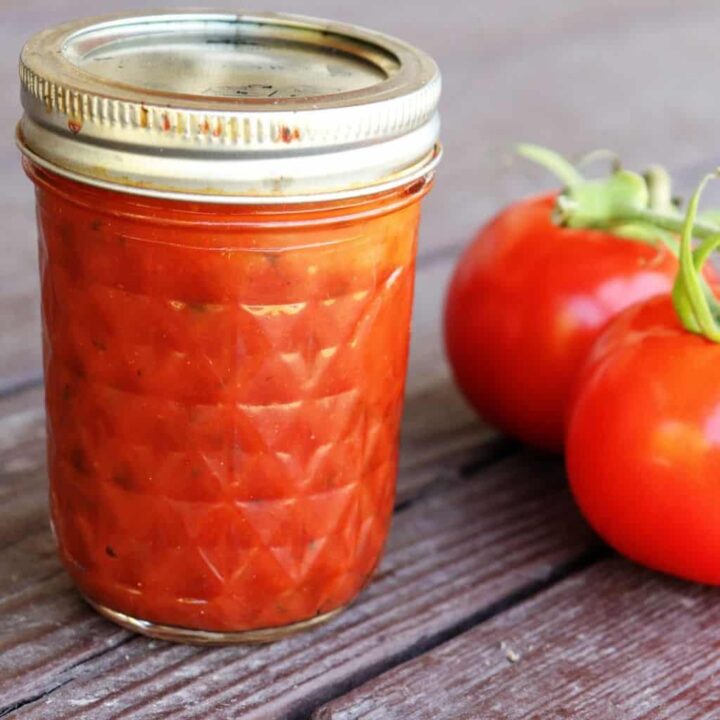 Preserve summer tomatoes for delicious homegrown pizza all year long with this easy to make and can roasted tomato pizza sauce.
Total Time
1 hour
30 minutes
Ingredients
10 Pounds Ripe Tomatoes, cut large tomatoes into quarters, small ones in half
1 Bulb of Garlic, separated into individual cloves and peeled
4 Large Bell Peppers, cut into quarters, seeded and cored
2 Large Onions, peeled and cut into quarters
4 teaspoons Salt
1 Cup Fresh Basil Leaves, chopped
½ Cup Fresh Oregano, chopped
1 teaspoon Ground Black Pepper
Instructions
Preheat oven to 450 degrees.
Place tomatoes, garlic, onion, and bell peppers onto rimmed baking sheets. Use two sheets or shallow roasting pans. Place in preheated oven and roast 30-40 minutes or until vegetables are soft and tomato skins blister.
Remove from oven and drain off extra water. Place vegetables in a blender or food process and purée until smooth.
Pour the sauce, herbs, salt, and pepper, into a slow cooker. Leave the lid off and turn the cooker onto low. Cook, stirring occasionally, until the sauce is thick almost paste like.
Pour the hot sauce into jars, leaving 1/2 inch headspace. Put on lids and rings.
Process at 10 pounds of pressure (adjusting for elevation) for 35 minutes.
Recommended Products
As an Amazon Associate and member of other affiliate programs, I earn from qualifying purchases.
Nutrition Information:
Yield:
192
Serving Size:
4 Tablespoons
Amount Per Serving:
Calories:

6
Total Fat:

0g
Saturated Fat:

0g
Trans Fat:

0g
Unsaturated Fat:

0g
Cholesterol:

0mg
Sodium:

45mg
Carbohydrates:

1g
Fiber:

0g
Sugar:

1g
Protein:

0g
We try our best but cannot guarantee that nutrition information is 100% accurate.