Tomato soup is a favorite lunch around here. There are undoubtedly zillions of ways to make it and everyone has a favorite. Roasted Tomato Soup is my favorite. It's easy, doesn't take hours of cooking down to get thick, and most importantly, it's super tasty. I don't have an exact recipe to share but I do have a general process that you can easily duplicate and change up for your personal tastes.
I don't worry about type (paste, slicers, etc.) of tomatoes, they all get roasted. If I'm doing multiple sheets and size of tomatoes, I try to group small tomatoes on one sheet and large tomatoes on another, this way I can pull the smaller tomatoes out before the larger ones are finished roasting.
Roasted Tomato Soup
Homemade roasted tomato soup that is perfect for immediate serving as well as preserving for winter eating.
Ingredients
Fresh Tomatoes
Whole Garlic Cloves
Onions
Sweet Peppers
Italian Herbs, such as Oregano, Basil, Parsley
Salt
Pepper
Instructions
Preheat oven to 425 degrees.

Cut the tomatoes in half (quarter really large ones) and place cut side down on a rimmed baking sheet.

Toss other veggies on there if you desire – peeled, whole garlic cloves, thick slices of onions, halved sweet peppers, etc. Use your imagination and taste buds as a guide.

Put the sheets in the oven and roast until the tomato skins start to blacken and the tomatoes have given up a bunch of water. This can take up to an hour depending on the size of the tomatoes and the amount of water they contain.

Drain off any of the water still on the baking sheet and let the roasted vegetables cool a bit.

Put everything in a blender and puree until smooth. I don't worry about seeds or skins, everything gets pureed together.

Pour the puree into a soup pot and let the seasoning begin. Add salt, pepper, basil, oregano, parsley, truly whatever herbs or seasonings suit your fancy now.

Heat through, just to get the seasonings all melded and tasty.

If canning, pressure can quarts at 15 pounds of pressure (for my elevation) for 40 minutes.
After you've made the soup you have a few options:
You could serve immediately with a little added milk or cream, if you like.
You could freeze it.
You could can it. Because of the onions and green peppers in my recipe, I pressure can quarts at 15 pounds of pressure (for my elevation) for 40 minutes.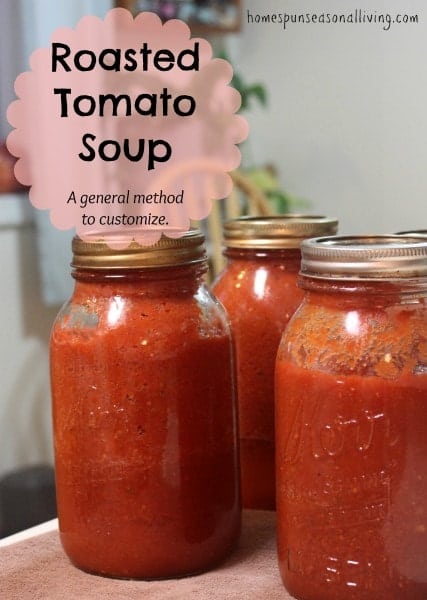 The canned or frozen soup is delicious reheated (again add milk or cream when reheating if so desired) and makes a great packed lunch with some homemade crackers or bread.