I was in the mood for some type of slaw salad over the weekend. My cabbage isn't quite ready yet and so I decided to play with what I had on hand, namely, Rutabagas and Daikon Radishes. I opted for a peanut slaw with dry roasted peanuts and a tangy peanut butter dressing. The resulting Rutabaga & Daikon Peanut Slaw was perfectly satisfying and beyond tasty.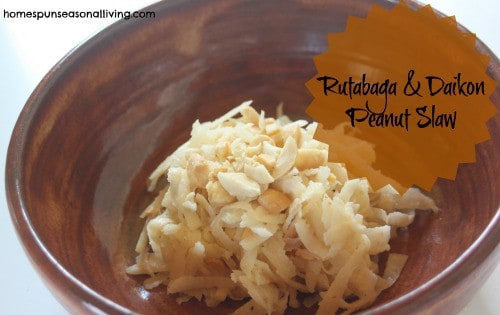 Rutabaga and Daikon Peanut Slaw
This Rutabaga & Daikon Peanut Slaw is a great way to use up garden fresh ingredients for a tasty, dairy and egg free slaw.
Ingredients
2 Cups Peeled & Shredded Rutabaga
1 Cup Shredded Daikon
⅓ Cup Dry Roasted Peanuts, roughly chopped
2 Tablespoons Smooth Peanut Butter
1 Tablespoon Hot Water
1 Tablespoon Lime Juice
Salt & Pepper to taste
¼ teaspoon Red Pepper Flakes (or more to taste, also optional)
Instructions
Combine the rutabaga, daikon, and peanuts in a bowl. In a small bowl, whisk together the peanut butter, lime juice, hot water, salt, pepper, and red pepper flakes.

Pour the dressing over the veggies and mix until everything is well combined.

Cover and refrigerate for at least an hour before serving, longer is just fine. Enjoy!