The weather is starting to change. Can you feel it in your neck of the woods? Our nights are cooler, the daylight shorter and our bodies have switched from craving cool, crisp salads to warm, hearty soups. The garden is still producing well despite the shift, though a frost is coming soon. We're still getting bits of peas here and there and the root crops are still mostly waiting to be dug. It was a bit of shelling peas that inspired this recipe. We grow lots of Rutabagas because unlike white potatoes, Rutabagas are not considered inflaming for arthritis and they can be used like potatoes in many recipes. They also happen to be mighty tasty in their own right – we happen to love them roasted most of all. That being said, a Rutabaga Pea Soup was just begging to be made from the garden a week ago and I just couldn't resist the desire for a homegrown soup.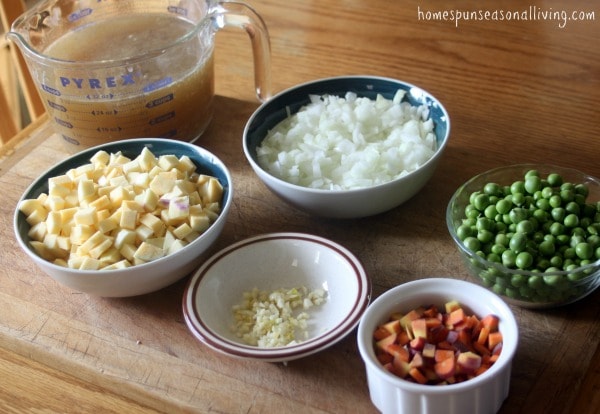 This recipe has a whopping 7 ingredients – 10 if you count salt, pepper, and optional chives for garnish. It cooks up relatively fast and can easily doubled or tripled depending on how many you're serving. The leftovers are delicious for lunch the next day, too – always a bonus in my life.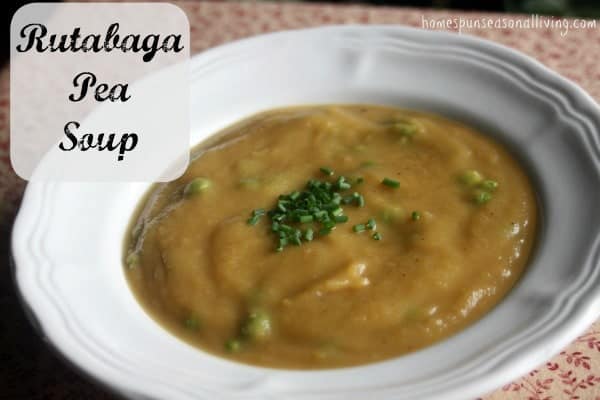 Rutabaga Pea Soup
Warm up this fall season with some homegrown, homemade Rutabaga Pea Soup that cooks up in less than 35 minutes and is oh so tasty.
Ingredients
4 Cups Vegetable or Chicken Broth
2 Cups Rutabaga (about 3/4 pound), peeled & diced
1 Cup Peas
1 TBSP Olive Oil
1 Cup Onions, chopped
2 Cloves Garlic, minced
½ Cup Carrots, chopped
Salt & Pepper, to taste
Chives, chopped for garnish (optional)
Instructions
In a soup pot heat the olive oil and add the onions, garlic, and carrots. Cook until the onions are translucent, stirring often. Add the Rutabagas and toss to coat.
Pour in the chicken broth and cover the pan. Keep the broth simmering until the Rutabagas are soft, about 20 minutes.
Puree the soup in a blender or a food processor. Season as desired with salt and pepper. Return the soup to the pan, stir in the peas and cook until the peas are warmed through and tender.
Serve in soup bowls, garnished with snipped chives.
Do you have a favorite way to eat Rutabagas? Is it soup weather at your house yet this early fall season?
[sc:Adsense ]