We are blessed with an amazingly productive strawberry patch. One that we freely snack on as it produces. We also freeze bunches for winter eating. It is that blessed abundance of frozen berries that inspired this Strawberry Poppy Seed Bread recipe.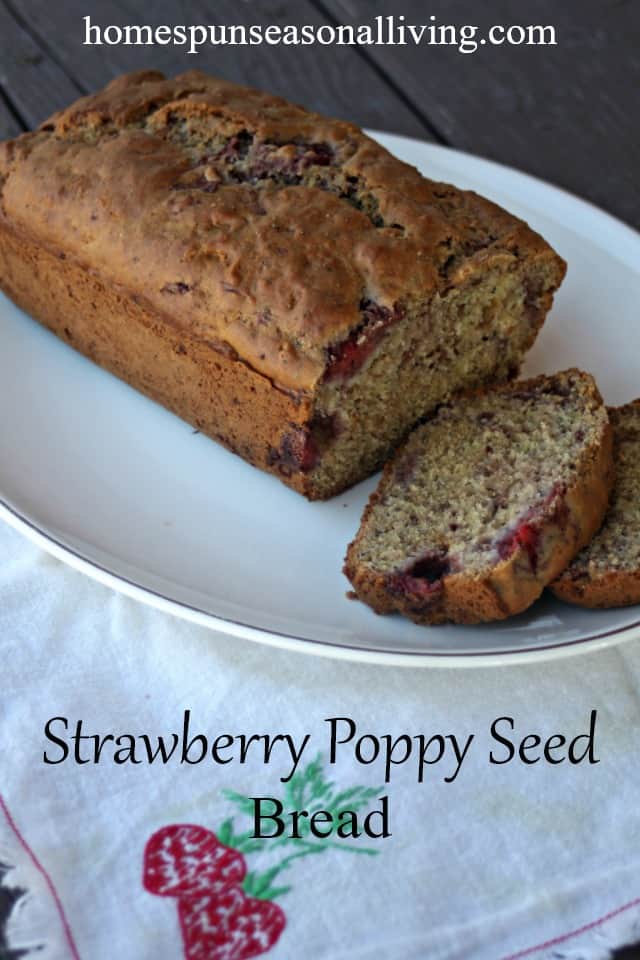 Fresh or Frozen Berries
These loaves could easily be made with fresh berries but I don't tend to do as much baking when berries are coming ripe as I do in the middle of winter. This bread does make incredible use of frozen berries. It's also a great gift and a perfect way to share the garden even in winter.
[grwebform url="https://app.getresponse.com/view_webform_v2.js?u=BsyZQ&webforms_id=16713504″ css="on" center="off" center_margin="200″/]
To use frozen berries: Measure out the four cups while the berries are still frozen solid. Then simply thaw them in a colander over the sink. Let the excess water drain from the frozen berries before adding them to the batter.
Using frozen berries means mushy berries – berries that will break apart as they're mixed into the batter so feel free to skip slicing them into quarters.
Substitute Whole Grain Flour
Make this bread slightly healthier by substituting some whole wheat flour for the all purpose. The whole grain gives a delightful texture and flavor, too. Even a dark rye flour would be tasty.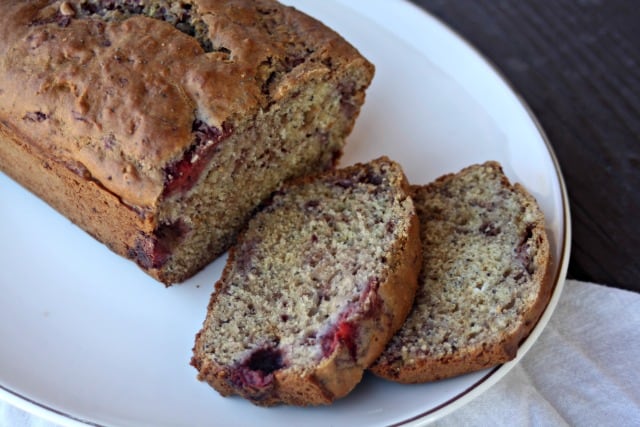 Breakfast and Dessert
This is a moist and tender bread but it will also stick to the ribs. Keep it unglazed and serve it for breakfast with an egg. The bread can also be toasted and slathered with peanut butter for a snack.
Use the optional glaze for a beautiful and delicious dessert presentation. Serve with some coffee or even hot chocolate for an over-the-top and yet simple treat.
Yield: 2 Loaves
Strawberry Poppy Seed Bread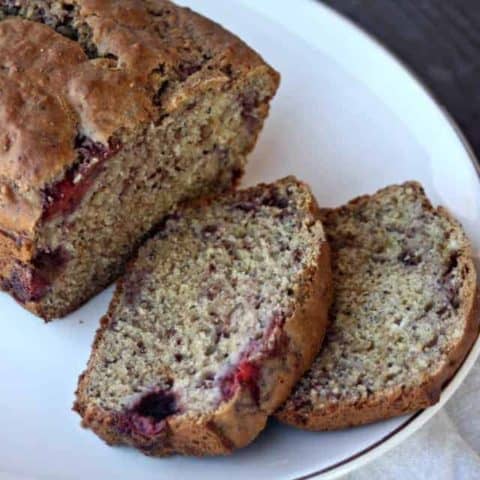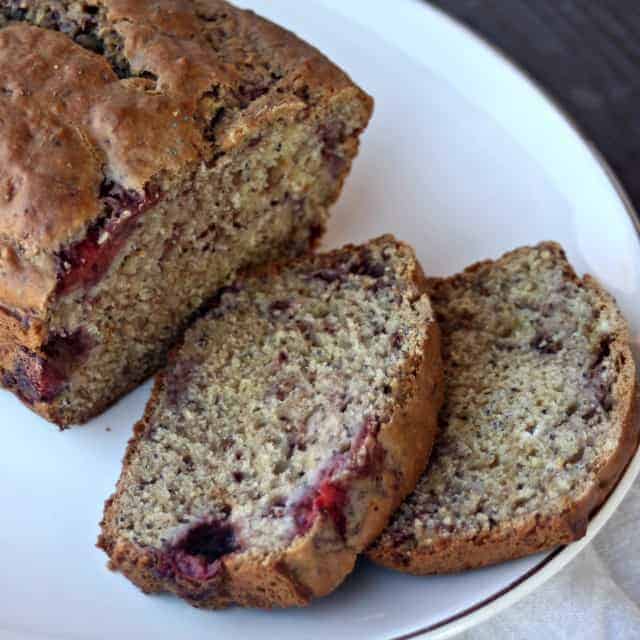 Moist and lightly sweet, Strawberry Poppy Seed Bread, can easily be served as a breakfast or dessert with an optional glaze.
Ingredients
4 Cups Unbleached All-Purpose Flour
1 teaspoon Baking Soda
4 teaspoons Baking Powder
½ teaspoon Salt (omit if using Salted Butter)
2 Eggs
1 Cup Brown Sugar
½ Butter, melted
1 Cup Milk
2 Tablespoons Poppy Seeds
4 Cups Strawberries, quartered (thawed and drained if frozen)
Optional Glaze:
1 ½ Cups Powdered Sugar
3 Tablespoons Milk
1 teaspoon Vanilla Extract
Instructions
Preheat oven to 350. Grease 2 Loaf Pans.
Sift together the flour, baking soda, baking powder, and salt. Set aside.
Whisk together brown sugar, egg, melted butter, and milk until thoroughly combined.
Pour the wet ingredients into the dry and stir until almost combined. Fold in the strawberries and poppy seeds until thoroughly combined.
Pour the batter into prepared pans. Bake in preheated oven for 1 hour or until an inserted toothpick comes out clean.
Cool in pan for 10 minutes before turning out to cool completely on wire racks. Glaze if desired.
Optional Glaze:
Combine ingredients and mix until smooth. Drizzle over loaf and let harden before slicing.