Living near Glacier National Park means we get a fair amount of visitors in the summer. Oh, they may want to see us but we also know they're coming to see the great views and outdoor spaces we call home. I do love showing folks around my neck of the woods, enjoy seeing my home through their eyes and doing all that while also showering them with homemade food just tickles my heart to no end. These sweet and salty seed clusters are a great item to share, they make great hiking food and a fun little treat to send folks along with when they leave as road trip or airline snacks.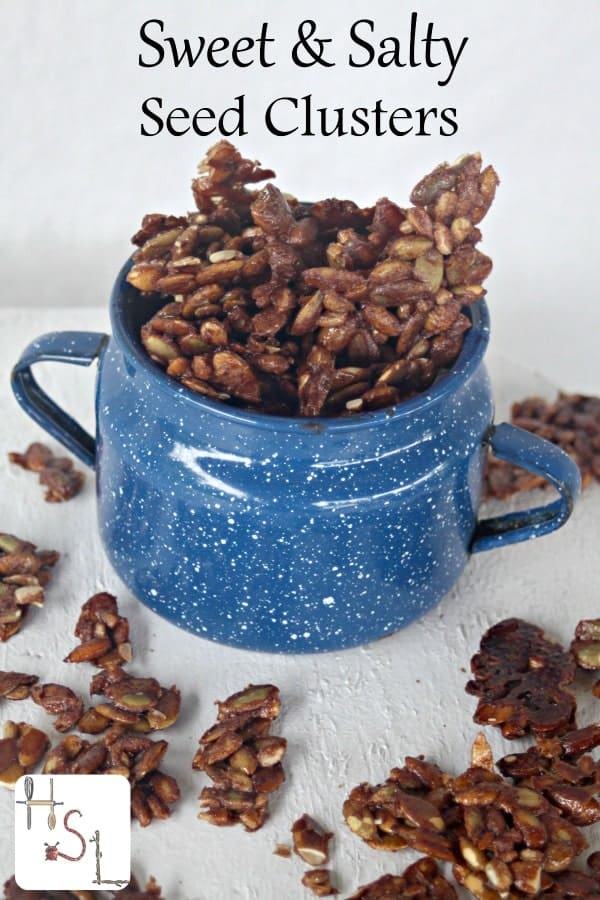 The original recipe came from Leela Cyd's amazing book, Food with Friends. This is the book for anyone who enjoys cooking and wants to entertain in both simple and sophisticated flair. The thing I loved about this book was that while it focuses on entertaining it does in a way that feels doable for simple folks like myself. There's no focus on super large crowd or unrealistic dishes, rather the recipes are for smaller gatherings (though easily doubled or more) and focus on good food with ingredients most of us probably already have on hand.
Food with Friends is divided into chapters based on different types of gatherings and include things like brunch, tea time, potlucks, and more. Each chapter has a variety of dishes easily combined or broken apart for delicious spreads and meals to please most every appetite. There are simple dishes like Lemon-Lavender French Toast and Spice-Roasted Chickpeas right alongside fancier recipes like Chard Empanadas with Pistachio Crema and Bubbling Savory Oats with Broccoli and Cotswold Cheese. Most of the recipes are going to be just as easy for the novice cook as they would be for the experienced, making this a great addition to any cookbook stash.
The book is loaded with gorgeous photos that not only show off the amazing food but give us all great ideas for presentation either on the table or on the buffet. The recipes are clearly and concisely written making them very easy to follow. Most of the recipes include fairly standard pantry basics and the few more exotic ingredients are likely found in most grocery stores or easily substituted for things that can be found in even small town stores like mine.
Part of entertaining for me always includes sending my guests home with a little gift and there's an entire chapter in Food with Friends devoted to this very idea. The Take-Aways chapter includes a number of recipes that package up easily and make for lovely and tasty gifts to send with guests on their way home.
These Sweet and Salty Seed Clusters are adapted from the Sweet & Salty Pumpkin Seed Clusters in the book. I adapted it simply to cater my own personal tastes and the ingredients I happened to have on hand. I do believe any combination of seeds and spices would be quite good here.
Sweet and Salty Seed Clusters
Bake up a batch of these sweet and salty seed clusters to take on a hike or to give guests as treat after entertaining them for a meal or longer.
Ingredients
¾ Cup Raw Pumpkin Seeds
¼ Cup Raw Sunflower Kernels
2 Tablespoons Honey
1 teaspoon Ground Cinnamon
¼ teaspoon Ground Nutmeg
¼ teaspoon Ground Cardamom
¼ teaspoon Ground Ginger
½ teaspoon Fine Salt
Instructions
Preheat oven to 350 degrees.
Line a jelly roll pan with parchment paper or silicone baking sheet.
Combine everything in a small bowl and mix until everything is completely coated.
Spread the mixture evenly onto prepared cookie sheet.
Bake for 15 minutes.
Remove from the oven and cool on wire racks. Let cool completely, break into clusters and store in an airtight jar.