We don't keep store-bought crackers around because most are full of stuff we'd rather not eat and the ones that are somewhat natural are expensive. Still, I occasionally get a craving for a cracker and a little something sweet. This inevitably led to some experimenting and these tasty, crispy sweet sesame crackers. Crackers that are gluten-free, egg-free, dairy-free, and refined sugar free.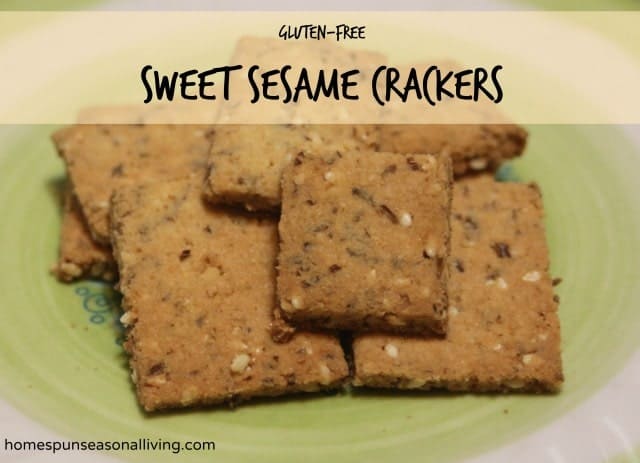 [sc:Adsense ]
Sweet Sesame Crackers
Sweet Sesame Crackers that are gluten-free, refined sugar-free, dairy-free, and egg-free.
Ingredients
½ Cup Brown Rice Flour
½ Cup Almond Meal
2 Tablespoons Flax Meal
¼ teaspoon Baking Powder
2 Tablespoons Sesame Seeds
Pinch of Salt
¼ Cup Maple Syrup
Instructions
Preheat oven to 350.
Whisk together the dry ingredients. Stir in the maple syrup until the mixture pulls together, loosely.
On a cookie sheet lined with parchment or a silicone baking sheet, turn out the dough. Top the dough with a piece of wax paper. Use the wax paper to prevent the dough from sticking hopelessly to a rolling pin. Roll the dough out thinly and evenly. Remove the wax paper and cut the dough into cracker shapes (a pizza wheel works great).
Bake in the preheated oven 15 to 20 minutes. They will darken as they bake, we like them quite crispy and dark but I suggest checking them at 15 minutes and adjust from there to suit your personal tastes.
Notes
I imagine you could substitute other flours for the rice but I didn't test it any other way.
If you're looking for more recipes and ideas for pairing them up for loving gifts, please check out my cookbook, Gift It From Scratch.
[sc:Adsense ]