Potlucks are one my favorite ways to get together with my local tribe. Honestly, I just love to eat and sample a variety of foods while catching up with my friends. There is something about a potluck that is welcoming and relaxed. It's that very sense of nostalgia that had me pouring over the book Modern Potluck and cooking up some tomato braised chard for a recent gathering.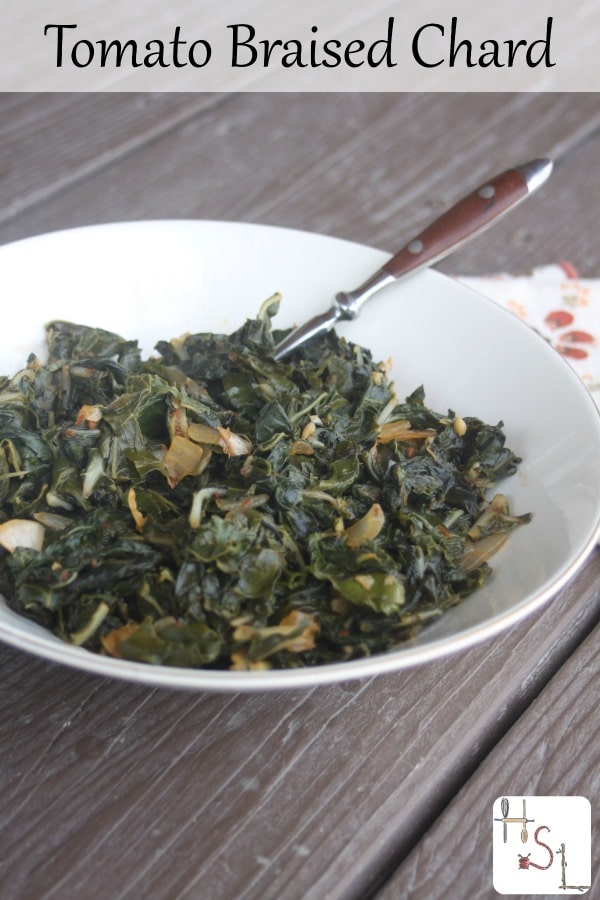 Modern Potluck
If like me, you enjoy a good potluck and prefer to bring dishes from whole, natural foods then Modern Potluck by Kristin Donnelly is the perfect cookbook to add to the bookshelf. This beautiful cookbook comes loaded with tons of ideas for fresh, wholesome ingredients. The gorgeous photos are sure to inspire as well. It includes a wide a selection of recipes for every diet as well – gluten-free, no problem – vegan, that's covered too. Beyond special diet consideration, there are plenty of mainstay choices sure to please everyone.
Modern Potluck contains recipes for drinks, snacks, main meals, side dishes, and desserts. Recipes for things like the ever common and always enjoyed deviled eggs (with some truly inspired variations), quinoa chocolate cookies, slab pies, beef and root vegetable stew, and so much more. The ingredient lists are fairly common even for those of us living with small town grocery stores. The dishes focus on seasonal, fresh food and while they are not broken up into seasons, a quick scan can easily find recipes for fresh foods no matter the season.
The directions for each recipe are clear and concise making each easy to assemble for novice and experienced cooks alike. There are generous servings so that there is very little, if any, need for doubling or tripling to take to the neighborhood potluck. Each recipe also comes with potluck prep tips. These advanced prep tips save time and still provide amazing and delicious dishes to bring to the next gathering.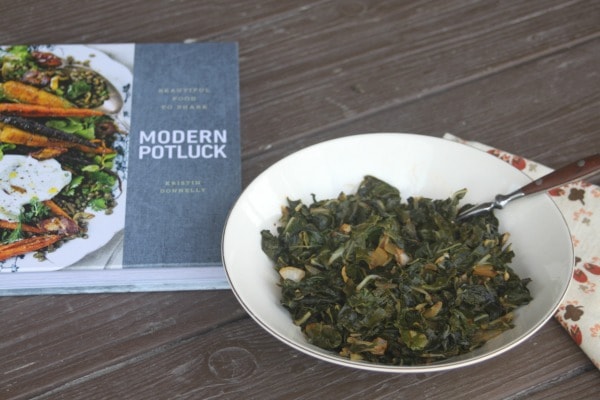 Tomato Braised Chard
This summer has been one of continually cool nights. Those nights means our tomatoes have not done well but the chard has thrived. We've tossed those vibrant greens into soups, turned it into pesto, and added it to smoothies. That abundance meant that I the Slow-Cooked Smoky & Savory Greens from Modern Potluck had to be prepared.
Cooking greens for up to an hour as suggested in the recipe felt wrong to this girl who prefers her greens raw. However, the book description of silky greens was too hard to ignore. As well as the abundant chard, honestly. There was no need for reservation however because this dish is quite amazing.
Trimming the stems from the chard does require some prep work. A pound of greens is quite a bit, after all. Once that's done however the dish doesn't require much labor intensity. It's also delicious served at room temperature so don't be afraid to cook it up the day before and bring to room temperature before serving.
I made a few changes to the original recipe based on personal preference as well as what was on hand. This is my adapted recipe.
Tomato Braised Chard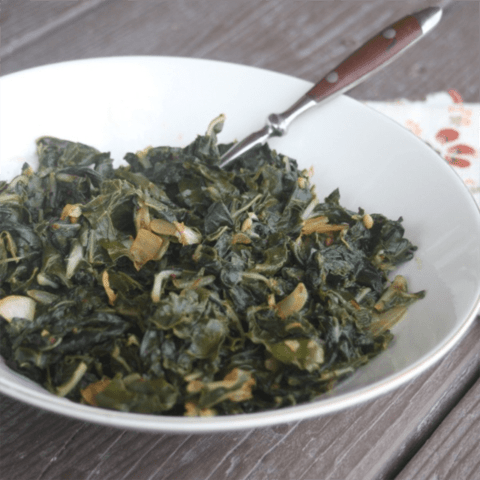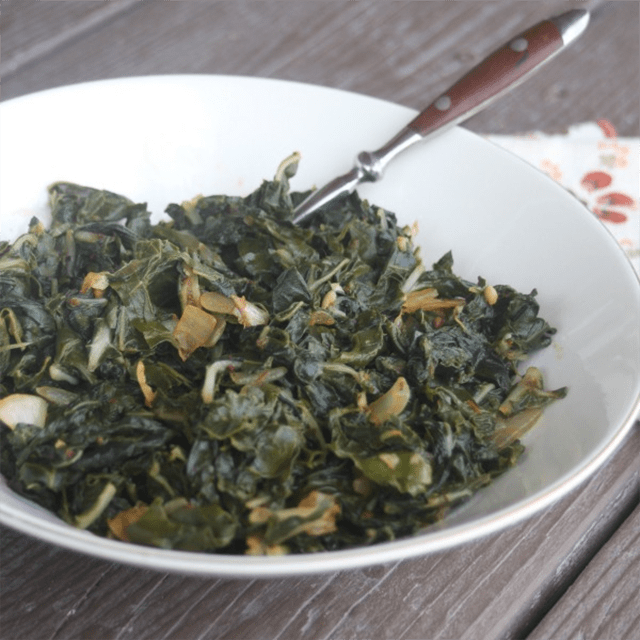 Take advantage of abundant, fresh, and hearty greens by cooking up large batches in this tomato braised chard dish that is perfect for potlucks and more.
Ingredients
1 Pound of Trimmed & Roughly Chopped Chard (approximately 8 Cups tightly packed)
1 Tablespoon Lard (or Olive Oil)
½ Cup Roughly Chopped Onions
2 Cloves Garlic, minced
3 Tablespoons Tomato Paste
¼ teaspoon Paprika
¼ Cup Water
Salt & Pepper, taste
Instructions
In a large, deep skillet or wok heat the oil over high heat. Add the onion and garlic saute until translucent. Add the paprika and tomato paste, stir and cook about 1 minute.
Begin add the chopped chard. Add by large handfuls and stir until just wilted and add some more greens continuing until all is added.
Season with a bit of salt and pepper. Turn down the heat to medium, add the water, and cover the pan.
Cook, stirring frequently until the green reach desired texture. Add more water if necessary to prevent scorching. Taste and add more salt & pepper if necessary.
Serve hot or at room temperature.
Notes
Adapted from Modern Potluck by Kristin Donnelly