There are many native plants available to me but now and then I need a special herb. An herb that is multi-purpose, easy to grow, and incredibly useful. It is for these reasons that I grow holy basil and make tulsi remedies at home.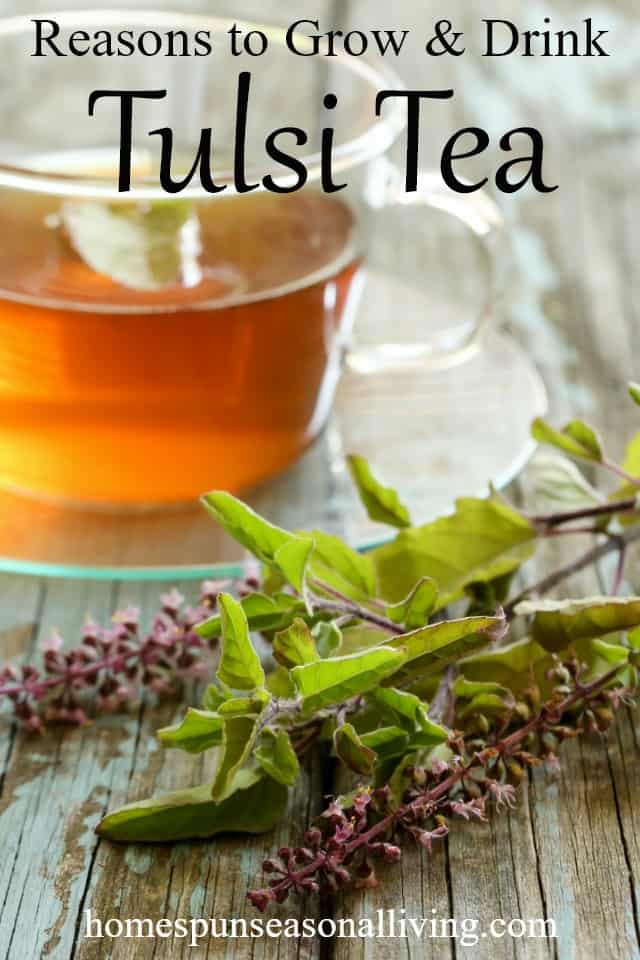 An Easy Herbal Remedy
Tinctures, salves, and syrups are all wonderful things. They do indeed have their place in our herbal remedy regimens. However, we should never forget the healing wonders of herbal tea. Tulsi is most traditionally taken as a tea and as drying herbs is a very easy thing to do, we can have lots of this herbal remedy within arm's reach.
[grwebform url="https://app.getresponse.com/view_webform_v2.js?u=BsyZQ&webforms_id=7334404″ css="on" center="off" center_margin="200″/]
Beautiful in the Herb Garden
Tulsi is a gorgeous flowering herb. It's a delightful addition to the herb garden. Some varieties are even perennial for those of you in zones 10 or above. For the rest of us in less tropical zones, it can be grown as annual or brought indoors. I've grown it with great success in my zone 4b garden. Do give the seeds a good head start before transplanting outside in cooler zones.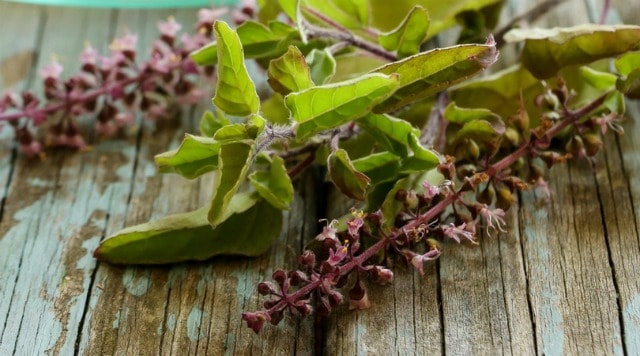 Use Tulsi to Detoxify
Holy basil has been used for centuries (and scientifically studied in recent years) for it's anti-oxidant properties. These same properties have detoxify the body and blood stream. Drinking the tea can help the body flush chemicals, we're all exposed too in our modern lives.
Drink Tea to Reduce Stress
Tulsi has been used to reduce stress, anxiety, and even depression. While the clinical studies focus on standardized extracts, a cup of holy basil tea after a long day is likely to help a person calm down. Every case and person is, of course, different but using a plant and a cup of tea as an attempt to keep the body and mind working well can't be a bad thing.
Stop Infections
This amazing plant also has anti-bacterial, anti-viral, and anti-fungal. It's been studied for its effectiveness on infections from food borne pathogens to cancer. Externally, tulsi can be used for healing wound infections. A cup of tea to drink or a tulsi compress on a cut can be a great way to keep the body free from infection.
Contraindications
There has not been much study on the safety of Tulsi on pregnant or breastfeeding women. Until further study is made, it's is best to avoid if pregnant or breastfeeding. As tulsi can slow clotting, avoid before and surgery. Also check with your doctor about any medications – especially blood thinners. Obviously avoid if allergic. When in doubt talk with a trained professional about your unique circumstances.
So if you need something beautiful and useful in your garden and home – consider holy basil. Use this fragrant and wondrous gift from nature as the gift it is and keep yourself running well.